An easy topic today. I'd like to share this post, because I found a product with a good value. It's not targeted towards virtualised environments in any way, but rather I'd say it might be a good choice for an average admin's toolbox. SyncBack Free is Backup and Replication Freeware which is used as an in guest utility to backup, sync or mirror different directories of the user's environment.
I stumbled through this freeware application called SyncBack from 2BrightSparks. They also have a paid product, called SyncBackPro which offers cloud backups and versioning,  backup of open files, plus more and more… but I'd like to focus on the free version and see what it can bring to an average admin which has in charge a small shop with few Windows desktops.
So the use case would be to use this utility on user's desktops, to backup their local PSTs or other local files, to a remote location. The remote location can be a Windows or Linux box (with samba for ex.) or also FTP server. This might be interesting for off site backups.
SyncBack Backup and Replication Freeware – Features:
Backup
Synchronize: Copy files in both directions
Restore backup files easily
Email logs
Run programs before and after profiles
Schedule backups
Unicode enabled for non-English filenames
Process unlimited filename lengths
Simple and Advanced mode
Runs on Windows 8, 7, Vista, and XP*
Extensive Help Documentation & Support
Completely Free!
How to get started?
After installation, the first thing to do is to create a profile. Since the beginning you're walked through an assistant, and the only thing you have to do is to click on the Next button each time. Simple.You have a choice from 3 different options:
As you can see, the backup option can be used for backing up a directory, where the Synchronize option is useful when wanting to synchronize both sides if there are change on both sides. The Mirror option just do a sync from left to right to keep both location with the same data, but does not copy from right to left like the Synchronize option.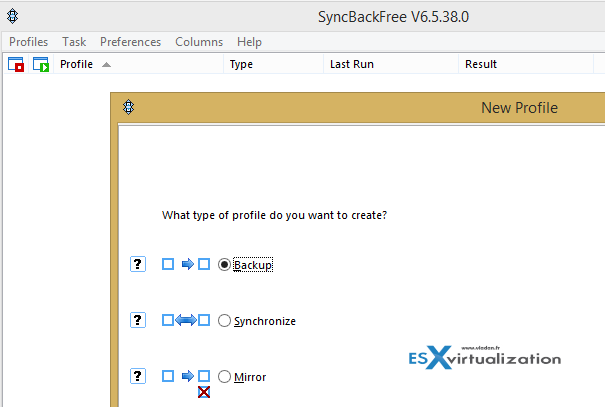 Once done, you chose the directory which you want to backup. So you need to specify the  Source and destination.
Still during the profile creation process you are asked what happens when there are some data on the other side, what to do? If rename, overwrite, etc. Classical what to expect from this kind of utility, right? The options are numerous, but makes sense when needing to setup a file backup.
The view of What to do options: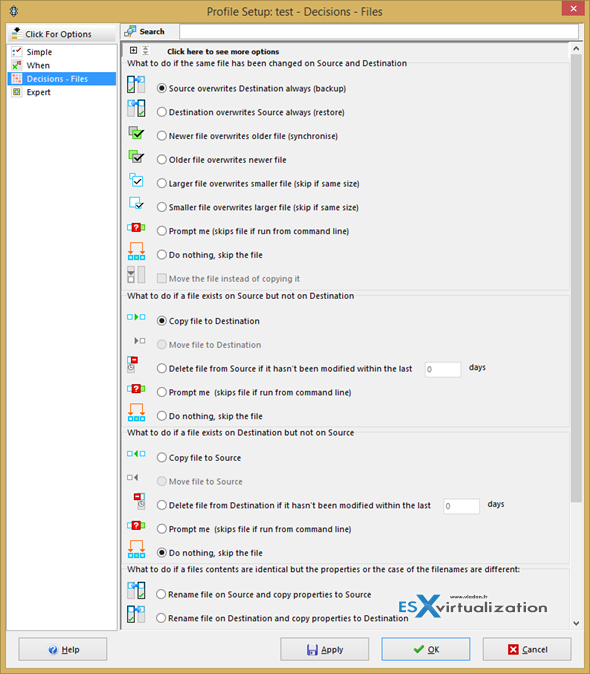 You can click the other tabs on the left to change. Note that I'm only showing the simple view, as the advanced view has many more options!
From simple to Expert view you can pass by clicking the top left icon called Click For Options.
Worth to mention that there is an option to enter network credentials, which is useful when copying to a remote server. Also worth to note that there is a possibility to copy to remote FTP server and have some kind of off site backup in place.

As a use case I think for very small environments with users working locally on their desktops. You probably won't lose anything when trying this software. You can create a backup profile which will only add newer files to the remote location and schedule the run after the business hours or schedule periodically. There is also option to export the profile (useful when wanting to duplicate the settings on another desktop), and also run the profile when Windows starts or shuts down.
As I said there is tons of options (not all are free), but it's up to you to see which options fits your environment and which are worth to invest $54 per copy. There are Education and volume discounts possible. One last note I'd like to note that there is no spyware, malware or bloatware in the free version of this program.
The free version is however limited and won't copy open files. I'm thinking here of local PSTs or other open files which might the user leaves On… But this is just a small inconvenient compare to the other valuable features packed in the free version.
Enjoy… -:)
Source: 2BrightSparks.com