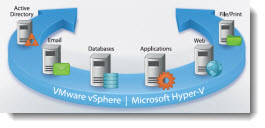 Quick way to learn the basics about Hyper-V 2012 with a PDF from. With the release of Windows Server 2012, Microsoft's Hyper-V offers a feature set that is comparable to VMware 5.
If you work as an admin in small company, which just start thinking to implement some virtualization, you might be considering Hyper-V as a hypervisor for small scale deployments.
If you're working for large company and having vSphere as a hypervisor, you might still be interested in learning about Hyper-V, because next generation of management tools will enable not only monitor and manage, but also migrate VMs from one hypervisor platform to another.
With this whitepaper and video, you'll be able to quickly find out about some Hyper-V basics. You're asked about your contact details and you'll get access to the whitepaper and video –  follow this link.
The whitepaper informs about following topics:
Moving VMs and VM data between hosts and storage
Taking snapshots using VMware snapshots or Hyper-V shadow copies
Deploying virtualization on various types of storage using VMFS or NTFS—and more
Quick Quote from the PDF.
Prior to the 2012 release, Hyper-V was designed primarily to use block level storage. This meant that just like VMware, Hyper-V could make use of iSCSI and fiber channel based storage. In small scale deployments both Hyper-V and VMware also support the use of direct attached storage. Although previous versions of Hyper-V supported the use of Fibre Channel, Fibre Channel connectivity was only supported from the host server to a storage resource. This version of Hyper-V introduces a new virtual Fibre Channel capability that allows for the creation of virtual SANs, as shown in Figure F, and allows virtual machines to be connected directly to Fibre Channel storage.

One thing that was missing from Hyper-V was the ability to use file system storage for storing virtual machines. VMware was able to take advantage of NFS shares, but no equivalent feature existed in Hyper-V until the 3.0 release. Hyper-V 3.0 makes it possible to store the virtual machines on SMB file shares.
Get Your the PDF here….