Few days back there has been an announce from one of the pioneers of the VM-aware storage – Tintri. A new Tintri All-Flash architecture with new All-Flash hardware models has been announced, as well as Tintri OS 4.0 which feature QoS per VM. Tintri is compatible together with VMware vSphere 5.x and 6.x (NFS), Red Hat Enterprise Virtualization 3.4 (NFS), Microsoft Hyper-V 2012 (SMB3) or OpenStack 2014.2.x (Juno).
Tintri is serving storage an NFS mount to ESXi hosts so from the storage admin perspective this could not be simpler. No LUNs. The software solution also incorporates a backup/replication/cloning possibilities, and It seems to me that more and more vendors incorporate backups/replication into their software appliances which are sold together with a hardware. This makes me thinking – A VSAN with built-in high-speed backup replication? Who knows?
Back to Tintri. There are introducing two new All-flash hardware models – T5080 (up to 23TB raw capacity)  and a T5060 (up to 11.5 Tb). Both models are 2U form factors. Both models provides 4 or 6 10GbE ports and allows running 5000 (2500) VMs simultaneously! The datasheet.
Tintri OS 4.0 – this new OS together with Tintri Global Center 2.1 were announced where the latter one is the central management system which can manage both: Their hybrid architecture as well as their all-flash architecture at the same time. Tintri Global Center can handle up to 100 000 VMs. Tintri Global center has also the possibility to initiate migrations of VMs from hybrid to all-flash in case VM performs not as good as it would on all-flash.
Screenshot showing the Tintri Global Center 2.1. When you roll on the mouse over the latency colon on each VMstore you can immediately get the latest stats …. Pretty neat -:).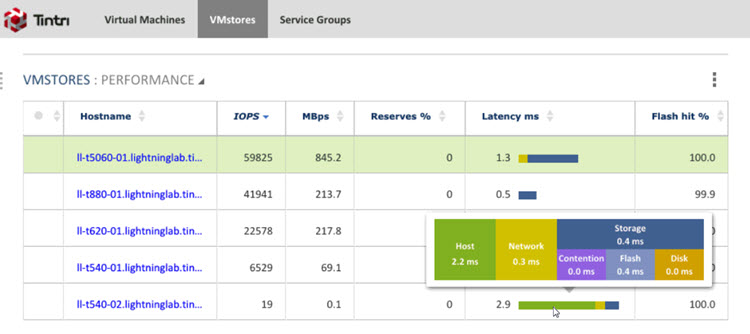 QoS Per VM – individual VMs can have individual QoS policy, which is very flexible. You can also create groups and apply policies to those groups. Previous releases has had already the dataprotection policies, but not the QoS policies.
During the demo I had the feeling that the core of the system is not the hardware, but the VMs. Everything is built around that (clone, replicate, snapshot, set QoS and analyze). VM as a first class citizen.
Quote from the announce:
Tintri as a vendor guarantees VM-level Quality of Service (QoS). Enabling user-defined performance guarantees (min IOPS) and throttling (max IOPS) is as simple as drag and drop. With visualization of performance resources and contention, you get immediate feedback on the impact of your change on latency and overall system throughput. Tintri prevents rogue VMs from suffocating your performance.
Screenshot from VMstore UI….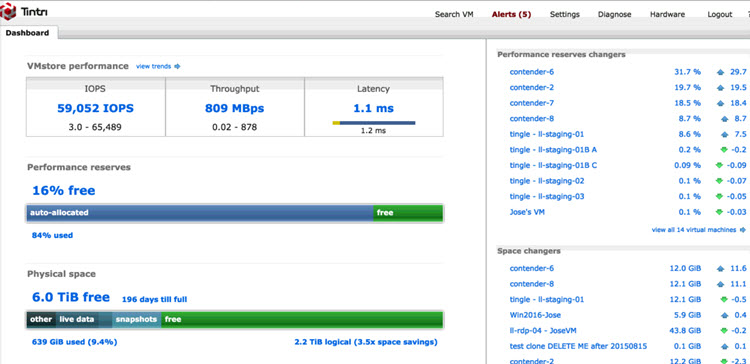 T5000 Features
Space savings from inline dedupe, compression, cloning and thin provisioning.
NVDIMMs, NTB, 10G and more of the latest hardware advancements.
Enterprise reliability exceeding 99.999% uptime.
Scale of up to 112,000 VMs, 2.3PB and up to 5.4M IOPs (random 60:40 R:W, 8K) in a single TGC implementation. (These are real-life numbers, not 100% read numbers.)
VM-granular snapshots, cloning and replication.
vDisk-level Dynamic QoS to eliminate noisy neighbors and ensure peak performance.
VM-level Manual QoS to setup performance SLAs through Min and Max IOPs.
vDisk (VMDKs, VHDs)-level data synchronization across VMs for test and dev or any operations requiring periodic copying of data.
VM-level replication, backup and transfer between Hybrid Flash and All-Flash systems.
VM-granular performance analytics with end-to-end latency visualization that includes host, network, storage, contention and throttle latency.

Tintri's hybrid-flash arrays are already serving 99-100% I/O from flash, but it seems that the market is heading towards all-flash only and that the spinning media will be disappearing faster than we thought. Tintri is going the right direction.
They also partnering with hardware vendors and offering VMstack which is architecture with compute, storage, hypervisor and network. They partnering with Cisco UCS to offer a solutions which are tuned specifically for VDI, server virtualization, high performance and private cloud.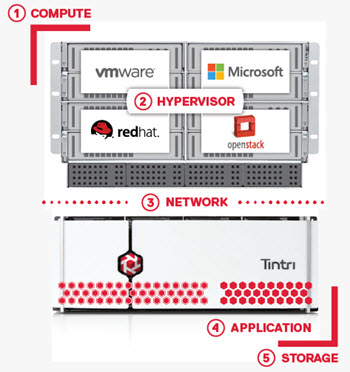 Source: Press release here.