Windows installer error prevents to install VMware Tools.
The other day I was just struggling to install vMware Tools in XP pro VM. The VM was imported into my vCenter via Third party Acronis Image, but I don't think that it was an Acronis problem in any way since I've done some P2V through Acronis before without trouble.
It was some strange Event ID error telling me that the service Windows installer is not running. It was quite a struggle till I found a solution.
I looked at the windows services, and I could not start the windows installer service, in any way. The problem was certainly there.
Then on a forum post and eventid.net I foud a solution that was using  Dial a fix freeware solution. This software does just what I needed. So I told myself that I had nothing to loose. And that was it. This little tool can nicely Fix the Windows Installer. It does unregister the service first and then registers it again. Simple and efficient. 😎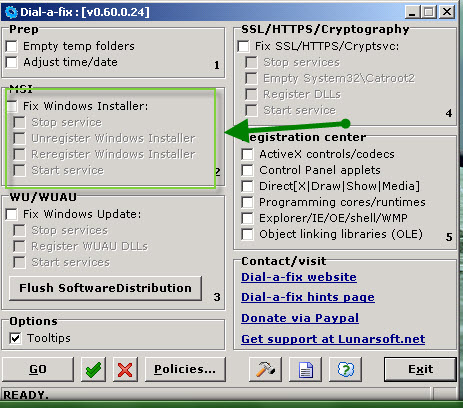 Dial-a-fix is an advanced utility for 32-bit versions of Microsoft Windows written by DjLizard in Borland Delphi 7 that repairs various Windows problems, such as:
Windows Update errors and problems with Automatic Updates
SSL, HTTPS, and Cryptography service (signing/verification) issues
COM/ActiveX object errors and missing registry entries