Using the build in VMware Workstation converter.
The Converter bundled with the latest release of  VMware Workstation 7.1.2 can do a good job when it comes to converting for example a backup image done with Acronis products. In fact, you don't really see the product installed (the converter), instead you must go to File menu and choose import/export and start the wizard.
I tested it recently with success to convert an older image I had from an earlier backup I've done with Acronis. And I used the build in VMware Workstation Converter for the conversion job.  The process is quite straightforward and you can leverage of the converter's built-in features to for specifying thin provisioned disks for example. This wasn't always the case as this option was only available in the Stand Alone version of VMware Converter software.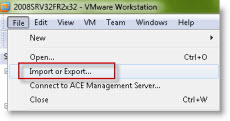 It's all Wizard driven interface where step by step you got the right choices for what you need to select as an option. So in my test I converted an image of XP machine. That XP machine was backed up by Acronis product into an image with *.tib as a file extention. The converter built inside the VMware Workstation can handle multiple third party backup formats (StorageCraft Backup files, Symantec Backup files or VCB backups.
Other possibility is to convert the backup image not into VMware Workstation Virtual machine, but directly into vSphere Virtual Machine. But that's a subject of another article…
Here are the screen shots from the conversion process. A you can imagine I ended up with an XP machine converted into VMware Workstation VM directly from my backup image.