VMware has released vCenter Server  5.5 Update 2d. ESXi host builds stays the same, no update here. This release of vCenter Server 5.5 Update 2d fixes many bugs but also changes some default behaviors in DRS.
So it's already 11th update since 5.5 GA version! Check out the release notes here.
Here is a quote concerning the change in the DRS.
Quote:
The default upper limit of Distributed Resource Management (DRS) while putting hosts on maintenance mode during a cluster upgrade is 150%. This issue is resolved by adding a configuration property. For more information see KB 2104983.
The new builds:
vCenter Server 5.5 Update 2d | Build 2442329
vCenter Server 5.5 Update 2d Installation Package | Build 2442328
vCenter Server Appliance 5.5 Update 2d | Build 2442330
vCenter Server 5.5 Update 2d- From the release notes:
There are many bug fixes. Check it out…
vCenter Single Sign-On:
VMware Directory Service consumes excessive memory(Mware Directory Service (vmdird.exe) might consume a large part of the available RAM)
Backup and restore of vCenter Single Sign-On database might not replicate the data between primary and secondary nodes correctly
Attempts to logout through the vCloud Automation Center UI might fail
Networking: 
Network Interface Cards of virtual machines in disconnected state might get ejected during vMotion
vCenter Server, vSphere Client, and vSphere Web Access:
Virtual machines on ESXi hosts containing NSX Endpoint virtual machines might not power on
Update to SUSE Linux Enterprise Edition Server in vCenter Server Appliance to address time zone changes
vpxd reports massive logging
Accessing the Storage View tab fails with the error
Scheduled tasks cannot be created for a different time on the same day in vSphere Web Client
The VMware VirtualCenter Server service fails intermittently
HTML console cannot be launched with custom port
Datastore browser in vSphere Web Client does not overwrite existing files – this one is a bits scary (I haven't experienced that) as "When a new file with an existing file name is uploaded to a folder in datastore, the new file does not replace the existing file. The old file is retained although the upload task is marked as successfully completed".
VMware VirtualCenter Server service fails
Virtual Machine Management:
Cloning or deploying deploying virtual machines over the network causes performance degradation
Alert event is not triggered when one VM has multiple vNICs with same MAC address
vMotion and Storage vMotion:
The default behavior of DRS has been changed to make the feature less aggressive during cluster upgrade
Update: the update from previous version? Dead easy, as I'm using the VCSA in my lab the process is quite straight forward. Just connect to your vcsa appliance at https://IP_of_appliance:5480 > enter your login credentials and go to the update tab. There you hit the check updates button and then the Install updates button.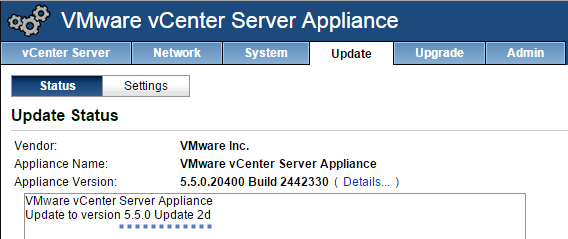 Release notes of vCenter Server 5.5 Update 2d here.