vCenter Server Heartbeat is a product that allows the protection of vCenter server. You'll find many good tips on designing the solution and there are many links to documentation and online help explained as well. This post shows the vCenter Server Heartbeat Installation Video.
The deployment showed in this video is as  virtual-virtual. You'll find about VMware Channel, which is a separate network required. The first vCenter server VM is already installed and the VM has single NIC configured. This NIC will become the principal public network address.
There is also two IP addresses required for the management network, time syncing anti-malware updates and AD syncing. It's fully domain environment, the hosts can communicate via FQDN.
The vCenter Server Heartbeat or HA are the only two products supported by VMware for protecting critical server which is vCenter. Any other clustered solution (MSCS or VCS) aren't supported.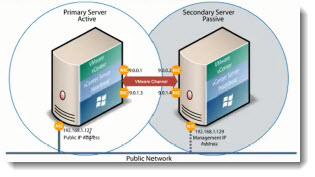 Watch out because the video sometimes goes very very fast, but I really enjoyed watching, because you'll see ALL the necessary steps to accomplish the installation!. You'll follow the installation of the second node as well. The installation differs little bit. What's also good is that you can follow the steps for verifying the final installation (ip adresses, DNS names etc…).
This is step-by-step video. Enjoy… If you find this post useful, just share…-:)
A Quote from the product page learns us that the vCenter server Heartbeat protects not only SQL database installed embedded, but also installed separately…
Proactively monitors and protects VMware vCenter Server with automated and manual failover and failback. vCenter Server Heartbeat monitors availability of all components of vCenter Server at the application and service layer, with the ability to restart or restore individual services. It uses a passive server instance to provide rapid failover and failback of vCenter Server and its components like vSphere Update Manager to a standby instance either onsite or to a remote datacenter. Provides the same level of protection for the vCenter Server database. Heartbeat provides the same level of protection for the vCenter Server database, monitoring and protecting the Microsoft SQL Server database associated with vCenter Server, even if it's installed on a separate server
I also found this blog from Jason Langer where you can follow how he has done his first part of the installation.