There is a new Free E-learning course provided by VMware Education, which allows you to follow online training called Virtualizing Microsoft SQL Server 2012 with VMware. It's a 3 hours long training which gives you a good overview on how to architect a deployment of Microsoft SQL Server in vSphere environments considering SQL licensing policies and avoiding some mistakes.
There are some good tips on memory balooning, guest memory reservations and also subscriptions. Basically it's not recommended to oversubscribe memory on Tier 1 applications.
It's not a deep dive course, but gives you a very good tips and overview of what's needed to successfully architect and deploy SQL server 2012 in vSphere 5.x environments.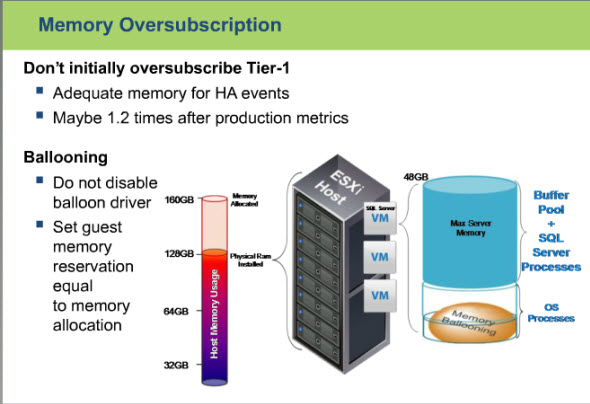 The course has 5 modules:
Introduction to SQL Server Database Virtualization discusses virtualization trends. This module also covers vSphere performance transparency, customer perceptions, and common objections to virtualization of Microsoft SQL Server.
Physical Stack Fundamentals discusses Microsoft SQL Server licensing concepts. This module also covers reference architecture of SQL Server database on vSphere. In addition, the module discusses several storage, vSphere host sizing, and networking considerations.
Virtual Machine Layer Fundamentals discusses how to configure guest Windows OS. This module also discusses various storage presentation options and compares their pros and cons. Finally, this module discusses how to optimally install SQL Server instance.
SQL Server Database on vSphere Prototype Project discusses project management and team dynamics of the prototype project. This module also details techniques for baselining performance and discusses considerations for selection of a viable workload candidate for virtualization prototye. Finally, this module covers the process by which an organization validates the prototype's performance.
Beyond the Prototype Implementation discusses two disaster recovery architectures – one with SQL database mirroring and one without SQL database mirroring. This module compares single-instance SQL Server on VMware with MFC-on-vSphere. This module also discusses the logical reference architecture for MFC. This module covers vSphere's security advantages compared to native hardware. Finally, this module reviews some prominent opportunities to apply tooling to optimize every qualitative, operational, and financial aspect of the preproduction lifecycle.
Here is the link to follow this course, which is provided by VMware Education Services for free:
https://blogs.vmware.com/education/2013/10/free-elearning-virtualizing-microsoft-sql-server-2012-with-vmware-v5-x-fundamentals.html
The article was published first at ESX Virtualization website. Feel free to subscribe via RSS or by e-mail to get the latest news to be delivered via weekly newsletter.