Readers of this blog know VMturbo quite well. It's been several years that this startup company expanding very fast. VMturbo Operations Manager is regularly updated, packed with new features and having the possibility to be installed not only on VMware or Hyper-V but also on Citrix, Redhat, Openstack or Nutanix. You could check one of the latest released in my recent post here – VMturbo 5.5 Extends its capabilities to VMware VRA, IBM PowerVM and Public Cross-platform Migration.
Today we'll review (or try to) the product from the admin perspective. It means we'll show how quick the deployment process is, what's the "look and feel" of the environment. Additionally, we'll try to do some more and show some reports. We're running VMware vSphere 6.0 currently in the lab. The VMturbo product is distributed as a virtual appliance and it's very easy to deploy.
For those of you who deployed VMware vROPS, you know that it's quite difficult to master. There is a learning curve in order to obtain what you need. VMturbo's product seems more "user-friendly" (or more admin friendly). It's not to say that it's super easy, but in my own experience, it's been more effective.
I'd imagine the "sweet spot" between 50-100 VMs, in order to start seeing benefit from VMturbo when new servers and applications are constantly being added to the environment and the workload is unknown. You're kind of "losing sight" when the environment starting to be larger and larger. VMTurbo will help to size and allocate those workloads efficiently, to make sure you are maximizing your resources. The thing is that even you right-size your VMs during the deployment phase, a few weeks later your workload is different and users might start to complain about performance. This static guess work can work up to a certain point, but as environments get more complex, you need something that continuously analyzes your workloads in real time, and takes actions before a performance begins to suffer.
VMturbo Operations Manager Setup:
The initial setup was straightforward. You deploy an appliance, give it the normal basic configs then wait a few hours and you start having data to act on. Let's get started. Deploy the OVA through the vSphere client or vSphere web client.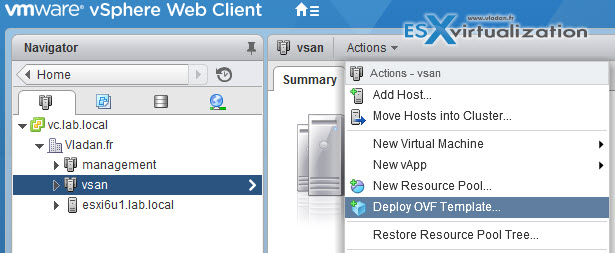 Once done, wait till the VM is up. Then you can see the IP address of the web interface through the console…..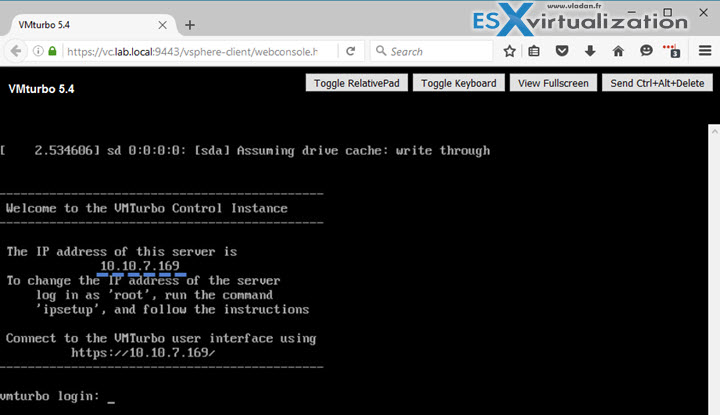 You can access VMTurbo by typing the VM's IP address in a web browser. The initial username is
Username: administrator
password is vmturbo.
By default, the appliance tries to pick an IP address through DHCP. If your environment does not allow, or there is no DHCP server, you want to configure fixed IP. You can, of course, setup fixed IP. Steps: login as root (password: vmturbo) via the console/SSH and type "ipsetup".  Note that the console root login and password are different from the web UI login…. address.

So back again to the Web UI where we continue the initial config. After the first connection with those default credentials (you're prompted to change the password for something else immediately within the assistant), you find in front of a Summary assistant like this.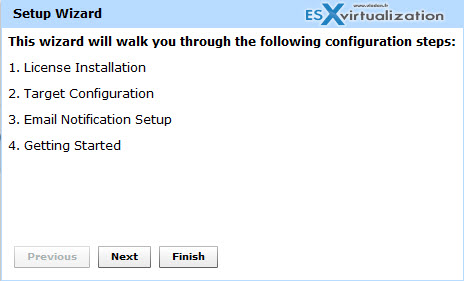 The license config is simple:
Open your welcome e-mail where you'll find the XML file attached. Open the file with notepad > copy the content > paste the content into the next screen within the deployment wizard.
Note: Concerning the VMturbo control modules. If you've downloaded Operations Manager, you already have these control modules within the appliance. They're just disabled when you use the standard trial license key. In order to test them, you must request their activation via email:  [email protected]
Next, the wizard asks you to add a target. In our lab case, we're using Hypervisor so in the list of supported hypervisors we need to chose VMware.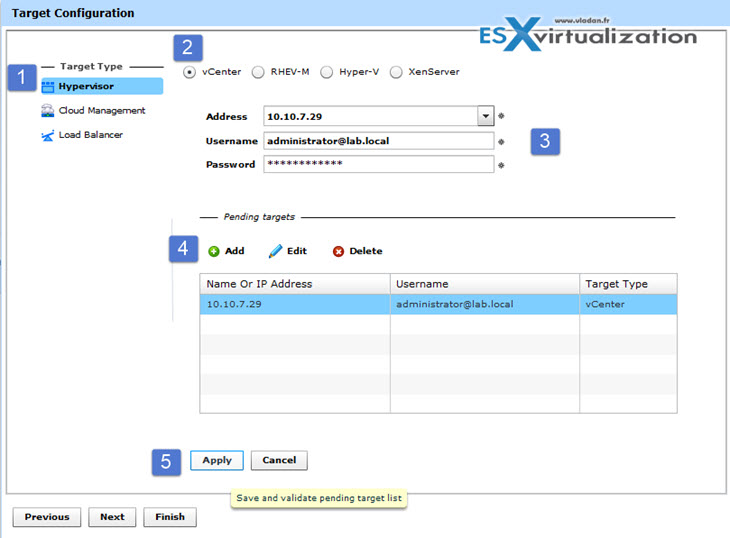 Hit the Start button to discover your environment

Next hit the apply button to validate and click Next. You're in front of another window where you can receive critical Operations manager notifications. You can setup this later if you want or skip this if you don't want to bother. Just go to the Policy Tab > Email/trap notification > Operations manager notification and enter your e-mail details there…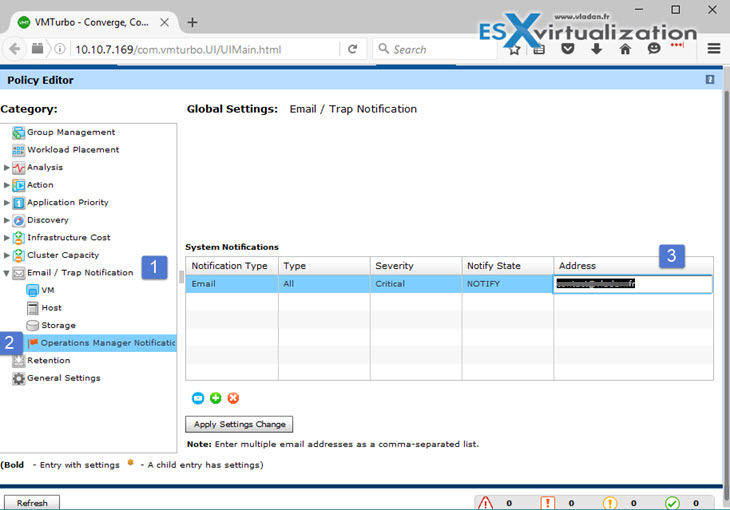 So we successfully deployed VMturbo Operations Manager appliance and waited for some time. The wait time varies and depends on how large your environment is. VMturbo can also scale out by deploying additional appliances.

By aggregating multiple instances in this way, you can view the entire environment through a single GUI. One special installation of Operations Manager serves as the aggregating instance, and it displays the combined data from each underlying target instance. This brings together the recommended actions, dashboards and summary displays, reporting, and other data in one application view.
VMturbo UI
The UI is rich, fast and intuitive. The main menu is at the top. If you, for example, start with the Inventory Tab, You can pin it Inventory to the left so it does not float around.
Reports
It's sometimes necessary to justify costs. So it's important to know what's used and what's not. The VMturbo can figure out the needs, set up some reports that would be emailed each day during few weeks period of observation. Then it'll give you further details on the whole insights of your VM Environment that you'll needed and finally can present it to your boss.
VMturbo is excellent at reports. There are tons of reports pre-defined. If your boss asks you for example to show the current usage of the management or production cluster, it's not very difficult to find an already pre-built report or customize your own one.
Custom Reports
You can generate reports from Inventory tab where you select the desired inventory section and click the Generate report icon.

It opens a drop-down menu where you can select the Save as Report…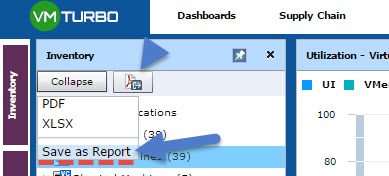 Admin Tip
It's possible to do a full backup (before upgrade for example). It's not that you lose the history when upgrading, but before any upgrade operations, it's advised in general to take a backup. Let's say you don't backup the VMturbo appliance with your regular backup software for some reasons. It's good to know that there are alternatives. There is an administrator's URL to connect to:
https://IP_or_FQDN_of_VMturbo/update.html
Then enter administrator as a username and yourpassword as a password. Then hold CRTL key and click Authenticate button. As you can see you'll get many more options compared to "standard" login (without CTRL). It's an Expert mode.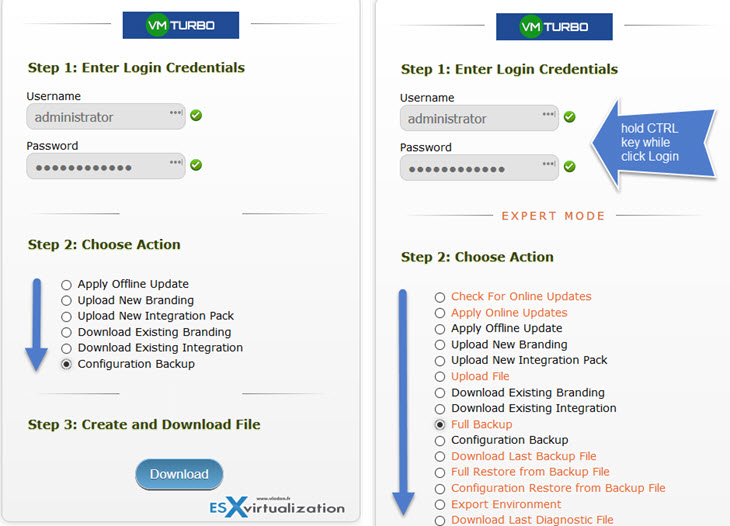 VMturbo can:
VMTurbo Operations Manager can consolidate a large amount of performance and resource usage data from Virtual Center into easy to understand format that makes it very easy to understand how resources are being used within VMware. The navigation and UI are fast and responsive. It's flash based for now, but HTML5 is in the works…
VMTurbo Operations Manager's supply chain recommendations allow you not only optimize the resources across the cluster nodes but actually places VMs to improve their performance.
As a capacity planner, its plan modeling component of VMTurbo Operations Manager on a continuing basis to plan and track our VMware cluster capacity consumptions. In our experience, the modeling tool has paid for our VMTurbo Operations Manager licenses many times over in the last few years.
VMturbo Suggests if resources are not being efficiently and should be reduced wherever required.
Can Take action based on defined rules rather just reporting an alert (it can move VMs, reconfigure CPU/Memory)
Resizes VMs according to usage. Users no longer have to call the IT department with a request to increase RAM from 3-4GB, etc….
Can analyze and optimize storage usage for the VMs.
Can Give you a good insight on future needs via Plans.
Please note that this review was sponsored by VMturbo.