This is the first announcement for this year's VMworld 2017 from VMware. Today's post is about new VMware Cloud Services. VMware is working on a new operation layer which will sit on the top of the public cloud and which will make the apps compatible between different clouds. Currently, when you want to move a workload to let's say to Microsoft Azure, you'll face incompatibilities (bad VM format, wrong networking, different storage, permission management).
Currently, when you want to move a workload to let's say to Microsoft Azure, you'll face incompatibilities (bad VM format, wrong networking, different storage, permission management).
There is no compatibility between different cloud platforms such as Amazon AWS, Microsoft Azure or Google cloud. Like in the past when we had Solaris, HP UNIX , or mainframes. We're facing silos. That's a new challenge for VMware. Break cloud silos.
VMware Cloud Services is a set of different PaaS applications (or services) available after logging into myVMware portal. Those applications are Discovery, Network Insight, Cost Insight, Wavefront and NSX cloud. We'll go into details about each one of those in a minute. With those services, you'll be able to manage, govern and secure public and private cloud infrastructure and applications.
VMware Discovery – this is a free service from VMware allowing you to collect and discover all cloud inventory. It automatically detects all inventory on Amazon AWS, Microsoft Azure and VMware private clouds environments.
It does public and private cloud inventory collection within minutes
AWS and Azure inventory collection is done by using cloud user credentials and APIs.
Private cloud inventory collection is done by using a very light weight VMware vCenter data collector.
The service is used then as a central repository for all public and private cloud inventory. There is a powerful search possibility, with filtering options. This inventory search is based on cloud resource attributes.
You can expose native cloud tags and group cloud resources to simplify reporting, operations, and actions across other VMware cloud services.


VMware Cost Insight – you can point to the public and (or ) your private clouds and you can compare public and private cloud costs. Historical data allows to track cloud costs over time and project future costs based on those data.
You can also identify powered On and VMs, unused cloud storage resources or customize thresholds limits for identified unused resources.
Get an estimation of costs spend across public and private clouds
Compare by cloud providers, regions, accounts or other custom groups
Analyze costs and drill down to identify major costs for your organization
Network Insight – same as vRealize Network insight, but as SaaS service. Pricing depends on how many assets you'll have. Analyzes flow between different applications, tiers of applications.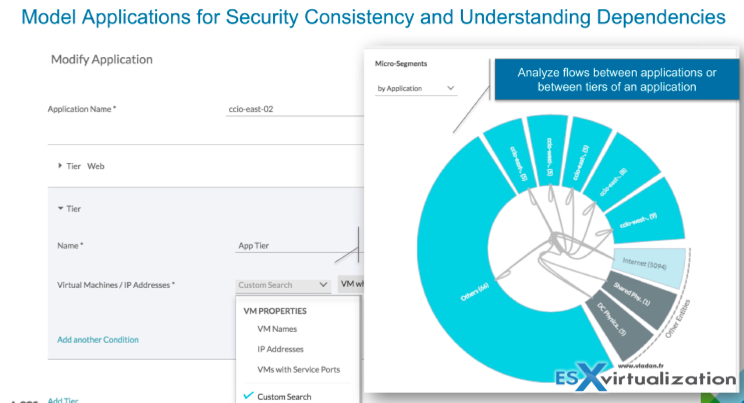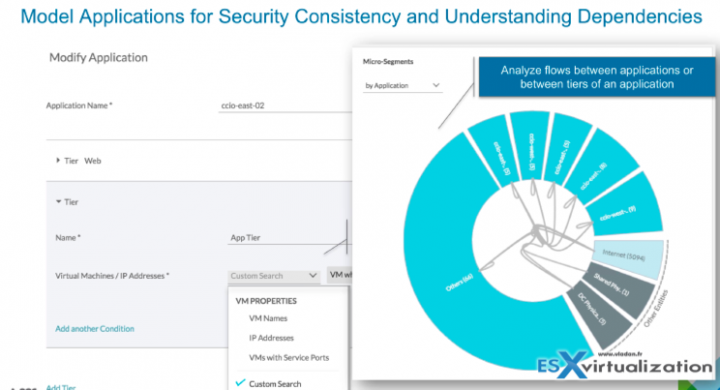 You can drill down and find out where (if ) there is a slow data path.
VMware WaveFront – this is a very large scale analytics. It ingests very large volumes of data and allows to launch analysis. For very large customers. Very powerful, very fast UI.


VMware NSX Cloud – this is NSX as SaaS application. It allows you to create networks on AWS and use those different features of NSX such as micro-segmentation, directly on AWS. Gives you more flexibility. So far AWS is supported.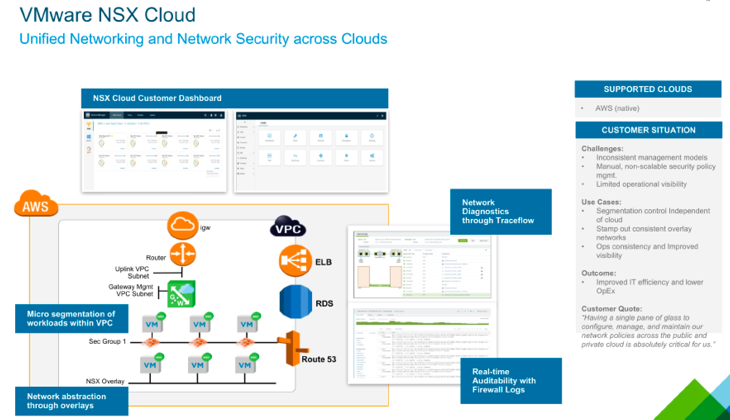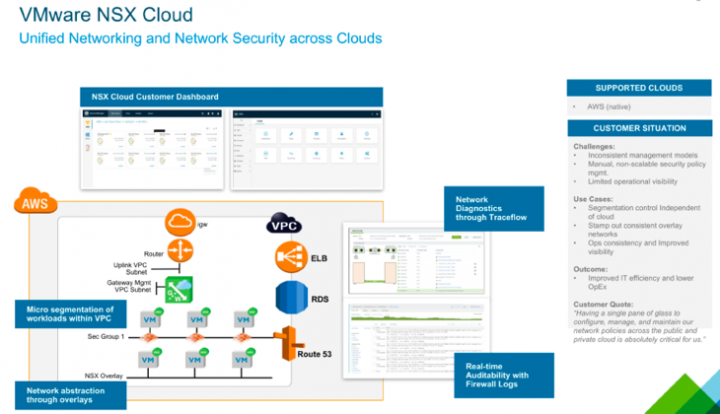 The presentation we have assisted showed some of those applications (services) but note that it is "work-in-progress". We have no actual information about when those applications will go GA.
With that, this concludes those first major information about VMware new offering they're preparing right now, and it is the solution to break the cloud silos when you no longer face with incompatibilities when wanting to move workloads from your main on-prem datacenter into Amazon AWS or Microsoft Azure.
By creating an intermediate layer which handles those incompatibilities, the transportability of workloads between clouds will become more easier and more fluid. But stay tuned, there is more to come. VMworld 2017 is just starting…
Please note that some of those apps will need to evolve first as their curent version does not support what we have talked above. This is the general vision from VMware, which they'll work on during next period.
More from ESX Virtualization:
Stay tuned through RSS, and social media channels (Twitter, FB, YouTube)