Few weeks after VMware vSphere 6.5 release, some VMware products starts to catch up with a compatibility. VMware Horizon 7.0.3 Released adding compatibility with vSphere 6.5, a few days back is one of them.
We have reported on the Horizon 7 release as a major release including blast  and vmFork technology . The Blast extreme is optimized for NVIDIA GRID allowing very good graphics even on lower cost PCs allowing better frame rate, higher server scalability, reduced latency or better bandwidth optimization. Allows up to 4K resolution.
An Instant Clones which is THE feature of Horizon 7 (IMHO) does leverage VMware vmFork technology which works as follows:
A running, powered on a desktop (Parent Virtual Machine) is quiesced and cloned.
Clones share the disk and memory of the Parent VM for reads – space and memory efficiency
The guest OS is customized, joins the domain, and is ready for user login as the desktop fully powers on
VMforks testing in a lab? Yes we did a small install/config:
VMware Horizon 7.0.3 – what's New?
vSphere 6.5 compatibility – Now fully compatible with vSphere 6.5 release.
Horizon 7 for Linux desktops enhancements – Audio input support, Ubuntu 16.04 support, Software H.264 Encoder to support multiple monitors, Clipboard redirection support on all distributions, vGPU support with NVIDIA M6 graphics card on RHEL 6.6/6.7/6.8/7.2 Workstation x64.
Remote Desktop Operating System – The following remote desktop operating systems are supported:

Windows 10 version 1607 Long-Term Servicing Branch (LTSB)
Windows Server 2016

Flash Redirection – You can compile a black list to ensure that the URLs specified in the list will not be able to redirect Flash content. You must enable the GPO setting FlashMMRUrlListEnableType to use either a white list or black list.
Horizon Agent Policy Settings – The VMwareViewAgentCIT policy setting enables remote connections to Internet Explorer to use the Client's IP address instead of the IP address of the remote desktop machine.
The FlashMMRUrlListEnableType and FlashMMRUrlList policy settings specify and control the white list or black list that enables or disables the list of URLs from using Flash Redirection.
Horizon PowerCLI View – PowerCLI is deprecated. Horizon PowerCLI replaces View PowerCLI and includes cmdlets that you can use with VMware PowerCLI.
View Persona Management – View Persona Management supports guest operating systems that use the "v6" version of the user profile. You can use the migration tool to migrate the "v2" and "v5" user profiles versions to the "v6" user profile version. The tool is installed with the Persona binary file.
The release notes document isist on a fact that rather using the vSphere 6.5 default version of VMware tools, you should rather check for the interoperability matrix and see which VMware tools version is compatible with Horizon View 7.0.3.
Here are the results below when I selected Horizon View 7.0.3….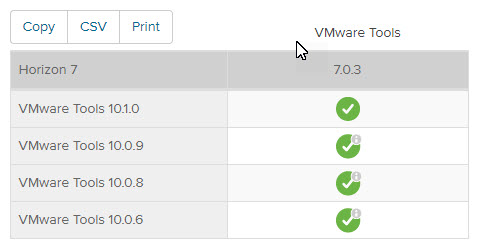 VMware Horizon 7.0.3 release notes here.