There is another free learning course provided for free by VMware education. This time there is new VMware Mirage 5.0 Free training 2H Online. Students will be able to learn Mirage product during 2 hours in an online course. The registration is required to get access to the training. VMware Mirage is a product which allows protect desktop PCs or Horizon View VMs. VMware calls those endpoints. A small Horizon Mirage agent is installed on the desktop which then connects to the Mirage server.
I have been testing the upgrade of Migration a desktop from Windows XP to Windows 7 in my lab. If you want to install Mirage in a lab, I've done it here (v4.x but it's basically the same process for v 5.x). If you're upgrading from previous release you might want to have a look at this post where I'm detailing the upgrade process as you'll have to uninstall the previous Mirage components in certain order first!
Latest Mirage 5.0 features:
Support for Upgrade endpoints up to W8.1 and provision W8.1 endpoints, supports for base layers and application layers
Migrate user profiles from W7 to W8.1
Migrate to W8.1 by using mass-migration utility, In-place upgrade from W7 to W8.1.
Cross migration support – x32 and x64  compatibility, where the reference DVD can be 32 bit and the target x64.
No need migration preparation tool for capturing base layer before migration.
Mirage Gateway is now an OVF Linux appliance which can be deployed in DMZ.
New CVD Alarm feature. – ex. not enough space on endpoint, VSS failures, upload fails on volume.
Device driver validation allows to check if endpoint has the particular drivers before pushing the layer to endpoint.
Future upgrades via single MSI
Screenshot from the training showing some good tips concerning migration from Windows 7: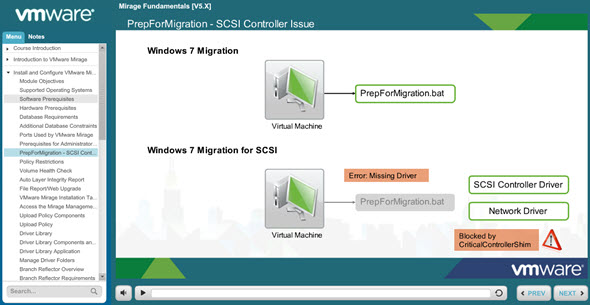 Course Introduction – Course Overview, Navigation, Course Objectives
Introduction to VMware Mirage – Key Concepts of VMware Mirage, How VMware Mirage Works, VMware Mirage Components, VMware Mirage Architecture
Install and Configure VMware Mirage
– Prepare for Deployment
– PrepForMigration – SCSI controller issue
– Policy Restrictions
– Volume Health Check
– Auto Layer Integrity Report
– File Portal/Web Upgrade
– VMware Mirage Installation
– Accessing the Mirage Management Console
– Transform Assets into Central Services
– Broker Services Centrally by Policy
– Deliver Multi-Device Access
Key Business Challenges and Solutions – Market Opportunities, Key Selling Points for VMware Mirage, Solving Business Challenges
Administrator and End User Tasks 
– Administrator Tasks
– Base Layer Planning
– Software Licensing
– Setting Up the System
– Setting Up Reference Machine
– Capture and Assign Base Layers
– Capture and Assign Application Layers
– Disaster Recovery
– Windows Migration
– Monitor Desktop Deployment
– Bandwidth Limitation
– Alarms
– One MSI Server Upgrade
– User Profile Migration
– In-place Migration
– Win 7 to 8 Provisioning
– CVD History Events
– End User Tasks
– File Level Restore
– VMware Mirage Status
– Snooze Option
Register for the free Mirage 5.x training here.