VMware Blog published first details about NSX – Network Virtualization Platform some time ago. But during VMworld we should assist to many news about this revolutionary upcoming product. After successfully virtualizing physical servers and systems, VMware will now allow virtualize network, and will be multi-platform compatible. This article is not a deep dive, but I'll try to focus on the principle of network virtualization and introduce you to the VMware NSX components.
How VMware NSX works?
With the same principle as for the server virtualization – by creating a new abstraction layer. In fact, today to provision networking, the configuration of physical switches has to be done manually, via the CLI, GUI etc… It's like in the past for servers.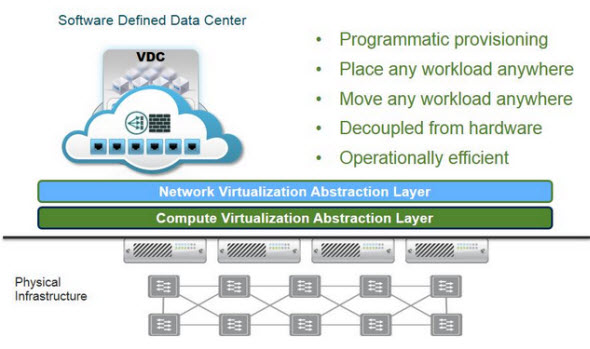 Image – source from VMware Blog.
In fact the abstraction layer, which is the network virtualization layer, has objects like logical ports, logical switches, routers, distributed logical firewalls or virtual load balancers. VMware NSX makes those objects to be seen to the outside world similarly as in the compute virtualization you can see the virtual memory, virtual CPU or or virtual storage.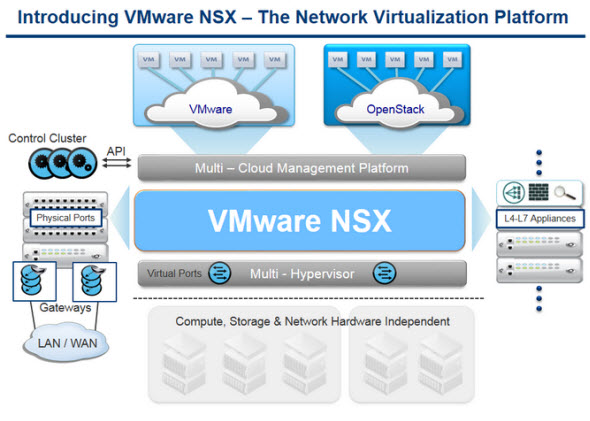 VMware NSX was born when VMware bought Nicira, before VMworld last year. So it took roughly one year to VMware to integrate and bring in a platform for virtualizing networking.
What are the NSX Principal components?
Controller Cluster –  is HA cluster of VMs which are responsible for deployment of the virtual networking. The deployment, which is programmatic and can be automated.
The controller cluster accepts API requests from northbound management platforms (e.g. vCloud, OpenStack), calculates the virtual network topology, and proactively programs the hypervisor vswitches and Gateways with the appropriate real-time configuration and forwarding state.  As the computing environment dynamically changes, the controller cluster updates the necessary components to keep the virtual network state in lock-step with the virtual computing state.
Hypervisor vSwitch –  The way I understand it that there is a network encapsulations by using VXLAN and STT. The Hypervisor vSwitch is present in each hypervisor, and basically it is a data plane working on  L2-L4, and it's programmable. In real time, the vSwitch is programmed by the controller cluster so the virtual network topology is matched.
Gateways – Gateway nodes are here to provide connections to external networks, non-virtual hosts, remote sites. They are managed by the controller cluster. Gateways uses the same programmable vSwitch as hypervisors.
NSX Manager – This is web based GUI, which is a management dashboard for the whole solution. You can setup the whole system there, do an administration or troubleshoot. You can see the logs or connection status. You can monitor the NSX components as well as all virtual network elements.  You can take snapshot of all the state of the virtual network architecture (for backup purposes, archival, or when building new setups you can restore from already build system).
Go Further
If you're attending VMworld, you have plenty of sessions about network virtualization and NSX. There are also Hands on labs!
HOL-SDC-1302: vSphere Distributed Switch from A to Z
HOL-SDC-1303: VMware NSX Network Virtualization Platform for VMware environments
HOL-SDC-1319 – VMware NSX Network Virtualization Platform
Availability, When?
During VMworld there should be a working product demos, but the full product launch should be in second half of 2013.
To stay tuned for the future announcements – VMware Network Virtualization Blog
Source: VMware Blog