One of the very popular "Flings", a free utility from VMware Labs got an update recently. One of the interesting updates is support of Windows Server 2019 and also two new templates for Windows 10. The VMware OS Optimization Tool (OSOT) is a powerful utility that we have already reviewed on this blog several times, but in essence, it allows to quickly optimize an operating system whether it is for VDI or not.
You can easily disable/enable Windows services. There is a possibility to save the changes to a template. Most Windows system services are enabled by default, the optimization tool can be used to easily disable unnecessary services and features to improve performance.
By tweaking on certain registry entries (it's possible to roll back each optimization) and Windows services, you can safely tweak your golden image before creating clones. As a result, your infrastructure can handle more VDI users or RDSH Servers.
Additionally, you can use an option to remove Windows 10 Store Apps while keeping the commonly used ones.
Note that for cleaning the OS it also leverages the built-in Microsoft tools such as DISM etc…
Important thing is that you can always roll back your changes.
What's new in VMware OSOT?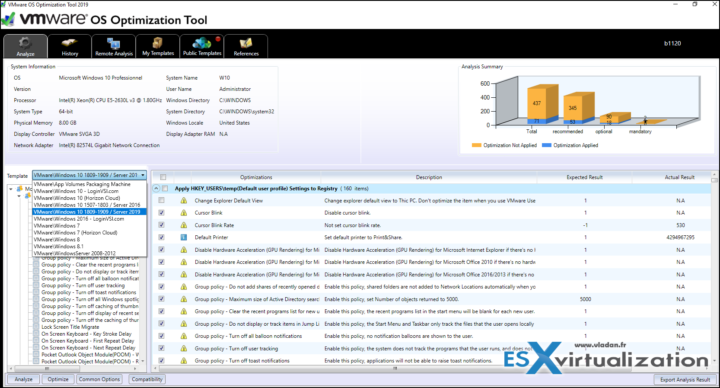 Changed the two existing Windows 10 templates to also cover the associated Server OS and to introduce support for Windows Server 2019.
Windows 10 1507-1803 / Server 2016
Windows 10 1809-1909 / Server 2019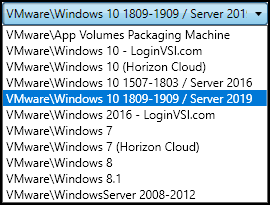 The old Windows Server 2016 templates have been removed.
System Clean Up – Added System Clean Up options to Common Options dialog. This removed the need for these to be typed and run manually.
Deployment Image Servicing and Management (DISM) – Reduces the size of the WinSxS folder by uninstalling and deleting packages with components that have been replaced by other components with newer versions. Should be run after a Windows update.
Native Image Generator (NGEN) – Optimizes the .NET Framework. Should be run after an update of .NET Framework.
Compact – It can compact (Windows 10/ Server 2016/2019). Enables CompactOS to compress specific Windows system files to free up space. Can take several minutes to execute.
Disk Cleanup – Deletes temporary and unnecessary files.
Background/Wallpaper
New Common Options page for Background which allows the choice of color using a picker. This also allows the option to allow the user to be able to change their wallpaper.
Visual Effects options
Added a third option where all visual effects are turned off apart from smooth edges and use drop shadows. This is now the default selection.
Windows Store Apps

A new page in Common Options does allow more control over removing Windows Store Apps while allowing the user to select common ones to keep. The Windows Store App and the StorePurchaseApp are retained by default.
Applications that will be able to be selected to be kept are:
Alarms & Clock
Camera
Calculator
Paint3D
Screen Sketch
Sound Recorder
Sticky Notes
Web Extensions
Many New Optimizations has been added
Fully disable Smartscreen.
Disable Content Delivery Manager.
Disable User Activity History completely.
Disable Cloud Content.
Disable Shared Experiences.
Disable Server Manager when Windows Server OS.
Disable Internet Explorer Enhanced Security when Windows Server OS (not selected by default).
Disable Storage Sense service.
Disable Distributed Link Tracking Client Service.
Disable Payments and NFC/SE Manager Service.
Bug and error fixes
The fixed condition when Export Analysis Results would fail to create file.
Final Words
VMware OS optimization tool is useful for quickly optimizing a Windows OS whether you using it for VDI or as a desktop system. You can find this utility at VMware Labs here. It is one of the toosl we keep on our Free Tools page too.
More from ESX Virtualization
Stay tuned through RSS, and social media channels (Twitter, FB, YouTube)