VMware released Horizon Mirage 4.4 which supports management of endpoints running Windows 8.0 and Windows 8.1, in addition to existing OS starting with Windows XP. Additional new feature called Mirage Gateway allows secure centralized management of remote endpoints without the need of VPN.
Additional enhancements integrates even more the Horizon Mirage product with Horizon View offering mass update of horizon View agents from version 5.3 to future versions. This is done by using separate layer which contains the View agent, without disrupting the other applications which are managed outside of the layer containing view agent.
The deployment or installation of Horizon Mirage isn't difficult. I've done a lab installation of Horizon Mirage and I was able to migrate a system running Windows XP into Windows 7. Check it out here. In addition, VMware provides great PDF called Reviewers guide which walks you through the steps.
New features of Horizon Mirage 4.4:
Windows 8.0 and 8.1 support – Mirage can initialize full system recovery if device get lost, stolen or impossible to repair. This apply for desktop, tablet or laptop devices running W8 or W8.1.
Mirage Gateway – previously, in remote offices one had to setup VPN connection for connecting the remote site back to the main site for backing or synchronizations. Mirage gateway allows for remote users to backup their files through web based interface, to the central Horizon Mirage server located at the main office.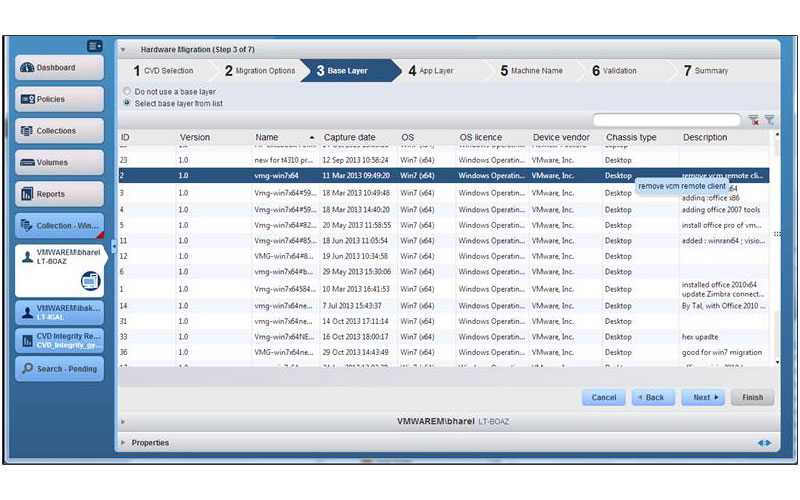 With those two major new features there has been also few other enhancements added to the suite:
New Policy for Fast Windows 7 migration – this new policy can be used for endpoints, where the data aren't backed up during the migration process, which is a big time saver as usually the company's data lays elsewhere anyway (on server share etc)
Web console and file portal enhancements – allows multiple download of files and folders. Further improvements allows mass centralization and get deeper insight into the endpoints with new dashboard.
Horizon View agents easy update – horizon mirage can update horizon view agents from version 5.3 upwards. Integration with Horizon view is more visible where Horizon Mirage can effectively update the horizon view agent by separating the layer from other applications and from the base image. By updating the layer with newer version of View agent, the endpoint upgrades it's view agent via Horizon Mirage.
The Horizon Mirage product continues its evolution. The two major features above adds certainly more value to the product already packed with easy to use management suite for backups/recovery/upgrade of endpoints. The product can not only be very good solution for DR scenarios where especially mobile devices like laptops or Windows based tablets might get stolen or lost, but also can backup/restore individual files.
When considering the web based portal for file recovery based on user action, then, if administrator can effectively train the users for restoring individual files by themselves via web browser.
With those latest updates, Mirage can migrate Windows Xp based systems all the way up to Windows 8.1 or just to Windows 7. It's up to the company's needs.
Links: Horizon Mirage Page
Source: VMware End User Computing Blog