Site Recovery manager for vSphere is finally released:
SRM is finally compatible with vSphere it's been since several months since the product was attended. VMWare Site Recovery helps you create and successfully test recovery plans for a whole datacenter. When you planning your Disaster Recovery plan with remote site you can use VMware Site Recovery to recover from Disaster fairly quickly.
VMware vCenter Site Recovery Manager requires a licensed VMware vCenter Server at both protected and recovery sites because both VMware vCenter Server instances are active instances.
Test recovery plans. Automatically create a non-disruptive, isolated testing environment on the recovery site by using snapshot capabilities of storage arrays and connecting virtual machines to your isolated testing network. You can also save test results for viewing and export at any time
Some Great Ressource Links: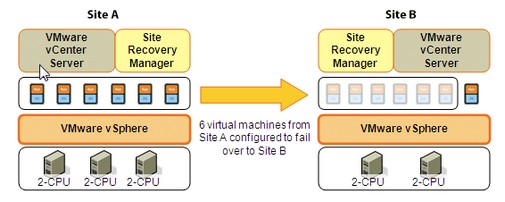 New Features in SRM:
Full compatibility with vCenter 4.
Full support for NFS-based arrays.
Resilience in the face of vCenter unavailability during a test recovery.
Placeholder virtual machines can be quickly repaired after the protected site vCenter becomes available again.
New repair-mode installation features.
You can run the SRM installer in repair mode if you need to change configuration parameters such as vCenter credentials, database connection information or credentials, and certificate details.
Support for shared recovery sites.
Enables many-to-one pairings of protected sites with a recovery site. For more information, see the technical note Installing, Configuring, and Using Shared Recovery Site Support, which is available at https://www.vmware.com/support/pubs/srm_pubs.html.
Graphical user interface to do some advanced settings.
You do not need to do some editing of the XML configuration file
Support for DB2 as an SRM database server.
Better scalability – You can have 1000 virtual machines inside of a Single Protection Group
Compatibility With DPM (Distributed Power Management)
SRM recovery plan can now power-on or power-off a host that is in standby mode.
New support for Fault-Tolerant protected VMs.
SRM is able to protect VMs which has been configured forFT. After the recovery however you must, manually reconfigure to re-enable FT.
There is many more new features.
Blogposts:
Michael White –  SRM 4.0 is here! The wait for vSphere and NFS support is over! on the VMware Uptime Blog covers upgrade strategy options.
Rich Brambley – https://vmetc.com/2009/10/05/vmware-srm-4-0-released-supports-vsphere-4-0-nfs-vcenter-linked-mode/
https://vmguy.com/wordpress/index.php/archives/1175
Gabrie – https://www.gabesvirtualworld.com/?p=652
Duncan – https://www.yellow-bricks.com/2009/10/05/srm-4-0-released/