Hey, it's VMworld Time again! Enjoy the show wherever you are! This year I'll be present in VMworld Barcelona, so my readers, enjoy some writing during VMworld US, from my remote location – Reunion Island. Today's post is about VMware Validated Designs which are introducing new way to work with design, architecture and implementation.
VMware Validated Designs will be designed by Experts to be used by you, administrator, consultant, customer… Those designs will be continuously validated and updated. All of you know that it's difficult to keep track of every update release of every component present inside or outside of the vCloud suite and importantly the complex compatibility matrix scenarios.
It will be VMware who will maintain those designs to stay current, ensuring that nothing breaks, that each component of the vCloud suite, every component (with the correct version) of the SDDC takes the right place. Each design will include everything needed to have fully functional Software-Defined datacenter, and will cover set of user cases:
Datacenter Foundation
Single-region & Dual-region
IT Automation, QE / Demo Cloud…
VMware Validated Designs are architectures created and validated by VMware experts, encompassing the entire product stack used in VMware's Software-Defined Data Center. These designs provide standardized and streamlined architectures for each deployment scenario and broad use-case, for example: Datacenter Foundation, Single-region & Dual-region IT Automation, QE / Demo Cloud and more. These designs are being made available to you via customer facing documentation, VMware Professional Services (PSO) delivery kits and certified partner architectures.

What exactly will contain VMware Validated Designs?
Solution Overview
Design Objectives
Reference Architecture Documents & Blueprints
Final Design Specification—including specific products and versions
Hardware Prerequisites & Preparatory Procedures
Implementation Guides
Operations Documentation
Two reference architectures available today:
Foundation – The "building block" for all future designs (datacenter, storage, network virtualization, monitoring), which uses vSphere + VSOM, VSAN, NSX for vSphere.
Automated Provisioning – This part adds provisioning and deeper monitoring to the first part (Foundation). It focuses on automating on common IT tasks.
Screenshot from VMware.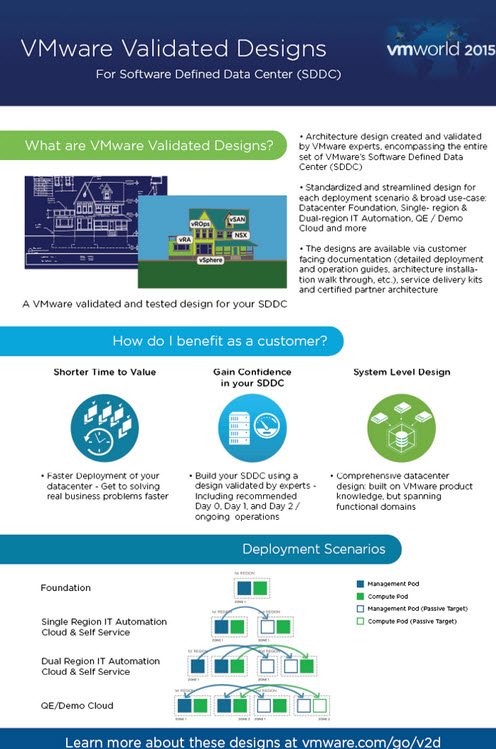 Video:
Check other posts concerning this year's VMworld on this page.
You'll want to go ahead and click this link to find out more – https://blogs.vmware.com/cto/introducing-vmware-validated-designs/
Update:
You should check out V2D Deployment Walkthrough, as Ryan Johnson just poked me through Twitter… -:)