There is a new book in town! This book is about VMware vCenter Operations and is written by Lauren Malhoit and reviewed by some great IT guys like Chris Wahl, Michael Poore and Mike Preston. The book which was released with Packt Publishing, is available now through many of the Online stores as Paperback or Kindle.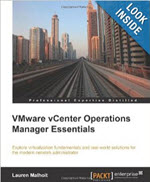 You'll learn not only how-to install and configure VCOps but also how to troubleshoot issues or miss-configurations in your virtual environment, reclaim wasted space or understand what's happening under the hood by deeply monitoring your VMware vSphere environment. The VMware vCenter Operations Manager Essentials book is here to help IT admins to use this product to its full potential.
As you know the vCOPs standard is part of the vSphere starting vSphere Standard edition. There are 3 editions of vCOPs – Standard, Advanced and Enterprise, but also the initial Foundation one. The licensing is Per-CPU or per pack of VMs.
The Book:
Overview
Written by VMware expert Lauren Malhoit, this book takes a look at vCenter Operations Manager from a practical point of view that every administrator can appreciate
Understand, troubleshoot, and design your virtual environment in a better and more efficient way than you ever have before
A step-by-step and learn-by-example guide to understanding the ins and outs of vCenter Operations Manager
In Detail
vCenter Operations Manager offers a powerful solution to administrating a large virtual machine deployment, allowing you to automate processes and plan your resource capacity to maximize hardware efficiency.
This book contains step-by-step tutorials, detailed descriptions, and real-world solutions that will allow you to overcome the complexity of a powerful but often overwhelming suite of tools for the modern network administrator. Install, configure, troubleshoot, and expand your virtualization deployment with this essential handbook.
The vCenter Operations Management Suite contains so much information within one solution that it can be intimidating. It can make administrators feel overwhelmed or think that they are not using it properly. This book is a practical guide to using vCenter Operations Manager for the everyday administrator. It not only gives step-by-step instructions but also makes admins more comfortable with the user interface so they can maintain, troubleshoot, and design their infrastructure and virtual environment in the most efficient way possible.
VMware vCenter Operations Manager Essentials guides you through installing and configuring vCenter Operations Manager and shows you how to maximize its potential. vCenter Operations Manager helps you maintain and troubleshoot your VMware environment as well as your physical environment. It goes beyond using the simple alarms vCenter gives you by explaining the virtual environment and how to track, explain, and find solutions to anomalous behavior. You're taught how to deploy the power of vCops to maximize your ability to plan capacity and design your environment, enabling more efficient use of your hardware than ever before.
What you will learn from this book
Install and configure VMware vCenter Operations Manager
Connect VMware vCenter Operations Manager to your virtual server environment, VMware Horizon View environment, EMC VNX storage analytics, and VMware Log Insight
Troubleshoot various performance issues
Plan your hardware capacity efficiently
Discover the differences between "one off" events and consistent stress within your VMs and storage
Explore the difference between normal behavior and anomalous behaviour
Find specific events that cause issues within your environment
Approach
This book features step-by-step guides as well as practical, real-world examples, exploiting the premise that there's never just one way to narrow down problems. It tackles scenarios by going through different workflows to find the answers you need.
Where to buy?