VMware vCenter orchestrator wasn't used much in my lab. But by nature I'm curious guy, I wanted to give it a quick shot, as the automation of the workflows is something that VMware is pushing forward since quite a time already. The importance of orchestrator will get reinforced in future release as well and the tight integration of the whole vCloud suite as well.
The Orchestrator has been around since vSphere 4.x but only with the vSphere 5.x and introduction of the new icon sets and the new vSphere Web client, the product got the nice face lift.
There is an Orchestrator Server part and Client part. If you're using vCSA (Linux based vCenter server) you have to deploy the Orchestrator OVF and setup the Orchestrator appliance. If you use Windows based vCenter server then the Orchestrator gets pre-installed within the vCenter Installer…..
All you need to do is start and configure for autostart those two windows services (see below) … and go to the configuration URL to configure the Orchestrator server:

The Access URL is: https://orchestrator_server_DNS_name_or_IP_address:8283
Default user name: vmware and default password: vmware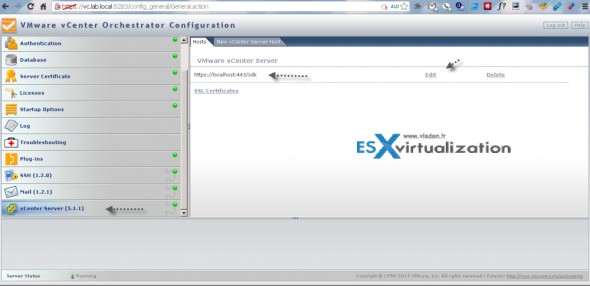 The association with the vCenter server…

The Orchestrator has a workflow library built in and a workflow engine, which takes cares of the workflows and automate the orchestration process. You can run workflows on different objects that are accessed through different plugins.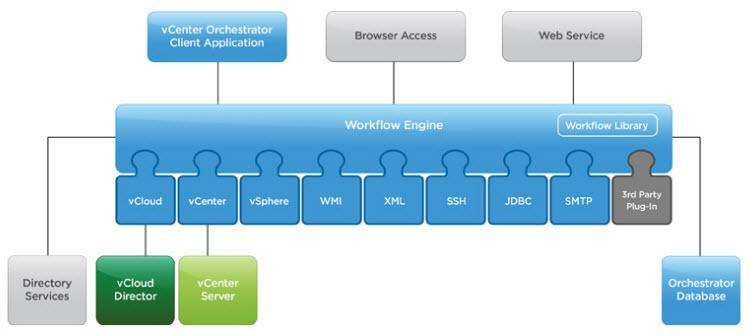 If you're using vCSA (linux) you'll need to deploy the Orchestrator OVF file and hook it into your vCenter and configure more options like certificates, Database etc. The whole process can be found in this VMware document: vCenter Orchestrator Integration Tips. The document was created in purpose for users using the vCSA.
The installation of orchestrator standalone isn't difficult either, but there is more steps involved than if using the Widnows vCenter. The Orchestrator product needs a DB. You can use the built in SQL Express 2008 DB which is provided with the vCenter Installation ISO. The Orchestrator Server can get installed on the same machine or on a separate VM for larger environments.
Links: 
Downloads: