VMware View 5.1 performance improvements.
VMware View 5.1 has been released recently. The 5.1 release brings many improvements and enhancements as I reported in my article Download and test VMware View 5.1 now. I this article I focused on the new features and integrations introduced in this release.
There has been a very good read on VROOM blog from VMware, which shows you the improvements for the end user by using simple example of drawing in in MS Paint. This simple test which can be done by anyone. The test with the two different access protocols. RDP 7 and through View 5.1.
A quick quote:
As a simple visual test of this improvement, the picture below show a user rapidly drawing a spiral in mspaint, when connecting to their remote desktop using both RDP7 and View 5.1. With RDP7, the resulting spiral is obviously formed from rough polygons, whereas, with View 5.1, the spiral is significantly smoother (while this test may seem an overly simple example, it is heavily influenced by the speed and frequency at which the client communicates with the remote desktop and clearly conveys the likely differences in scrolling and dragging performance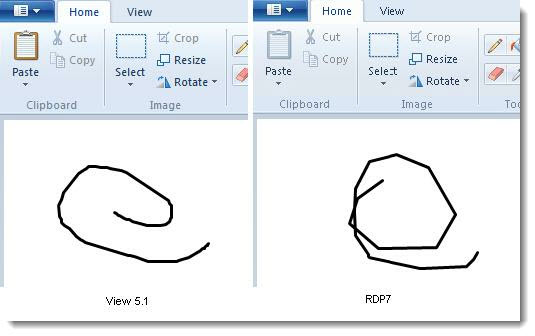 Network Improvements – The post outlines also other enhancement, for example to the users connected over Wi-Fi networks by using tablets or laptops, where those enhacements can be benefical for playing videos in the VDI sessions and the improvements in the networking helps to achieve up to 8 times better performance in some cases.
Thin Clients – There has been also many optimization done for Thin clients running Atom or ARM platforms. The improvements for video playback performance is improved by as much as 3X over previous versions.
PCoIP Efficiency – The improvements in the PCoIP protocol continues. Some refinements to compression protocols and general performance optimization brings more improvements in reductions in CPU consumption. There is an additional 1.3X reduction in PCoIP overheads.
You can buy VMware View 5.1 through this page.
Get the best VMware View  Training from TrainSignal.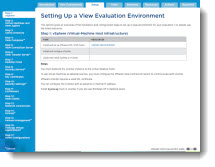 Excellent ressource whitepaper is this VMware View 5.1 Evaluator's Guide.
The guide is divided into the following main sections:
1. Key New Features of VMware View 5
2. Description of VMware View Components
3. Setting Up a View Evaluation Environment
4. Evaluation Tasks
Enjoy… -:)
Source: VMware VROOM! Blog