A new product update – VMware View 5 has been announced at VMworld 2011 Las Vegas.
VMware View 5 in an update to VMware View 4.6 product which has been launched. The product is not available yet for a download, but this will became possible in 2-3 weeks from now on.
The product was greatly enhanced and the testing results demonstrate up to 75% bandwidth reduction when compared to previous releases of PCoIP.
There are new client's devices like the VMware View Client for iPad or Android .
The View 5 product page at VMware Website.
Find bellow the full press release which will introduce you all the new features:
VMware View 5 Features:
Enhancements and new features in VMware View 5 will deliver elastic, desktop services from your cloud for ultimate control and flexibility for user experience, administration and service levels, including:
• PCoIP Optimization Controls – VMware View with PCoIP will provide end-users with top performance regardless of network conditions. New PCoIP optimization controls, including client side caching and disable build to lossless, will decrease bandwidth usage by up to 75 percent and increases network user density on both LAN and WAN connections.
• Media Services for 3D Graphics – View Media Services will deliver new capabilities for the enduser with 3D graphic support for Windows 7 Aero and Office 2010, 3D workloads, as well as support for 3D apps requiring DirectX and OpenGL. IT administrators will also benefit from enhanced flexibility for entitlement of 3D capabilities across any client end-point. And because View Media Services for 3D graphics will work with existing datacenter servers, there is no GPU required – helping to save costs by eliminating the need for additional graphics cards.
• Unified Communications Integration – With VoIP support from leading Unified Communications (UC) vendors including Avaya and Mitel, VMware View 5 will deliver an integrated workspace of virtual desktops and communications to provide a seamless productivity experience across desktop, voice and video media services. These features will enable business continuity for UC with View and quality of desktop and integrated voice services, all while saving costs by leveraging existing UC infrastructure. No additional purchase required to support the integration.
• Personalized Experience, Stateless Desktop Costs – Available with VMware View 5 Premier Edition, View Persona Management will enable IT administrators to manage the end user persona including settings and files, policies such as access privileges, performance and various other settings, as well as suspend-on-logoff, from a central location. The addition of an easy to deploy persona management feature can further reduce the total cost of virtual desktops by enabling more use cases with stateless desktops. View Persona Management will additionally improve the user experience by maintaining personalization between sessions while providing faster user access to their personalized settings and applications.
PCoIP Continuity Services – Improves experience for roaming users with automatic detection, recovery and auto-connecting of sessions within 30 seconds of lost network when roaming unreliable networks, WiFi or 3G, and reducing impact to end user workflow by eliminating the need for user intervention.
• VMware View Mobile Clients – Available in the coming weeks, an update to the VMware View Client for iPad will introduce support for multitasking, RSA integration and an innovative presentation mode that make the Windows desktop even more useful on the iPad. While the new VMware View Clients for Android and Cisco CIUS extend VMware View desktops to the latest, most popular Android based tablets.
• User Experience and Performance Monitoring – PCoIP Extension Services will improve enduser session management and support for IT administrators with new session stats and analysis capabilities across 23 individual session stats including General, Imaging, Network and USB statistics for any PCoIP session – enabled via existing tools supporting WMI with no additional console to buy or manage and allowing IT to quickly identify and resolve bottlenecks or issues.
• New Teradici APEX 2800 PCoIP Server Offload Card – Offered by Teradici, the APEX 2800 is specifically designed to offload PCoIP image encoding responsibilities from VDI servers, effectively reducing CPU utilization. As a result, peaks in CPU processing demands will be
instantly managed to protect and ensure a consistently high level of user experience at the desktop, and IT Managers can enable increased VDI consolidation ratios while managing data center space and power needs more effectively. For more details on the APEX 2800 server
offload card, visit www.teradici.com/APEX.
New profile management – done via a new Administrative Template which as you can see can be found via the GPMC management console.
View Persona Management (View Premier editions only) dynamically associates a user persona to stateless floating desktops. IT administrators can deploy easier to manage stateless floating desktops to more use cases while enabling user personalization to persist between sessions.
The integrated View Persona Management feature is a basic way to manage user data and settings, application data and Windows registry settings.  The technology was acquired from RTO Software and should have been incorporated already in View 4.5.
Some pics: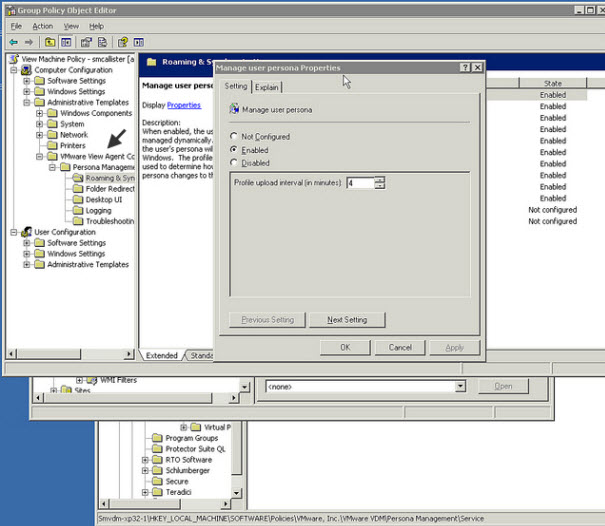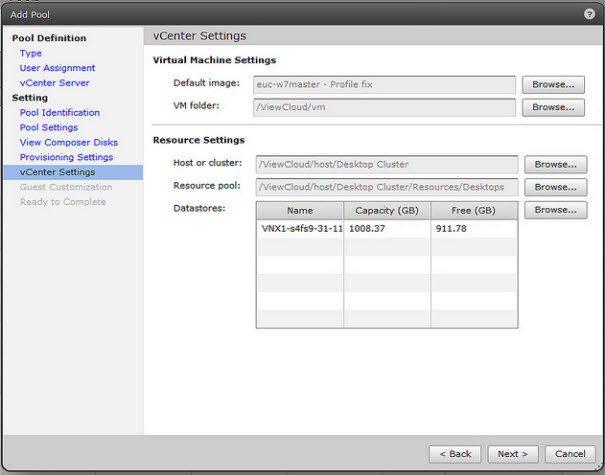 The pics come from Flickr. There is some more, if you want to have a look.
Source: Press Release of VMware View 5
Enjoy… -:)