VMware View Training by Trainsignal.
I have already announced that the VMware View training was released in my recent post, but now after I watched the whole course, I can finally report what is my impression. The training is done at a very professional way by Brian Knudston. Brian is an expert, look at his certifications: VCP2, VCP3, VCP4, VCAP4-DCA, VCAP4-DCD, VCA4-DT, VCP4-DT, MCITP 2008: Enterprise Administrator, and HP Master ASE.
The video training sells for $397 on TrainSignal's website.  There is an online streaming video subscription include(iPad compatible). Volume discounts starts with 20% off the price when purchasing 2 copies already. Further volume discounts (up to 40% off ) can be obtained by purchasing more copies of the course.
But Let's move with the review. The first few lessons Brian explains the Course scenario and his lab setup. One can learn view wit quite a modes equipment. Two boxes with 8 gigs of RAM each. All the necessary components of VMware view will be installed and explained. There is quite a few View different components, not all of them necessarily are integrated in Active Directory, but Brian explains that and walks you through the installation and configuration process. I did follow, and prepared a couple of VMs in my lab, and Installed the same lab setup as used by Brian in the course.
All the components which are part of VMware View are: View Manager, View Connection Server, View Replica Server, View Transfer Server, View Security Server, View Composer, View Agent, VMware vSphere, vShield Endpoint, View Client.
Quite a lot, huh? Well, yes, but when you know how to install them, and how to configure them, it's easy… -:)
On the screenshot below, you see the configuration of HA – DRS cluster for one of the components – View transfer server.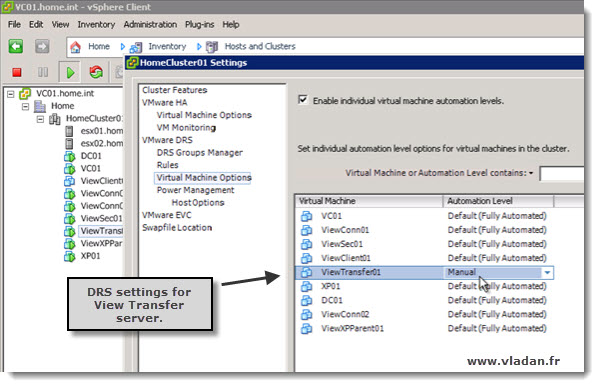 Yes, to became a master of VMware view, one must study quite a lot. In addition, there is also a certification exam for the ones who wish to get certified. This VMware certification – VCA4-DT (VMware Certified Associate 4 – Desktop).  is a new VMware certification which has been introduced for public only recently and Brian did passed this exam in the early beta stage.
The setup of View Connection server brings a nice Flesk Interface. To be able to use View, it's one or the first things to do – install Adobe Flash Player…
*********************************************************************
Register and Download FREE trial at Runecast :
Once registered, you can download the OVA and deploy to your virtual environment running VMware vSphere.
*********************************************************************
Linked clones – One of the cool features of VMware View are linked clones. This features saves tons of space on your storage system and speeds up the desktop provisioning and recomposition, since the conning process does not have to clone full VM in the process, but just.  One cannot really imagine to run 200 desktops and each of them with 20 Gigs of Disk….-:(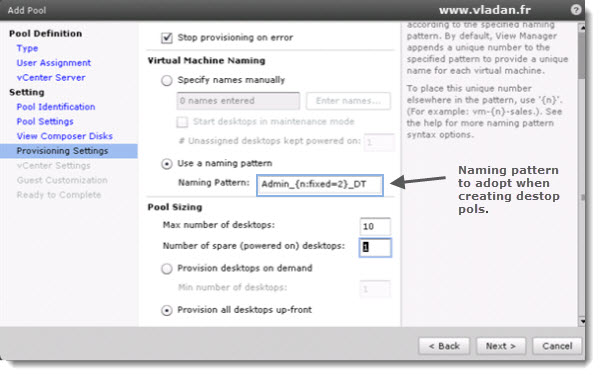 To leverage linked clones you must install View Composer.
Then there are some special View operations used when using composer like: Refresh, Recompose or Rebalance. Each one of them has different meaning and for example the Refresh means that after user disconnects all changes are thrown away and on the next connection the desktop is clean.
Pool Sizing – interesting watch on how to perfectly size the desktop pools. Which strategy to choose from when it comes to plan ans do a sizing. What's are the possibilities. Brian does provide with examples and demonstrations of an Automated Floating Pool.
You'll see a demo of creating Automated Floating Pool, Automated dedicated pool, but also Manual dedicated pool. (for Administrator or for VIPs… ).  And all the differences between all of them. It's magical, to follow those videos and to be able to easily reproduce it in the lab right after… -:)
Update: As promised I continue with the review as this post got accidentaly posted by my WordPress scheduling feature. This did not happens to me the first time… -:).
The training helps not only to setup and install VMware View, but also with the administration tasks which View administrator must accomplish. Like for example, how to refresh or recompose individual desktops or even the whole pool. The recompose operation is really powerful, since by refreshing the base image of one VM, all the other VMs can be updated by using the recompose functionality of VMware Composer. I also learned about entitlements. What is entitlements and how to use it. I mean, the whole process of using entitlements, and of course the demos that Brian shows live…
User profiles in View – Roaming profiles redirection are handled by GPOs and Active Directory. At first Brian explains where the user profiles are stored in Win XP, Vista or Windows 7 machines. How the roaming profiles are handled and what's the caveats. This is just to remind what's possible to modify and handle. Brian does a great job by explaining in details how to redirect user profiles and what's actually redirected.
One can also use Persistent Disks for storing user datas instead of roaming profiles.  Those persistent disks are allowed to use in VMware View dedicated pools only.
When working with the pools in my lab, I had a Windows 2008 as a domain controller installed and I actually had an error which indicated that my XP desktops can't be joined into domain. I did a quick google search and find this VMware KB article. I had to apply this patch from Microsoft, I wasn't able to connect to my virtual desktops which were running Windows XP, because they were not fully provisioned.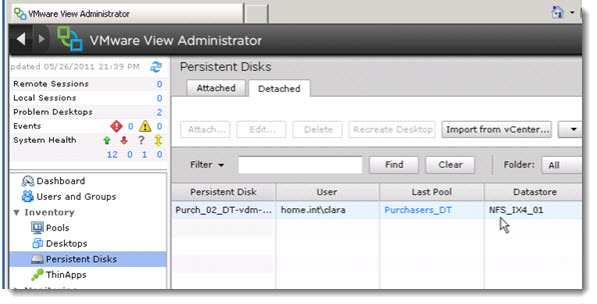 Thinapp Packages – One cool chapters is about Thinapp. Since I'm sure that you know what Thinapp does, but you certainly don't know about the best practices when it comes to creating Thinapp packages. And that's where Brian gives some guidelines and also explains what's the composition of a normal thinapp package.
What's the difference between Optional and Required AppLinks, or what's the Sandbox. When to modify package.ini file in order to apply changes. SBmerge.exe utililty for rebuilds packages and changes to thinapp package to apply changes.
The testing of Thinapp packages – Dirty tests, washed tests or clean tests… well something new for me which I was not aware off. GPOs….
The VMware View Administration Training gave me the necessary knowledge, so I'm now able not only to install and deploy all the VMware View components (there is quite a few), but also I know how to setup my desktop environment and how to get the most out of it !
As I said in the beginning, the best way to learn VMware View is to take a week off, and do the videos and your lab practices (if you have a lab, or using VMware Workstation on single computer) at the same time.