VMware has released View Client for Android and Cisco CIUS – technical preview.
The product is not GA yet, but as what has been said the product is finished in like 90%, which is pretty close. The client has got an International keyboard support, so for Europeans it's pretty good news, since in Europe the Android market is much more important than the MAC market.  Actually the client is in English, but you can input characters for the following languages: English, Japanese, French, German, and Simplified Chinese.
The client has full multitasking capabilities and it's configurable, if you for example want to keep the connection while on 3G connection and put the View Client into a background. The client is PCoIP compatible only.
The version of Android Supported: Android 3 (Honeycomb) and later. On Cisco Cius tablets, Android 2.2 is supported.
There is also a support for a bluetooth and docked keyboard devices, but you must see the documentation of the manufacturer of your device on that.
What's are the Features:
Support for the major Android 3 tablets – Models include the Motorola Xoom, Samsung Galaxy Tab 10.1, Acer Iconia Tab, and LG G Slate.
Other tablets will be added and supported as the product gets developed and enhanced further in future versions.
On the screen-shot below you can see a Windows 7 desktop.  Virtual trackpad – Control your desktop on a granular level just like you would control the mouse on a laptop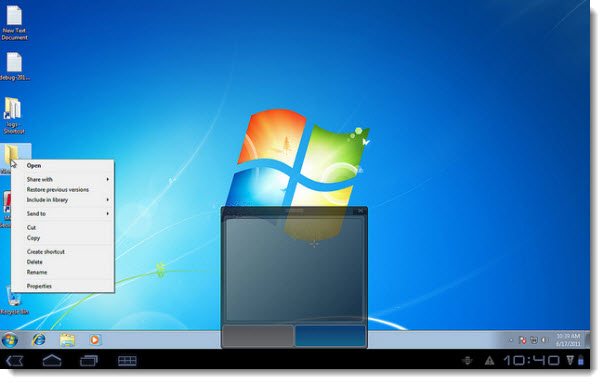 Work the way you want to – Use your Android tablet to work on your Windows-based VMware View virtual desktop from any location. Support for the PCoIP display protocol from VMware means your desktop is fast and responsive regardless of where you are.
Best of both worlds – View Client supports native Android gestures for quick and easy navigation around your desktop. Need to do something more complex? Use the onscreen touchpad for better mouse targeting or use the onscreen arrow keys for efficient textinput.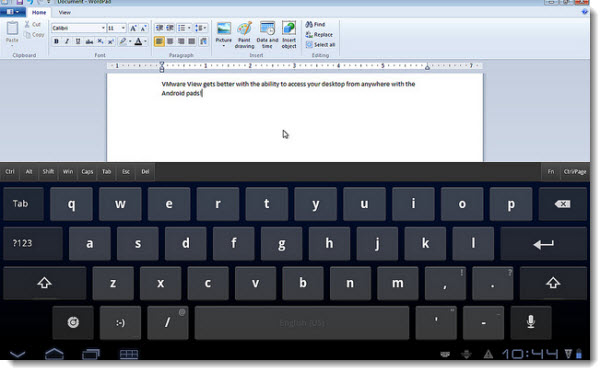 Simple connectivity – View Client for Android is tightly integrated with the VMware View 4.6 release for simple setup and connectivity. Quickly reconnect to your desktop by selecting from the recent desktop list.  VMware View Security Server support (best experience) – No need to have VPN when you use VMware View Security Server.
Multiple broker support – If you have more than one VMware View broker in your organization, you can can easily access your desktop from all of them via the Android client.
Multitasking – In a WiFi network, View Client for Android can continue to run in the background indefinitely. In a 3G network, by default, to avoid unnecessary expense, the connection to the desktop is dropped immediately when you switch to a different app. You can, however, configure View Client for Android to run in the background indefinitely.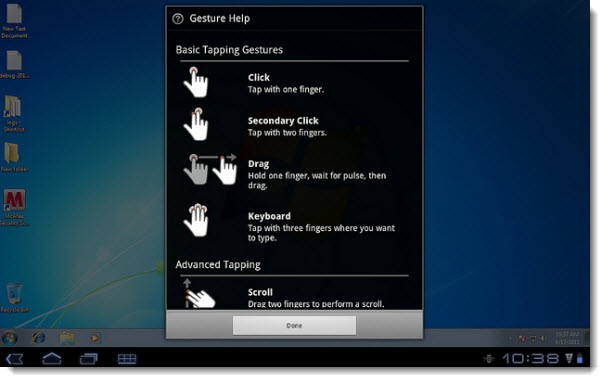 Unmatched performance – The adaptive capabilities of the PCoIP protocol are optimized to deliver the best user experience, even over low-bandwidth and high-latency connections.
Secure from any location – At your desk or away from the office your data is always secure. Access your View
desktop over WiFi or 3G, and with tight VMware View 4.6 integration your desktop is delivered securely to you
wherever you are.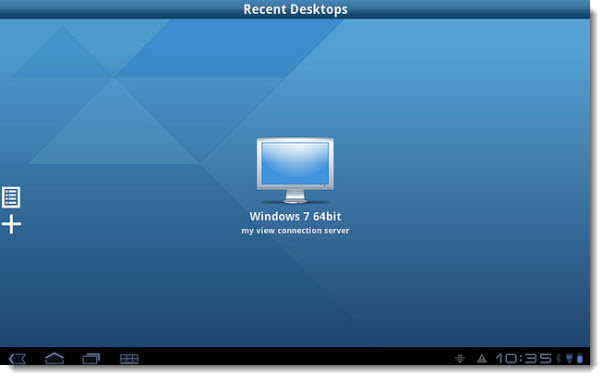 More Flickr Screenshots here.
VMware's official blog post (with walk-through video). There is also a User Guide and Release Notes are also available from VMware.
A video from YouTube:
You can download View Client for Android in the Android Market.
Give Feedback in  discussion forum.
Source: VMware Blog