VMware has released View client for iPad – and it's Free.
This new software has been released through iTunes and you can get your copy here. You'll have to upgrade (if not already) to VMware View 4.6 since it's a required version. There has been some buzz around if this application will be free download or not before the release, but as far as I saw on iTunes the View Client for iPad is Free download. It's available for IOS 4.2 and newer versions in the Apple AppStore.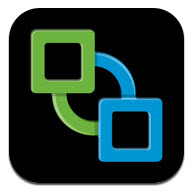 By using the View Client on the iPad you can access your company's corporate virtual desktop running with VMware View 4.6.  It's the requirement for this client. The functionality of the software is made as easy by the built-in virtual touchpad. This virtual touchpad can be moved on the screen to best fits your needs, so if you're a laptop user for example you'll find your way quite fast.
A System monitor is included from within the View Client so you're able to monitor the CPU usage, battery level, memory usage and also the network traffic, bandwidth and latency.
The only supported protocol is PCoIP so unless you're using a VPN compatible software for iPad, you or your users won't be able to connect externaly.
Apparently the View Client from VMware is supporting only iPad as for now, but more Tablets and more operating systems are planned to be supported later on. Also VMware says that there will be other functionalities and enhancements added later.
First connection screen looks like this: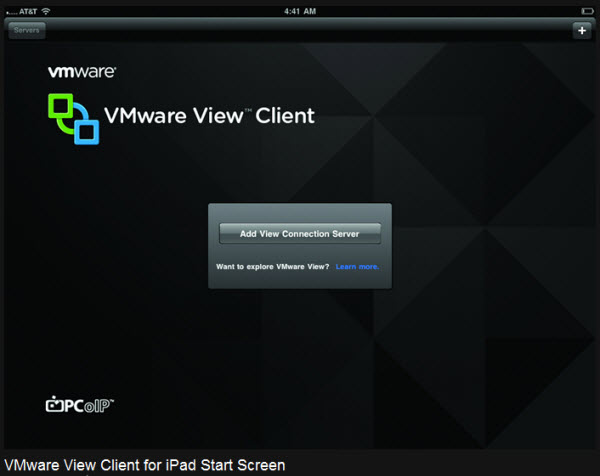 Which Features brings VMware View Client for iPad?
VMware View Client for iPad makes it easy to access your Windows virtual desktop from your iPad with the best possible user experience on the Local Area Network (LAN) or across a Wide Area Network (WAN).
Work the way you want to – Use your iPad to work on your Windows-based VMware View virtual desktop from any location. Support for the PCoIP display protocol from VMware means your desktop is fast and responsive
regardless of where you are.
Best of both worlds – View Client supports native iPad gestures for quick and easy navigation around your desktop. Need to do something more complex? Use the onscreen trackpad for better mouse targeting or use the
onscreen arrow keys for efficient text input.
Simple connectivity – View Client for iPad is tightly integrated with the VMware View 4.6 release for simple setup and connectivity. Quickly reconnect to your desktop by selecting from the recent desktop list.
Unmatched performance – The adaptive capabilities of the PCoIP protocol are optimized to deliver the best user experience, even over low-bandwidth and high-latency connections.
Secure from any location – At your desk or away from the office your data is always secure. Access your View desktop over Wi-Fi or 3G, and with tight VMware View 4.6 integration your desktop is delivered securely to you wherever you are.
How to bring in the virtual keyboard? Put 3 fingers on the iPad screen….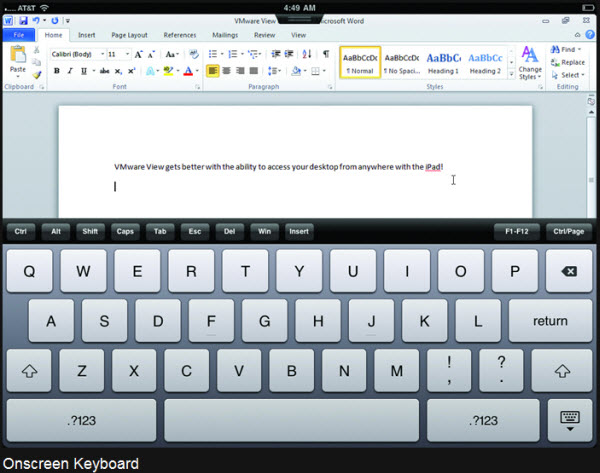 Some documentation is available as a PDF download.
Vmware communities made available a PDF for download: Using VMware View Client for iPad (PDF)
You can find the step-by-step installation process, the requirements and also a troubleshooting.

You can see the virtual touchpad on the image below: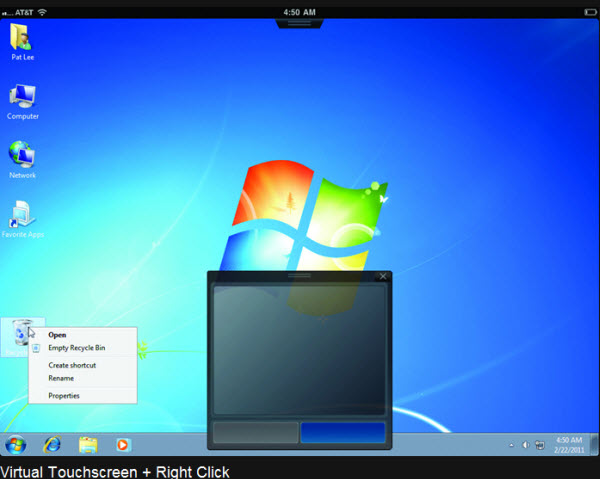 As you can see on the image below, there is an On line gesture help, which shows you the possibilities you have…

As I saw on Eric Sloof's blog, he says that there are some other cool features included in the View client:
A quick quote from his blog:
Navigation within for instance Adobe's PDF reader can be done through touching the screen but there's also a possibility to emulate keys like page-up and page down. When turning the iPad sideways, the desktop automatically follows your view and the desktop resizes. The windows resolution is fully dynamic. Another cool feature is the VMware View Client for iPad mini app store ; – ) There's already one available application offered by VMware View Client for iPad. It's the ThinApp version of the FireFox web browser.  The 3 finger keyboard gesture will bring up the original iPad keyboard after touching the screen with 3 fingers at the same time.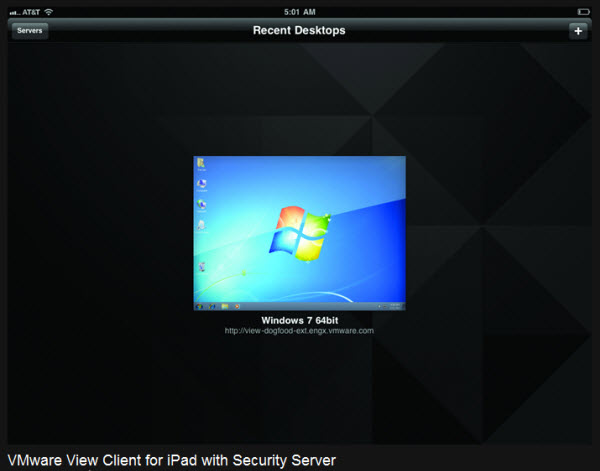 I'm embedding Eric's video, because he is the first one to made one…
Here is another video from VMware:
Source: NtPro.nl