Vmware vSphere 4 configuration in a DRS cluster.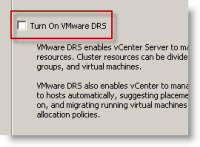 This video comes from David Davis, the author of Trainsignal's great video learning course for VMware vSphere 4 .
Sometimes you need to configure some rules in a DRS cluster to fits your needs in your environment. For example you need 2 VMs to always run on 2 separate physical servers to avoid a downtime in case this particular ESX host has a problem. You did not know that it's possible doing it? Yes.
How do you do that? Just watch this video… David explains….
Watch another free videos from Trainsignal:
I can confirm that… -:) For my VCP exam those videos was really helpful.
However, this course has helped hundreds of students worldwide become proficient in VMware ESX for the real world and in turn, pass the VCP certification exam!