VMware vSphere 5 Training from Trainsignal – my review. This latest Trainsignal's training wasn't reviewed on my site yet, and I have been kindly provided with this possibility by David Davis, so I'm very glad that I can show to my readers with an exact and honest opinion on what to expect when buying this training course. Right now I'm preparing to upgrade my VCP 4 and so I was able to test this Trainsignal's latest training course – VMware vSphere 5 Training.
I grew with VMware since the early ESX 3 (that's when I started with virtualization). I can now say with experience, that vSphere 5 got into a level where it's very advanced cloud Operating system with some very advanced features. vSphere 5 brought over 150 new features.
This Cloud OS gives you the possibility to manage your virtual infrastructure within very small SMB environments , with one or two ESXi hosts, or to manage large infrastructures with several hundreds of ESXi hosts. The product is just built for it. It's up to you, IT admin, to get the best possible knowledge about it.
What you get when buying this vSphere 5 training?
You're getting the best available video learning system currently available. This Self Paced learning course has it's limits over to learning in a VMware Class and closes the gap by the experiences you can get by learning on your own in your own physical (or virtual) lab. It's definitely a valuable, complementary learning resource to the other VCP 5 resources – See my post on it here – which are widely available as a PDFs, Books, and Forums.
Nearly 17 Hours (16 Hours, 41 Minutes, 21 Seconds) of VMware vSphere 5 Training Videos.
The learning package brings 3 DVDs with a lot of content provided by David Davis and Elias Khnaser. The content on what's inside the package has been already posted in my article – VMware vSphere 5 Trainsignal's Training is available. What's more present is the instructor's notes, a over 130 page PDF with screenshots from the training on one side and on the other side you got a place where you can take notes.
Now I will not be able to cover every single lesson from the training here, since the article would be too lengthy. But I want to give you some sneak peak with my words on how I felt that those lessons were done, with my preferences to some single particular lessons, like the storage lesson bellow.
 The storage lesson – it's lesson 15
With virtual storage, that's where an IT admin can be quite "overwhelmed" by new storage therms. If you don't use to manage Fiber channel SANs, you'll learn some stuff. You'll learn some basics about LUN mapping, hard zoning, soft zoning, and also LUN masking. All those are particular terms when using FC SAN storage systems at the enterprise level, but with the recent price drops, the FC becomes coming down to the SMB market as well. And for sure you'll get some questions at the VCP exam with those particular FC storage terms.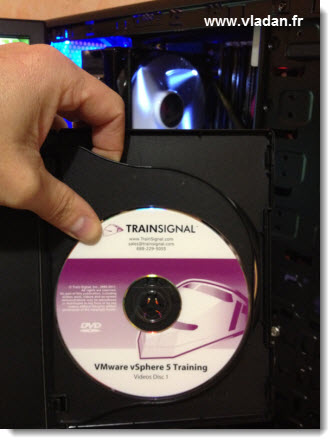 Elias Khnaser is the trainer for this lesson, and with his help you'll be able to get some experiences on FC even if you have never implemented. I did an FC implementation in several occasions, but as I'm oriented mostly on the SMB market, where iSCSI is leveraged most of the time. Thus the FC is not my strongest.
iSCSI on the other hand can be easily tested in a lab, or even in a virtual lab. I'm using both, NFS and iSCSI in my lab, and you'll be able to see how different those 2 are if you'll watch this lesson.
VMware vSphere 5 uses NFS, FC or iSCSI to connect to shared storage and create Datastores where the VMs lives. Those 3 technologies which connects the ESXi hosts to shared storage are then leveraged by all the enterprise class features like vMotion, DRS, DPM, sDRS, SVMotion or HA (High availability).
All those vSphere features needs shared storage, which can be also "simulated" by VSA (vSphere Storage Appliance). VSA is covered in a separate lesson due to a specific pre-requisites. VSA uses directly attached storage (DAS) – disks presents locally in server hardware – to create a shared storage which is then presented to all ESXi hosts. VSA is great, but with the limitation to place vCenter to additional physical server…..
On the image below you can see  a screenshot from the course. Elias Khnaser is explaining the FC connections between the ESXi host > The Fabric (FC switch) > FC SAN storage system.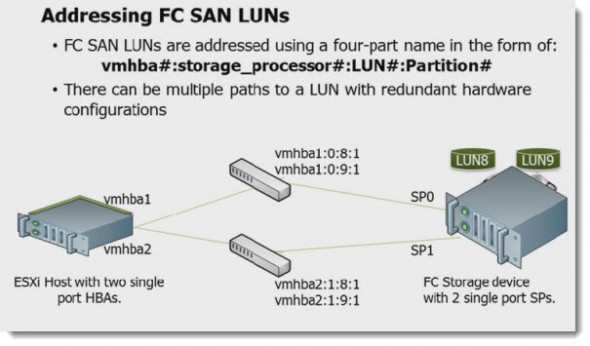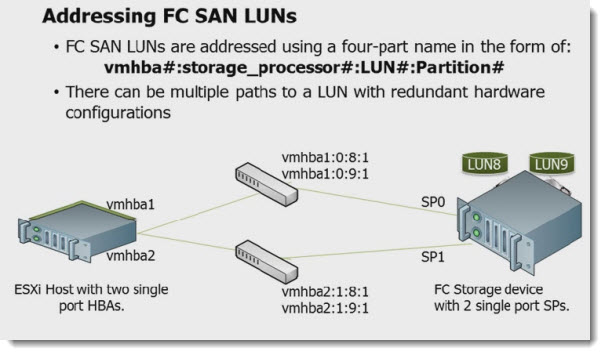 To watch the whole training course, it's better to take few days off if you can. If you're in the phase of preparation for the exam, you might schedule this accordingly in order to match your schedule. I watched 2-3 videos daily during a week or so.
Virtual Networking Lessons
Those 2 lessons will teach you all you need to know about networking in vSphere and to prepare for your VCP exam. Elias Khnaser is the trainer for those 2 lessons. Some theory, and some GUI are showed. Portgroups, virtual Nics, standard virtual switches, VLANs, VLAN taggings, Private VLANs, Primary Private VLANs, Secondary Private VLANs, PVLANs secondary mode Nodes (Promiscuous, isolated, community), Fail-over policies… and how to override them….VLAN Trunking, vSphere Distributed Virtual Switches…..that's some of the basics invoked from that lessons.
Elias explains clearly and shows examples for each option – it's really informative. I must admin I haven't played enough with vDS, since the Entreprise Plus licensing is not present much in the SMB field areas… but I definitely gonna have closer look at the vDS since there might be some questions about the vDS and it's configuration during the exam…

In addition, I will review this 2 networking lessons (especially the vDS lesson) later once more time. This networking lessons, if you don't have enough networking background, should be helpful for you since it explain some networking facts, but from the VMware vSphere side.
It will not explain you on how-to create those VLANs on your switch and how to activate the inter VLAN routing, but you'll see what the VLANs are for and how to integrate them into the vSphere design.
The vDS and Private VLANs might seems to look more complicated, but you can learn from those videos what you need to know and how to use it afterwards with vSphere. Those things are necessary to know, that you can became a good VMware Administrator and gain your VCP certification.
vMotion and storage vMotion (SVMotion)
vMotion has been enhanced in vSphere 5. You did not know that? In those lessons you'll learn all the prerequisites first,  for the vMotion to work, what are the different compatibility modes between different CPU models and also how-to configure vMotion in vSphere 5 cluster. David also shows you the new vMotion possibilities in vSphere 5 where 10 Gigs NICs are supported.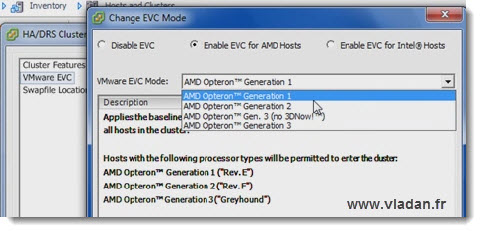 You'll see a vMotion in action with moving a VM from one ESXi host to another with losing one single ping…. It's magic!
In vSphere 5 there has been multi NIC vMotion Support with maximum 16 NICs for 1Gigs or for 4 NICs for 10 Gigs ethernet.
This allows you to evacuate any ESXi 5 host really fast. Why evacuate? For patching or maintenance tasks. The number of simultaneous VMotions has increased since vSphere 4.1 where the limits to simultaneous vMotions was 4( or 8 ) depending if on 1Gigs (or 10 gigs ) NICs.
With storage vMotion lesson you'll learn about the prerequisites, the configuration, and possibilities. The licensing questions are invoked as well, since storage vMotion is not present in all versions of vSphere 5.
DRS and DPM
DRS and DPM are tightly integrated with vMotion. You'll learn all you need to know about how it works, what's the DRS good for and how to configure DRS. With DRS enabled, the VMs will get "balanced" between different hosts present in the DRS cluster dynamically. DRS ensures that a VM gets the resources that are needed for that VM.
DPM in the other hand is designed to save energy… ans save money. You'll learn all different options and possibilities of DRS and DPM in the lesson 23.
Implementing HA (High Availability) with vSphere 5
This is a very cool lesson, since you'll learn really one of the core features of vSphere – HA. this feature is present in almost all vSphere 5 editions (except vSphere 5 essentials), so even small shops can benefit an automatic failover in case of a hardware failure or VM failure. Yes, you can configure HA to monitor your VMs and in case there is no heartbeat from one particular VM, this one can be restarted.
The design of HA has changed in vSphere 5. I reported on that in my article  vSphere 5 – New High Availability Agent Introduced – FDM. You'll find out the new architecture of HA with FDM (fault domain manager), with Master/slave architecture and more.
Best Practices – You'll learn some tricks here which are useful in real life scenarios. I keep the suspense here, and don't tell every single tweak from the course…. -:). But those guys have the experience, and they're showing it here…. and I learned tweak or two…
 Auto Deploy lesson
The new feature in vSphere 5 is auto deploy, which enables you to specify rules for auto-deployment of your new ESXi hosts depending for example on the hardware you're deploying etc… The whole infrastructure (because there is a small infrastructure) is to put in place in order to make this feature to work. The ESXi installation images are loaded into memory, so the deployment process don't installs onto local disks.
The auto deploy feature permits you to automatically add ESXi host into your vCenter, to your cluster and you have a possibility use host profiles for the configuration. Yes, there is a quite a lot of  information to learn about and definitely to test it in your home lab (if you got one).
This lesson will teach you all this. You get the whole picture, the whole architecture setup, you'll get explained all components before you will follow Elias which will explain through the practical exercise the GUI the different configuration steps.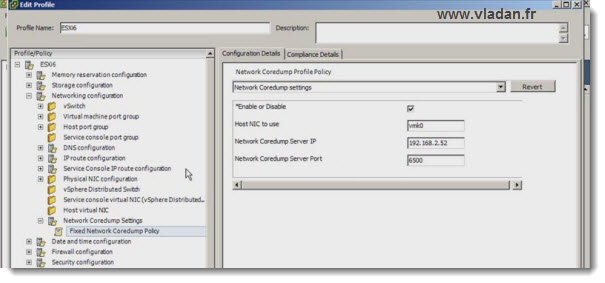 Lessons 24 to 34 are just excellent. All those lessons are explaining the new stuff present in vSphere 5 (FYI there is over 150 new features in vSphere 5). See the whole outline of the vSphere 5 course at the Trainsignal's website – there is 36 lessons.   You'll get the knowledge by watching those guys playing with those new features.
My reflections and conclusion
I'm already VCP 4 and in preparation for VCP 5 which I'll be taking soon. I passed the VCP 510 back in january 2012 with succes. You can read my post with the VCP 5 ressources here.
What I can say, even if I know a lot about vSphere, done a lot of deployments, works a lot in my home lab – there is always something that I haven't thought of, there is always different ways of doing stuff and there is certainly many aspects and features that I haven't explored yet. This vSphere 5 training has opened some of those grey zones that are now clear for me.
There has been some lessons, of course, which did not bring me anything new (that's normal, since I'm not new to this stuff….; -:). But in general I found this course as well balanced and well explained. This course can be best value for people wanting to learn by themselves. For new people which learns virtualization from scratch this course brings it all in one package.  They get the basics, the middle and the advanced too…
And for people who are in preparation for VCP this course brings an additional resources if they studying just from the latest blueprint. People without home lab will definitely appreciate this course where they can see the real actions through the GUI together with the necessary information on the base setup for different vSphere 5 features.