Sample video from VMware vSphere Performance Monitoring Training from TrainSignal.
In this latest video from the new vSphere monitoring training, David Davis, the instructor. In this demo from TrainSignal's vSphere Performance Monitoring course, David Davis will show you how to monitor CPU metrics in vSphere.
David is using the VMware vSphere client in this video.
The video is one of the 40 videos present in the training – VMware vSphere Performance Monitoring Training.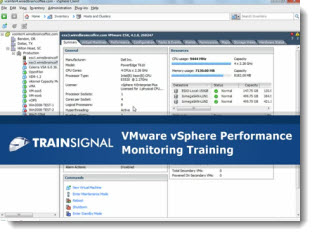 I covered the launch of this training in my article here, where you can also find the whole outline.
Where to find which value and what all this means. You'll see where to digg deep to find the informations you need to determine the CPU utilization at specified period of time.
As you can see, the CPU metrics are quite important so it's good to find out what all this means:
– CPU Scheduler Overview
– What Causes CPU Load?
– What Affects CPU Performance?
– What CPU Metrics Do I Need to Monitor?
– Importance of Ready Time
– What in the World is a CPU World?
– vSphere CPU Scheduler Reference
– Understanding NUMA- Viewing Physical and Virtual CPU Counts
– CPU Metrics You Must Know
– Monitoring CPU Metrics with the vSphere Client
– Monitoring CPU Metrics with esxtop
– 6 Ways to Solve CPU Performance Issues
Here is the Sample video from the course:
Wow, there is quite some new terms here which needs to be explored. Go and see more details on TrainSignal's Website about this new Training.