During the general session today at VMworld Barcelona 2017, Pat Gelsinger announced that this European VMworld is the biggest event from the audience perspective. There is over 11000 people attending this year. From my point of few after walking through the solution exchange, I have the feeling that even the solution exchange area is much bigger than from the previous years.
This is of course only my own feeling as I don't have any official numbers concerning the vendors, sponsors, and exhibitors here in Barcelona.
During the keynote, we have seen a cool demo with Alan Renouf presenting a virtual virtual datacenter. In fact, Pat Gelsinger, wearing a VR headset was able to move workloads between on premises datacenter and the cloud datacenter (by literally throwing a VM into the cloud datacenter).
The UI was really geeky and cool, but what a surprise when Alan announced that they were working on it with the Hackathon team only for about one and a half day!!! Wow. Quite a cool experience.
Other functions Pat Gelsinger was able to do was dynamically adjust the size of the datacenter by adding an additional host, and the workloads were moved to this new host automatically to release a pressure from existing infrastructure which showed some signs of a memory pressure (in red).
UPDATE: Check our VMworld 2017 page for some more news, videos and photos…. -:)
So far I was able to shoot few videos here at VMworld 2017 in Barcelona.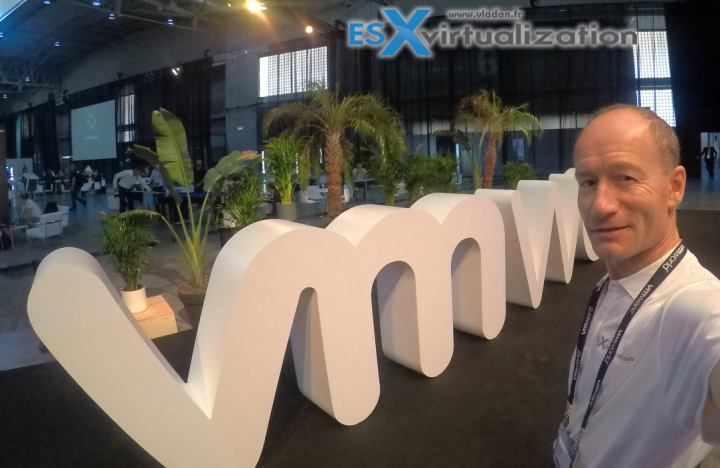 Pat Gelsinger was also talking about the upcoming security product called AppDefence, which the main role will be to make sure that the environment stays secure and it will work quite differently than the traditional security and antivirus products by scanning the whole system against all the 50 million possible threads.
Instead, the AppDefence will save a snapshot of a healthy environment (the Capture phase) and then monitor for some suspect change within the environment. Then, if there is a thread detected, the product can fight back with an appropriate response.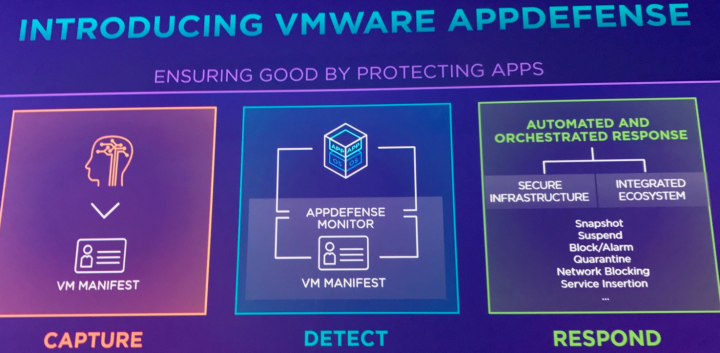 Quote from the product page:
Rather than chasing after threats, AppDefense understands how applications are supposed to work and monitors for changes to that intended state that indicate a threat. When a threat is detected, AppDefense automatically responds.
The show continues tomorrow with another general session, and many breakout sessions, discussion groups, vBrownbag videos and the solution exchange.
Stay tuned for more information and announcements from VMworld 2017.
UPDATE: Check our VMworld 2017 page for some more news, videos and photos…. -:)
More from ESX Virtualization:
Stay tuned through RSS, and social media channels (Twitter, FB, YouTube)