One would have to live under the rock not knowing Eric Sloof.…
Eric is VMware Certified Instructor and great blogger who do not hesitate to post as often as possible to keep us updated with great news and how-to's. He is one of my favorite bloggers… -:)
In one of his latest posts he is exploring one of the new features of vSphere: vNetwork Distributed Switch
Since I cannot explore this feature on my own, because I was not a part of the Beta program, I borrowed the picture from his blog. He agreed….
VMware vNetwork Distributed Switch simplifies virtual machine networking by enabling you to setup virtual machine networking for your entire datacenter from a centralized interface. You are also able to migrate your portgroup from one VM network to another (watch the last video…) which is a real time saver.
It looks like that from this place you'll be able to give the IP adresses to all your VM's which are connected to the switch..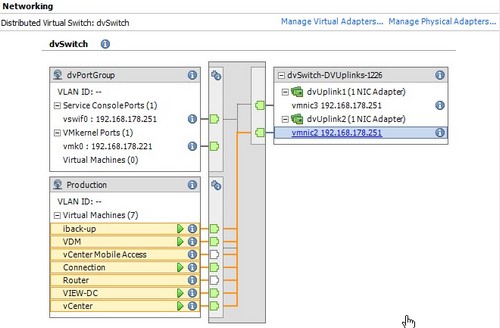 There is also the YouTube video (but it's not HQ)….
Last but not least you can have a look at flash video from VMware Website: