New video from VMware KBTV shows how to upgrade your ESXi hosts to the latest version of ESXi 5.
One of the new features of VMware Updata Manager 5.0  (VUM) is also the possibility to upgrade your existing ESX classic host to ESXi 5.0 and preserving your VMFS volumes.  But the VUM 5 no longer supports the patching of Virtual Machines. A feature which was present in vCenter 4 and VUM 4.
Now you don't have to use VUM 5 to do the upgrades. There are several different methods supported to upgrade ESX/ESXi hosts to the latest version of ESXi 5. If you have few servers, you can burn the ESXi 5.0 ISO image to the CD rom and do an in place upgrade on each host at the console. But you would preferably use the built in vSphere 5 feature called VMware vSphere 5 update manager.
The VUM is a built in feature of VMware vSphere. It existed in vSphere 4.x and it also exist in vSphere 5. It's a very convenient way to patch your ESXi hosts and to do upgrades as well. If your infrastructure is large enough, you probably do not even think of using a CD for running around your datacenter and upgrading your hosts….
The video shows step by step procedure from the start to the end on how to install and activate VUM 5 on the vCenter Server, than the installation of the vCenter plugin and how to patch/upgrade your hosts.  You'll see how to import the upgrade image, how to create a baseline.
Then the compliance view shows you how to attach the baseline and then how to scan the selected host for compliance. The remediate action can be then executed. When the remediate action is executed, the host is put into a maintenance mode and the patching process can start. After reboot, the host starts with the ESXi 5 deployed and exits the maintenance mode.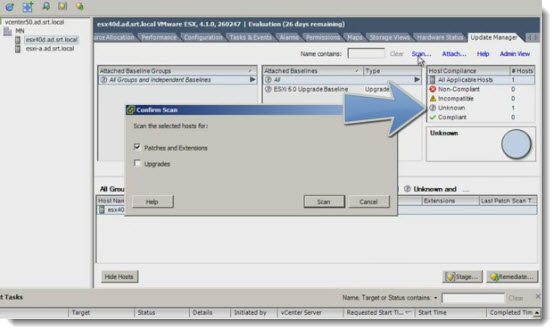 Enjoy the video below:
Source: VMware KB TV