Recent Microsoft patch Tuesday brought a new Microsoft patch which triggers a system message inviting you to reserve your Free Upgrade to Windows 10. Strange behavior you might think. It seems that Microsoft do not have your e-mail in their system just yet as they ask for an E-mail address. Anyway, users of Windows 7 home and W7 Pro as well as Windows 8.0, 8.1 version shall see the message within the system.
The new patch is KB3035583 for Windows 7 and Windows 8/8.1 users which will trigger the message for Windows users by notifying the to upgrade to Windows 10 when it becomes available.
I'm not closed to get a free upgrade on my old Laptop running Windows 7 pro, but for me the message just doesnt's shows up! -:). I suppose that I'm not elected one for the upgrade despite the fact that that particular laptop is running original Windows 7 pro.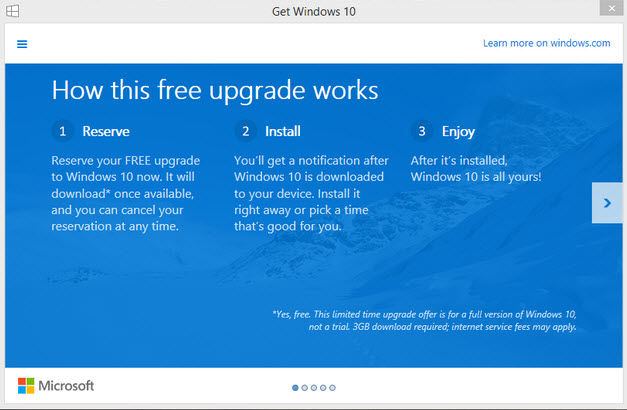 So I went to check Microsoft Support website to find out why I'm in the case that the Upgrade invite just do not work for my system.
Quote:
To install this update, you must have April 2014 update rollup for Windows RT 8.1, Windows 8.1, and Windows Server 2012 R2 (2919355) installed in Windows 8.1. Or, install Windows 7 SP1.

Registry information – To apply this update, you do not have to make any changes to the registry.

Restart requirement – You do not have to restart the computer after you apply this update.

Update replacement information – This update does not replace a previously released update.
That' just fine.
I checked the updates I'm having installed on my system and the KB3035583 is present..
Note: You can check for a specific update , manually within your elevated command prompt by typing the command:
dism /online /get-packages | findstr 3035583
If you have the update installed, this command will show the package details.
Apparently the problem is with the fact that the laptop is joined to a domain!
This confirms the fact that I have a GWX folder present with the Microsoft App, and there in the XML config file I found that there is an option
"C:WindowsSystem32GWX" shows, that the following value is set:
 <EnableDomainJoined>false</EnableDomainJoined>

The file is write protected and can only be edited as an Administrator.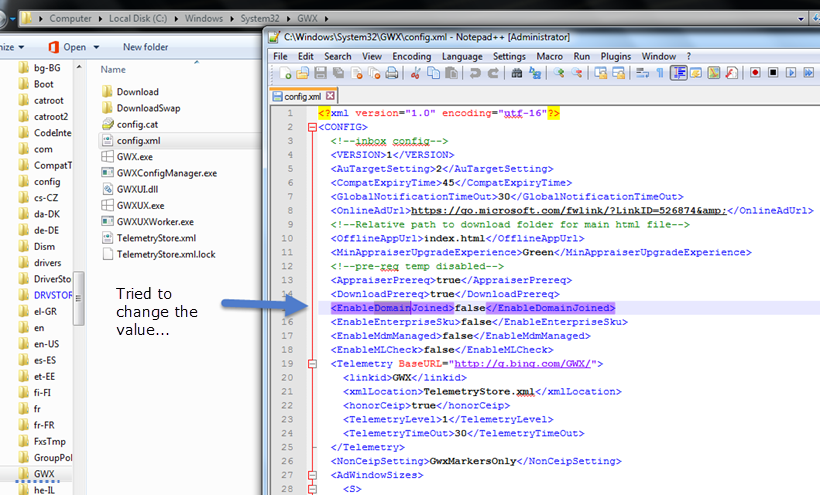 Note that G.W.X. (gwx.exe) stands for Get Windows X (10). Well, Who knows what's actually is sent to Microsoft…. Shouldn't I rather migrate to OSX or Linux?
So as for now, several users also reported that the folder (with the app) were repeatedly removed by some antivirus programs….. -:( Bad… Then there is the Windows event logs which gets created for the GWX app…  It seems that there are some requirements that the Laptop did not pass…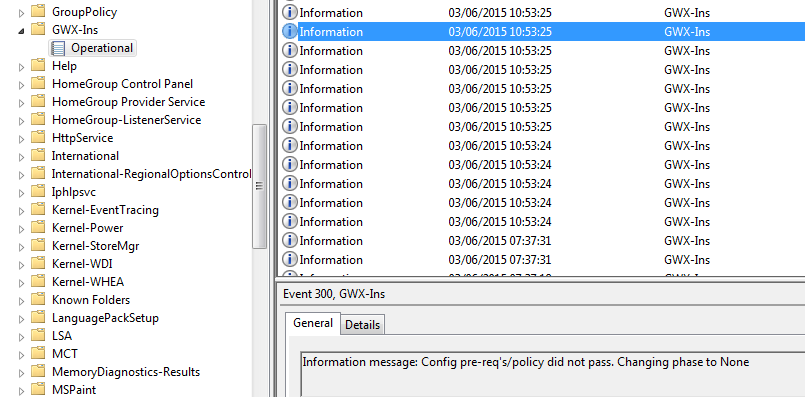 And then we can see other information which are logged… that the Windows is activated

Or that the machine is domain joined. (Thus I was connected with a local admin session of the laptop. Not a via domain session)

Well, all this seems that I'll just wait to get the bits the 29th of June – Windows 10 release date, the date of the release and then will see how I'll manage (if I decide to do so) the upgrade. Apparently there is also a way to get the upgrade and do a clean install…. Microsoft shall communicate a bit more on all this. Instead there are just some bits here and there.
I'd prefer to do a clean install over upgrade. Upgrades which brings all this "dirt" (patches, patches…. dirt, patches….) Well, For now I need some Windows box to manage my client's infrastructures, home lab etc.
Update: I just tried to quickly leave the domain with the laptop… It works… Of course you can reserve the W10 upgrade there, but it's also possible to verify the compatibility of your hardware. Mine was just fine except a Bluetooth server warning..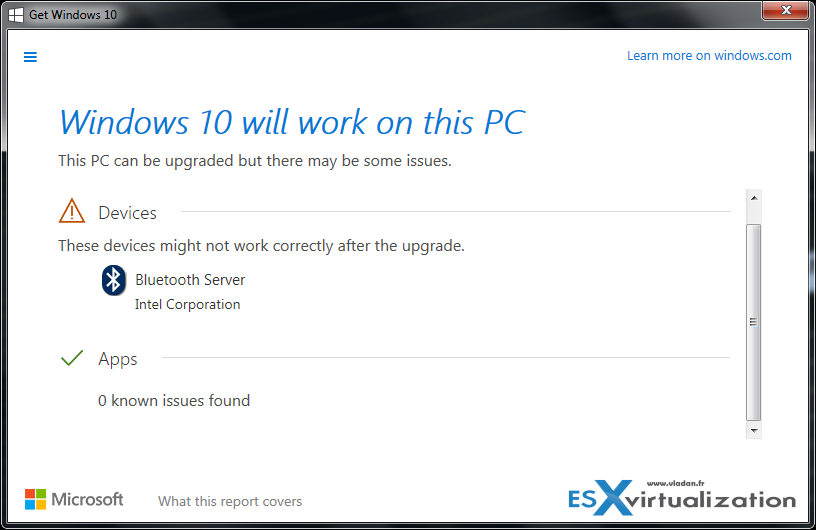 To reserve just click the icon on the main screen > And then Reserve your upgrade. As you can see you can also do the Check the PC where you check the PC for any app/hardware compatibility issues.

When you join the domain, the small taksbar app just disappear. So for now, my readers, wait and see… -:).