A Spanish fellow blogger Xavier Genestos has released a new book (available through Lulu). The book is interesting as it presents the new Windows Server 2016 as labs. Also, if you look at the name of the book WS2016Labs, and the book cover, you can see the lab design. He was working on the book since 2014 when Microsoft has released the first Tech preview of their software (now RTM and available for download). The book is in Spanish.
I have met with Xavier during VMworld Party in Barcelona, together with other Spanish bloggers, Jorge de la Cruz and Frederico Cinalli. He told me about his blog, sysadmit.com and his upcoming Windows Server 2016 book, during that time, and then few days later he has send me an e-mail.
I'm actually Google translating the page on his blog (in Spanish) but it's pretty OK… As being said, the book is organized as labs so each new feature is first explained and then you can see the how-to step by step in a lab. Good idea.
The book is only available as a paper book, but you can get the PowerShell cmdlets which are used in the labs, in digital format.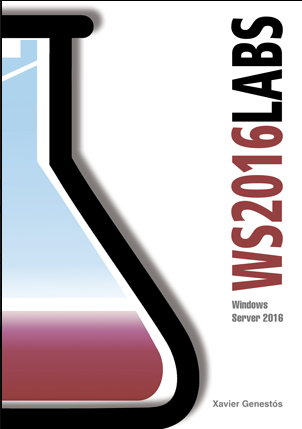 You can buy this book on LULU. It is interesting how they actually handle the printing. They do "print on demand" so you'll wait for the shippment 3-5 business days as with every command, they only print what's necessary not guessing on how many copies to print upfront and possibly wasting resources.
The content:
There are quite a few chapters to cover all new stuff, but also the existing features which were already present in Windows Server 2012.
Editions and Licensing
System
PowerShell v5
NanoServer
Containers
Multipoint
DNS server
Ipam
IIS 10
File Server
Active Directory
Here is a quote concerning Multipoint server role:
Another new feature found in Windows Server 2016 is the Multipoint service is integrated into Windows Server as role. The use of multipoint is very interesting in training environments. With multipoint , you can share the screen with other computers and vice versa. This section of the book, we will see implementation of this role, its possibilities and a step by step operation laboratory.
Link for the book at Lulu is here.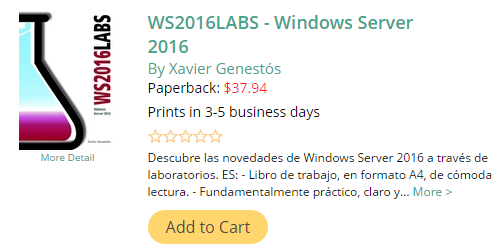 I will also advise that prior to purchase, to take a look at the FAQ:
https://www.sysadmit.com/p/faq-libros.html
Source: WS2016LABS blog page at Xavier's blog.
Check it out -:).