Many of you that uses WordPress as a publishing and blogging platform don't do daily backup. I didn't do either, until I found this service, which is affordable, and which does have a free plan too. This WordPress backup cloud service costs me some money on monthly basis, with a pro plan, but they're also providing free plan.
The backup of WordPress based and DB in general might be a repetitive process if done manually, or done through a WP plugin. Usually those free plugins do their job, but they add some huge amount of  CPU overhead, so If you're using shared hosting only, your hosting company might suspend your account due to a high CPU (or bandwidth) utilization. That's why it's fairly difficult to find a good way to backup a blog.
Why backup you say? Well, for many reasons. First one of them is just to have the data safe….. But there are many reasons why would anything goes wrong. And you can be sure that if anything would go wrong, the day you don't expect that it happens,  it will.
I had problems in the past with my blog, spyware, blog was hacked…and the Murphy's Law worked just perfectly that day.
Today I'll show you a service which does WordPress backup and also backup of websites which aren't WP based blogs. The service shows you also through a nice made dashboard how many files has been added, changed or deleted. You can get all this information with daily e-mail, if you set this up through the dashboard, or you can see this directly in the Dashboard.
The service I'm talking about is provided by company called CodeGuard, and It can protect one site for Free, with up to 2Gb of storage space. This might be enough to start with in many cases, and the upgrade to their first plan costs as less as $5/month.
You can have up to 10 websites on this plan. Then, there are more expensive, enterprise plans, where the limit of websites is lifted to 25 or 100, the storage capacity is 25 or 100 Gb, and also the security is reinforced with SFTP access for backing up your website. The free account is using FTP only. See all backup plans.
WordPress backup to the Cloud, you can try it for free.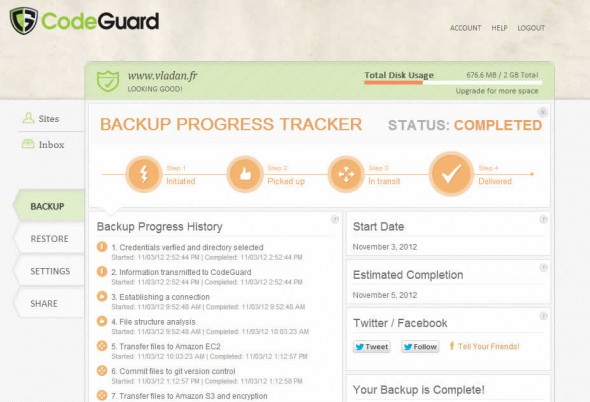 How their backup service works?
The website is backed through the WP plugin automatically every day. Only first backup is full. The backups are stored on CodeGuard servers, and you have the possibility to restore to any point in time – similarly like Time Machine.
For WordPress blogs, you have separate backups for files (can be downloaded as a single ZIP file) and for your WordPress database. The WP database have two options when it comes to restore operations. The first one is to download the backup (ZIP) and restore manually, the second option does that automatically.
There is condition, however, for this to work:
In order for CodeGuard to backup and restore your database, the user that you specify for the service to use must have the appropriate permissions granted.  We recommend that you select or create a user that has the permissions needed for both backup and restore.
So, what they basically recommends is, after you have created the account and so the service uses the login/password combination of your FTP account to access the website, you create an additional user through PHP MyAdmin in your Administration area at your hosting provider's cPanel (or whatever solution you using there). If of course the user name and password is the same as the user name and password for the FTP access.
There is an FAQ section on their site, you can have a look at different questions there.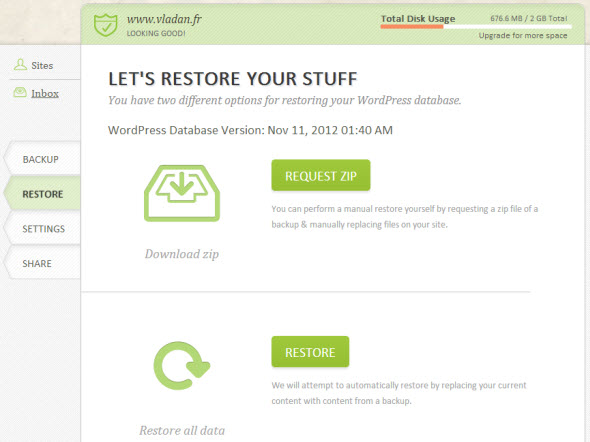 I thought that it might be useful for many folks that have blogs and don't want to loose their work by some person, who hack websites and ruins many hours of people's work.
I hope you find it useful. If you like the service, like me, just share…. -:).