Zentyal Server is one of those Linux distributions which provides very well built-in front end management, a Webmin like GUI. They have just released Zentyal 3.4 Community Edition. I have blogged already about Zentyal in my post here where I tested also installation on the top of usual Ubuntu server distribution, which was also possible.
But now Zentyal uses Ubuntu base distribution only, so it's even more straightforward. It's the Ubuntu 13.10 version. The Community version is free and can be download from Zentyal site. However if you install the community, then you apparently can't upgrade to the commercial version so you might better download the 30 days trial of the commercial version.
The folks at Zentyal have released the community edition which has a native drop-in replacement for Windows Small Business server and Microsoft Exchange Server.
What's new in Zentyal 3.4?
New base distribution: Ubuntu 13.10 Saucy
Improved interoperability with Microsoft® Exchange Server, including Outlook Anywhere support, Out of office-message support, Improved use case of Zentyal as additional Microsoft® Exchange Server and fully renewed webmail
High availability for the UTM & Gateway services, including configuration replication among nodes, multi-node active/passive redundancy configuration and an option to select a node as active (Promote) or passive (Demote)
Removal of Apache instance for Zentyal Administration
Improved system of bug reports
Improved management of exceptions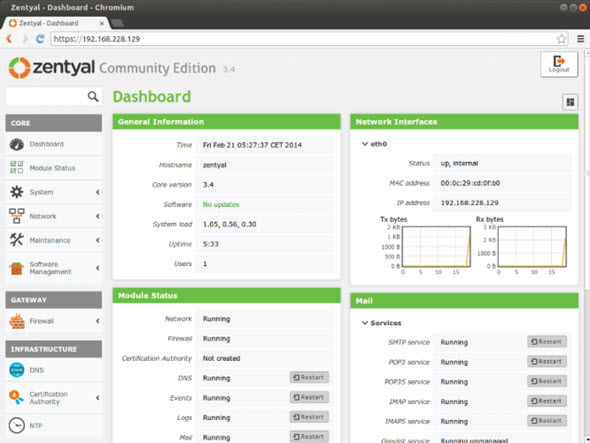 The integration between Samba and OpenChange technologies is done by Zentyal in order to be satisfy completely the interoperability with Microsoft Exchange and Active directory.
The questions which is rising in my head are:
Which version of AD is supported?
Which version of MS Exchange is supported?
I guess that this and more questions shall be asked before jumping into some testing or POC. What do you think?