How to entitle Thinapped applications and Installation of Horizon Client. In this third part we will first do an some applications entitlements to an AD group which you should create (or you can use existing AD group), We will install the Horizon Agent onto a client system, and we also install a certificate in our client system that we created and saved in the first part or our serie.
So, as you can see we still have some work to do in order to achieve the installation of VMware Horizon Application Manager in a lab environment.
What have we done so far:
In case, that HTTPS is used, then here is the URL <Horizon Application Manager FQDN:8443>
To entitle some applications to an AD group, first log in to Horizon application manager and then go to the Admin menu. As you can see, I have already entitled some applications there, and so they appear on the Home page, before we click the admin menu there.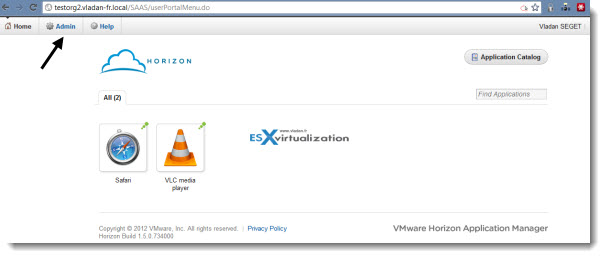 By clicking the admin menu, you should end up on admin page, where you have the possibility to see a general admin view presenting on how many users/groups yo managing, latest tasks done. Note that the online help is always handy on right hand side of your webpage.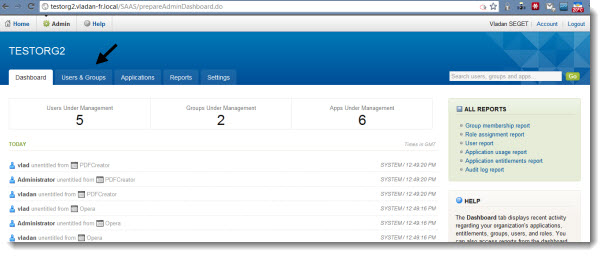 Then you can go and click the Users and Groups tab, to go and see the entitlement for groups or users. Usually you'll be wanting to manage groups.
I created a group called VIEW, where I'm member, and where I can put users which will receive thinapped applications managed by Horizon.

By clicking the group you'll see the existing applications entitled to that group. In my case I already assigned 3 applications to that group, as you can see on the image below.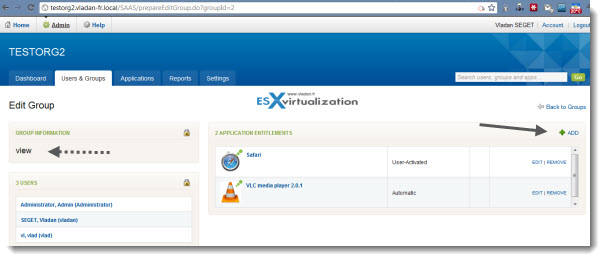 So I will be adding more applications there to that group. On the right, there is a + ADD button there. We'll go ahead and click that to add some more Thinapps. If you choose "User Activated", the user has to log into Horizon by himself and Ask for the application to "get installed" on his system.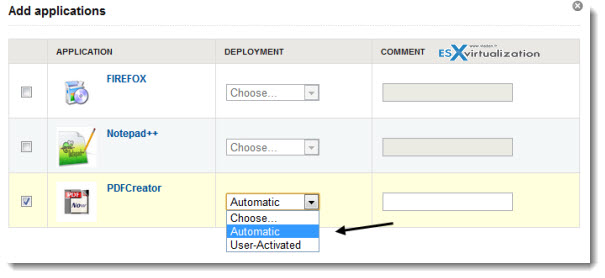 So you should see the application that we just entitled, to appear as a new application for the desired group. In our case it's the VIEW group.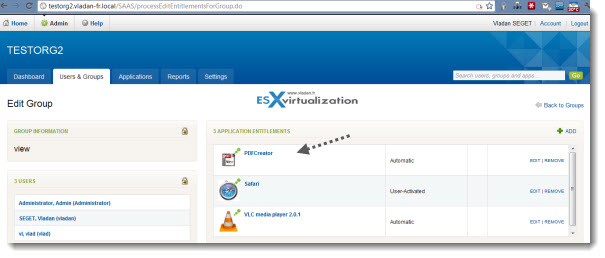 Once some thinapp applications assigned to our group (users) we will install the Horizon Agent in a VM. The Horizon Agent is responsible for synchronizing the applications assigned to user. It's done automatically when the user logs on and then on regular basis. The user can refresh manually as well.
One note: A .NET 3.5 is required to be installed prior to installation of Horizon Agent.
I'm using an XP system to get small disk footprint in my small lab. There is a separate installation package for Windows 7 and for Windows XP. The assistant guides you through the installation steps.

Continue the setup on next page –>
Pages: 1 2