Today I'll be talking about Wordfence Security Plugin for Wordpres, which enables you to not only secure your WordPress blog or website, but also get rid of Spyware or virus which infected your DB or core WordPress files.
This plugin is a fully featured free enterprise class security plugin that includes a firewall, virus scanning, real-time traffic with geolocation and more.
I'm not associated in any way with the folks providing the service, I just wanted to give them some love through this blog post, since I know how frustrating it can be when your blog gets infected or hacked.
The Wordfence Security Plugin for WordPress completes my CodeGuard backup and protection service I'm using for my blog. I went for the perso plan which enables me to backup automatically the whole blog. There is 5Gb of space and it makes my life easier when it comes to have Offsite backups on regular basis with excellent granularity. Also I'm alerted when any changes happens to any file occurs.
The Wordfence Security Plugin for Wordpres is free with some paid options. I'm using the free option as for now and I'm satisfied with what's provided out of the box. Premium users can also block countries and schedule scans for specific times and a higher frequenc, If you're premium user,  you can scan also your public facing website for known vulnerabilities.
The plugin has helped me to recover from spyware infection on another blog of mine, by scanning and finding the core WP infected files.

All data is sent to their servers using a secure SSL connection. Actually the MD5 and SHA hashes of your files and the filenames are sent to Wordfence.com servers for verification. If you check an option to participate in the Wordfence security network, the IP addresses (as integers) that have violated your firewall or login rules are sent as well.
These are compared against rule-breakers on other sites and may be included in a list of dangerous IP's that Wordfence distribute to you and other sites to watch out for.
What WordFence Security Plugin Scans?
Scans all files in the base of your WordPress directory (ABSPATH) including hidden files.
Scans all files in any WordPress directories under this base directory.
Compares all your core files against the originals, will show you the changes and let you repair them.
Compares all your plugin files against the originals, will show you the changes and let you repair them.
Compares all your theme files against the originals, will show you the changes and let you repair them.
Scans all your files (including themes and plugins, even for free users) to see if they are on a list of known malware files. The current list is over 44,000 files.
Scans the contents of all your files (including themes and plugins, even for free users) to see if they contain a malware, trojan, virus, backdoor, known dangerous URL or known vulnerability.
Scans all your posts and comments for URL's on Google's Safe Browsing list.
Continually scans comments as they arrive.
Scans for weak passwords.
Alerts you to DNS changes.
Checks for out of date plugins or themes.
Checks your disk space.
So If you have a WP file which got a malicious code injected into it (experienced that on other WP blog….) so it enables you to replace the infected file by an file from original WP repository. The same for Plugins and Themes  - if using Twenty Ten or Twenty twelve – not personalized. Or if you personalized by creating a child theme.
Wordfence Security Plugin - The Installation.
The installation is simple.  Download the plugin from WordPress.org and get an API code WordFence.com to activate the plugin. The plugin works out of the box with setup that protect your site with Medium protection, but you can adjust to fit your needs. Fine tuning can be done with the individual options through check boxes.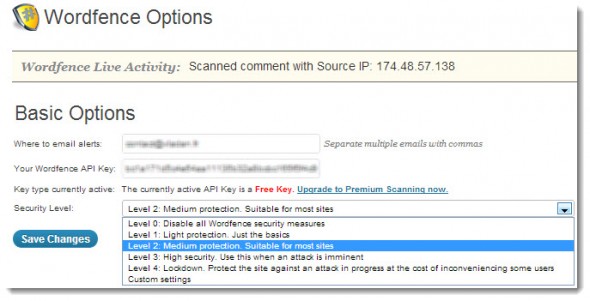 Here is another screenshot from the scanning activity. There is a manual scan button too at the top left of the WP dashboard screen.

And here is another screenshot from a "real life" example, where the core WordPress file got infected, and as you can see there is a direct option on to replace the infected file by an original file from WordPress online repository. Pretty neat… -:)

Yes, I found this plugin very valuable for bloggers and WordPress users, so go ahead and check it out yourself.
Here is the link to the Wordfence Security Plugin at the WordPress.org website.
Enjoy… -:)
Feel free to subscribe via 
RSS
 or by e-mail to get the latest news to be delivered via weekly newsletter. We respect your privacy.
The last update was on .