Altaro Office 365 Backup is a solution for an organization willing to protect their Office 365 data. As you know, Microsoft does not offer any kind of restore possibility in case you lose your data. It's your responsibility to have backups and the possibility to restore.
Altaro has introduced the Office 365 Backup a few months back. Office 365 mailbox backups are automatically saved to Altaro's secure cloud backup location hosted on Microsoft Azure Infrastructure. The backups run several times per day. (Max 4 times per day).
The cost for storage of backups is included in the offer, so you can't use your own storage if you already have a storage account at Microsoft, Google or Amazon.
Altaro's solution will backup your Office 365 data (Outlook, files in your SharePoint Online and OneDrive for Business) to Azure infrastructure provided by Altaro. So you don't have have a separate Azure account for that. It is a "point-in-time" restoration so you can have long-term retention for SharePoint Online and One Drive for Business with a possibility to easily restore your files from any date you want.
Depending on the failure you'd be facing, if anything goes wrong with the underlying infrastructure at Microsoft, they basically do not guarantee, that you can restore your data. It's your own responsibility. Imagine that they have a hardware failure with data corruption, so they must reinstall your organization from scratch. They don't have backups so they'll actually provide you with a "clean" state and it's up to you to restore (if you have backups).
Altaro Office 365 Backup Features:
Mailbox – the whole mailbox is restored. You can restore to the same location or you can export as PST and open locally to extract just the item you want.
Granular E-mail restores – You can select an item, and restore only that.
File-level restore of OneDrive for Business – restore files or folders from any point in time.
SharePoint Online Restore – individual item restore or a full restore.
Unlimited retention period – the backups are retained during the lifetime of the mailbox and the data are kept forever. If you stop the subscription, the data are deleted.
Encryption – backup data is protected by AES 256-bit encryption at rest. The authentication user interaction (login, setting changes, subscription management and accessing backed up data) works over TLS encrypted channel.
Pricing per mailbox – You can have a case where you have a single mailbox used by multiple users. In this case, you pay just a single mailbox.
Image from Altaro.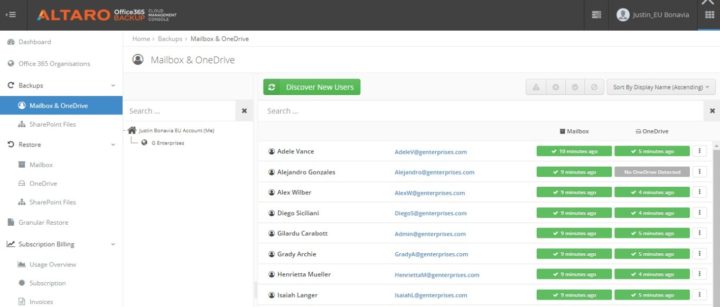 How to test?
Simply sign up and connect an Office 365 account. Backups are taken automatically and saved to Altaro's Azure infrastructure. You have 30 days trial you can test.
Altaro Office 365 Backup is one of the cost-effective backup solutions out there. Here is a few FAQ from their website.
What is included in the price?
Your subscription includes backup, storage, 24/7 support and access to our cloud management console for centralized management of all your company's Office 365 backups. You can subscribe for one or more years.
How does pricing work?
Pricing is per user. A user is a backed-up Mailbox, Shared Mailbox, OneDrive Account or Shared OneDrive Account. Each of these requires a user license.
If a single user has both Mailbox and OneDrive backups, that counts as one billable user.
SharePoint Site Document libraries are backed up for free as long as OneDrive backups are enabled for that organization.
If one mailbox is used by multiple users, the fee is for the mailbox rather than for the number of people who have access to it.
Can I delete my account at any time?
You can take a single or multi-year subscription, with the option to renew or not once that time expires.
I would like to switch from trial to paid subscription. What should I do?
Follow the instructions here or click here to send a request.
What if I do not have a minimum of 10 users to back up?
You can start with a few users as you wish, as long as you get the minimum starting subscription of up to 10 users (mailboxes only) per year. So if you wish to start with 5 users, you can – however, you will be billed for 10.
Final Words
Altaro diversifies its backup offering after entering the market successfully with VM Backup for Hyper-V and VMware a few years ago. Now they also have an offer for Office 365 users and already offer also a Physical backup for Windows servers/desktops/laptops. This offering is as a Freeware and subscription through MSP.
It seems that many backup vendors go via this path and trying to respond to the client's needs which are basically what's written above. Physical server backup for Linux systems might be the next logical step for Altaro.
Check Altaro Office 365 Backup here.
More posts from ESX Virtualization:
Stay tuned through RSS, and social media channels (Twitter, FB, YouTube)