After introducing a new naming convention back in March, VMware explains other changes which will be implemented this year. This post is about VMware Certification Changes in 2019. There will be new naming conventions. Newly passed certification will be named after the year when you met the requirement. Example VCP 6.5-DCV will become VCP 2019 and you'll be able to choose to pass VCP exam based either on vSphere 6.5 or 6.7 (24th of Jan).
Do not forget that all VCP Certifications requires you to attend a VMware training course ( An Instructor lead Class or On-Deman Course ). You'll also need to pass the VCP Foundation Exam.
All those certification changes will be implemented according to a schedule this year, starting by the VMware Certified Professional (VCP) exam.
Here is the schedule:
Jan 1: All VCP certifications
Mar 1: All VCAP Design certifications
May 1: All VCAP Deploy certifications
VCDX certification updates will follow VCAP releases
Overview of the VMware Certification changes in 2019. Those changes are changing the naming convention and so when you'll pass a new VCP this year, the name of the certification will reflect the year when you passed the VCP (resp the year when you fulfilled the requirements). Here are some examples of the new VCP naming conventions.
As you can see, new VCP certification exam based on vSphere 6.7 is out now. Please read our detailed post about VCP6.7-DCV 2019 VMware Certification Exam Officially Announced.
Screenshot from VMware blog post.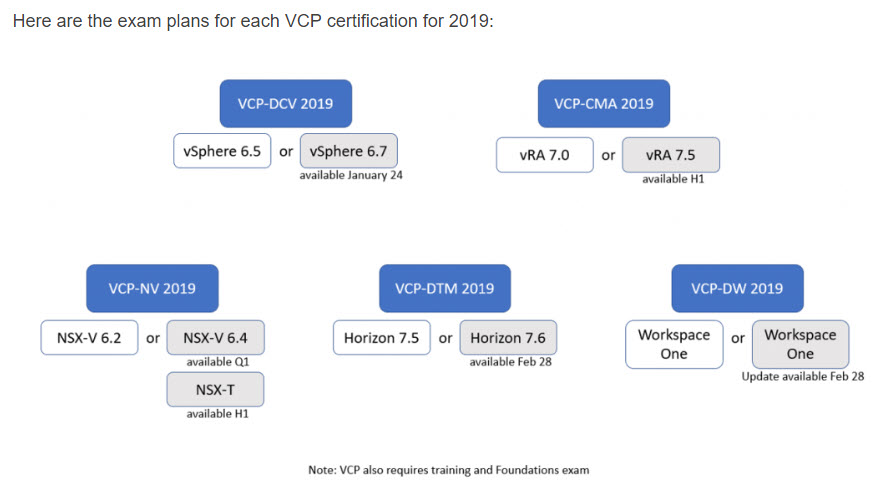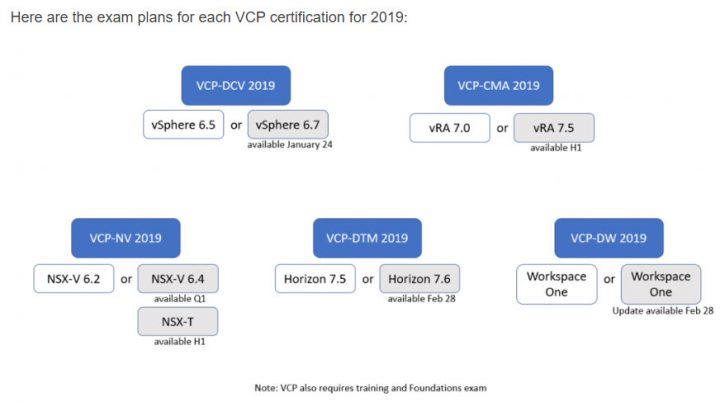 In fact, it's more complicated than that as VMware says that you'll earn the title with the "Year" when "you complete the requirements". As requirements, VMware means that you'll attend a class and you'll pass the Foundation exam. But also you pass the VCP Exam itself.
If you have questions, please post a comment to the original VMware blog post and let VMware know your opinion.
Quote:
With the year designator on every certification, it becomes clearer when you earned a certification and how current your expertise is within that certification track. The certification you earn depends on when you complete the requirements. If you meet all the requirements in 2019 (starting on January 16), you'll earn the 2019 certification. If you finish it in 2020, you'll earn the 2020 certification, and so on.
VMware want's you to participate and ask questions. Make sure to check the original blog post and post a comment if you have questions. They have an FAQ document which is a "work in progress" and which is completed as new questions are asked.
Here are a few examples from the FAQ document:
Q: What is VMware announcing?
A. The VMware Certification team is implementing a new certification name change, where the year will be used to identify when the certification was earned. This change is intended to make it easier for certification holders and potential employers to immediately identify how current a holder's certification is. This also allows the certification holder to validate the currency of their certified knowledge.  The new naming will eventually apply to all VMware certifications and select badges.
For example:
Former naming: VMware Certified Professional Desktop Mobility 8 (VCP8-DTM)
NEW naming: VMware Certified Professional Desktop Mobility 2018 (VCP-DTM 2018)
Q: How does this affect the release of VMware training aligned to certification exams?
A. VMware training courses will continue to be released as they are today, aligned to VMware product releases. Certification exams will continue to be aligned to VMware training courses. The Exam Prep Guide will list the course(s) available that are designed to help a candidate prepare for the exam, and the exam objectives will always point to the most current VMware training and content.
Wrap Up:
As you can see VMware certification evolves again to match the current needs. However, it does not mean that VMware does not listen. They do, and they're ready to make changes in case of majority customers wants to.
Source: VMware blog post.
If you have met the requirements you can also purchase the VCP Exam vouchers at the VMware online store. VCP exam vouchers may be used as payment for all VMware professional level certification exams.
*************************
*************************
It is a convenient purchase option to buy certification exam vouchers for certification candidates.
Vouchers are available electronically, making them convenient to distribute to employees and students and avoid paperwork. Vouchers may be used for immediate test appointment scheduling online, through the contact center, or directly through local test centers.
Make sure to check our vSphere 6.7 page and some other links below. Enjoy…
Update: No more Mandatory recertification
If you're VCP5-DCV or VCP6-DCV you don't need to re-certify and your certification will not expire. You can pass 1 exam to be VCP6.7-DCV 2019 without going through mandatory training as a new candidate or someone with VCP4-DCV. Good news indeed…
So, effective immediately, the mandatory recertification requirement will be removed from all current certifications.
Quote: We are also extending the ability to upgrade to the latest version in the same track if you are within three versions (for example, from VCP5-DCV to VCP-DCV 2019). This is
a change from the previous requirement of being able to upgrade within only two versions.
Here is a video. Source blog post at VMware. FAQ document in PDF is here.
Question: I am VCP4-DCV. Can I now upgrade directly to the new VCP-DCV 2019?
A. No. The VCP4-DCV will still be inactive. If the VCP4-DCV is the most recent certification you have earned, you will need to follow the steps as a new candidate.
More from ESX Virtualization
Stay tuned through RSS, and social media channels (Twitter, FB, YouTube)