Atlantis Computing is announcing Atlantis USX 3.0 which brings in new SmartSnap feature allowing to initiate snapshot via vSphere but under the covers use more efficient and quicker technology. Another new feature is VVOL support and Atlantis is first hyper-converged software vendor supporting VVOLs.
If you don't know Atlantis computing I invite you to read my detailed posts (with install steps in my lab) and also about their new HyperScale architecture here. Atlantis can pool storage of your existing ESXi hosts and create highly optimized pool where data are deduplicated at inception to provide more efficient and more performant storage to the applications. Atlantis presents this storage as an NFS mount to ESXi hosts.
What's New in USX 3.0?
VVOL Support – First SDS vendor supporting VVOLs, which encapsulate virtual machine files into a single entity. VVOLs will provide the ability to apply service levels (performance, capacity) to individual VMs and offload the management to the external array. HyperScale (hardware + software) now can leverage VVOLs too.
SmartSnap – faster snapshots which are initiated by vCenter and then USX takes the relay by using more efficient technology copying only metadata.
Replication as dataservice – it's a remote replication between USX and HyperScale instances. For the moment 1h RPO is supported.
Atlantis Insight – new alert and messaging service for Atlantis computing support allowing software updates or alerts and logs in case of problems.
VMware VSAN was radically simple as it allowed only to gather the DAS storage (1 SSD + several HDDs) to create a disk group(s) in each server, to finally select with a single checkbox to create single VSAN volume.
Atlantis USX allows much more and provides an additional services on the top of it. Also, it can also use a local server's RAM for high performance volumes. Combination of all those types of storage gives you quite some possibilities and choices.
Screenshot from Atlantis Computing community site.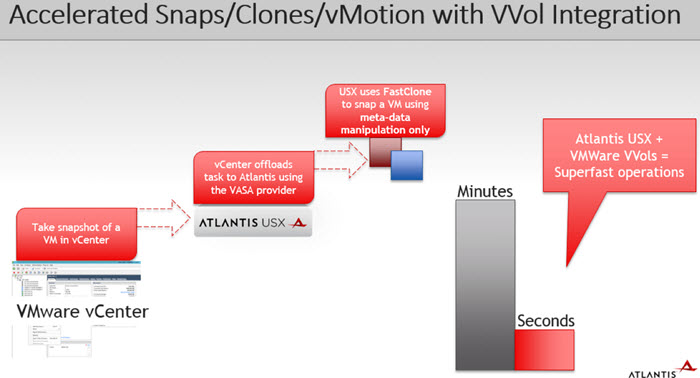 Links:
You can watch video interview with Seth Knox done by Datatrend, through Periscope here.
Also check a blog post from Victor van den Berg.
Blog on Atlantis USX 3.0 SmartSnap
USX 3.0 Solution Brief
There shall be a press release from Atlantis computing today, so this post will more likely be updated with further info.