Atlantis Computing is one of the new actors of hyper-converged systems. If you don't know Atlantis you might want to check one of my previous posts here or here as their offering I'm talking today is basically an extension on what they do at the software side. Their software product is called Atlantis USX and I briefly tested in my lab, check the  2 article series here – Atlantis USX Introduction.
Now, today's news is that Atlantis is partnering with hardware vendors in order to produce a full package (hardware + software) to introduce a first economically viable All-Flash Hyper-converged solution called Atlantis HyperScale. In fact in their specs they were showing during the pre-release, shows, that the cost of the full product including hardware, software and support is up to 90% cheaper than the competition.
Many other hyper-converged vendors like Nutanix, VMware (Evo:RAIL), Simplivity they already do partner with hardware vendors. What's new at Atlantis is that not only their core USX technology is very advanced and elaborated but inline deduplication with data reduction finally gives a customer better bucks for the Gb….
All of the vendors are using different technology to achieve the same goal – to get rid of hardware SAN (for the use cases where it's possible), by proposing a software solution which creates shared datastore from local disks/SSDs. Where VMware EVO:Rail uses a kernel module, Simplivity uses hardware card, the two others actors uses VSA which carves local storage and present it as NFS share or iSCSI target to all hosts within the cluster.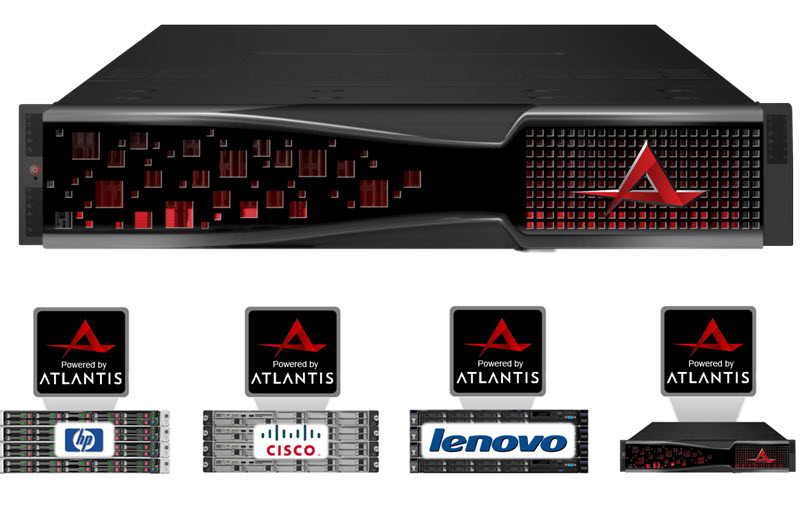 Whether VMware does not provide any data reduction services on the top of VSAN which is present in the EVO:Rail package, Nutanix and Atlantis computing both do have a deduplication, where Nutanix writes the I/Os to the flash for deduplication first.
Screenshot showing different technologies of the principal hyperconverged actors.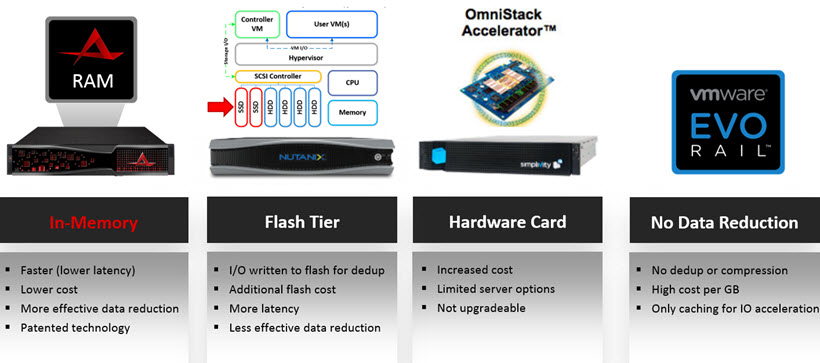 Atlantis proposes a fixed configurations and specifications of 12Tb and 24Tb models with 4-nodes appliances. The support will gets assured by Atlantis (24x7x365) with 4h response. The hardware partners are:
HP
Cisco
Lenovo
Supermicro
Screenshot showing the detailed specs of the Supermicro 4 node cluster…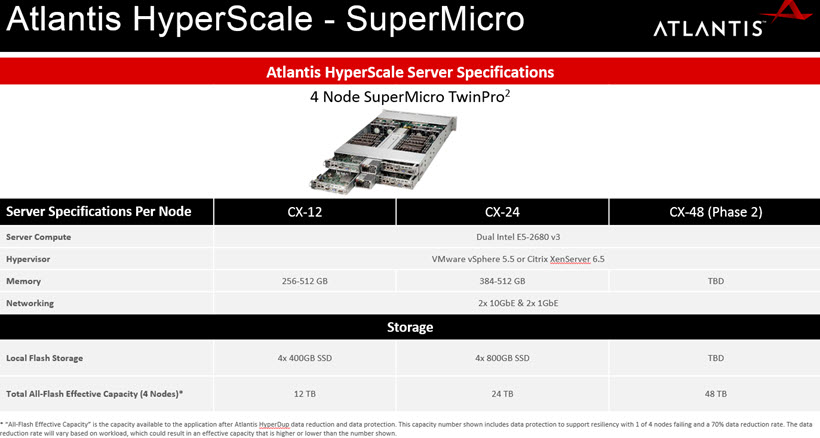 Their offering is quite aggressive as they guarantee the capacity. So basically if you purchase an Atlantis HperScale product of 12, 24 or 48Tb from a certified channel partner and deploy Atlantis HyperScale and fill up the storage volumes with data, vms or so and you don't receive the purchased effective capacity out of your storage, Atlantis will provide additional capacity software…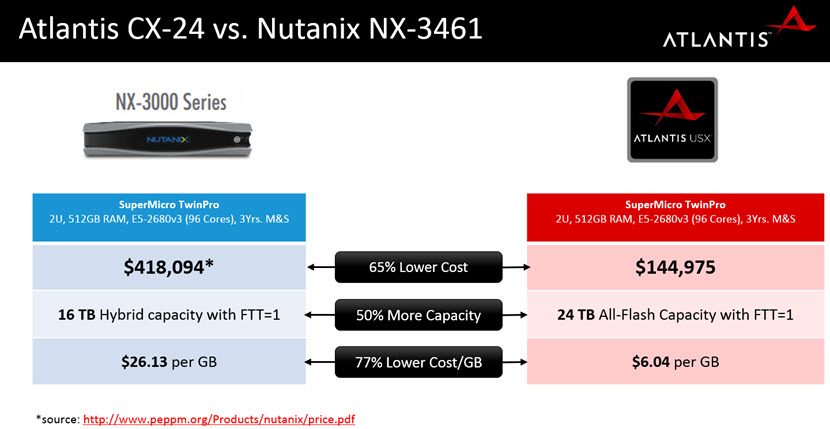 Compare with EVO:RAIL is also interesting…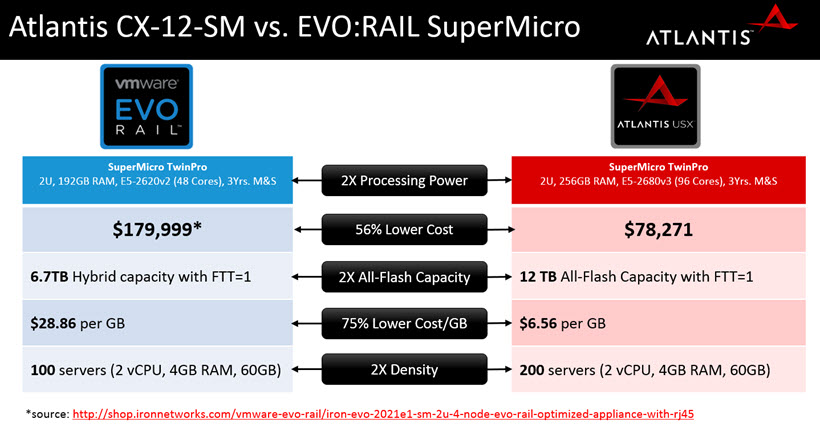 As customer support, Atlantis offers single point of contact for customers including 4-hour parts replacement. Atlantis HyperScale includes a three-year global service and support program, covering the whole product (Atlantis software, hypervisor, SSDs, server hardware components.)
The Atlantis USX hyperconverged solution is relatively easy to Install and (or) implement. There is a lot of the "behind the covers" scripting and orchestrating going on behind the scenes and as an admin there is not much to worry about. I'm curently testing the solution in my lab.
They provide trials in case you want to test. I think worth is to point out that it's not necessary to wipe any datastore or something as the solution works on the top of local (or shared) datastores, to provide the acceleration and hyper-convergence.
Atlantis HyperScale is available right now and with pricing starting at $78,000. Atlantis HyperScale is sold only through channel partners