Free backup tool GhettoVCB2 was released.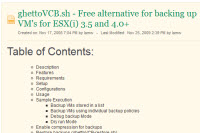 There has been new version of free script for backing up the VMware's free version of ESXi 4 . As you shoud know (and I'm sure you do), with the free version of ESXi you don't have a console (unless you use the unsupported mode – not recommended, only to use with VMware support guys), so that's why GhettoVCB uses VIMA/vMA to execute itself and do the actual backup of your VM's. GhettoVCB2 uses the VI Perl Toolkit/vSphere SDK for Perl which is present in the VIMA/vMA virtual appliance provided by VMware.
vMA stays for vSphere Management Assistant. It's a free appliance (in OVA format) which you can deploy from this url: https://www.vmware.com/go/importvma/vma4.ovf. From this appliance you can execute the GhettoVCB2  Script. You can even digg a bit further if you already managing few ESXi 4 servers and use the one vMA appliance with GhettoVCB2 to backup all of them by enabling vi-fastpass too…. -:). For how-to do this you must at this PDF from VMware's Website.
You can find all the how-to and step-by-step on VMware communities page here. The author is William Lam.
Sure it's not like VMware Data Recovery, you don't have a Graphical user interface. But if you're are on a budget and you are already using the free version of ESXi 4 from VMware, you might want to try this free alternative.
Here are all the features:
Support for logging (normal & verbose)
Single VM backup list across multiple ESX/ESXi host(s)
Credential-less backups (so long as host(s) are being managed by VIMA/vMA)
Online back up of VM(s)
Only valid VMDKs presented to the VM will be backed up
Support for multiple VMDK backup per VM
Preserve original powerState of VM(s)
Ability to shutdown guestOS, initiate backup process and power on VM afterwards with the option of hardpower timeout
Ensure that snapshot removal process completes prior to continuing the backup process
VM(s) that initially contain snapshots and Physical RDMs (raw device mapppings) will not be backed up
Support for VM(s) with Virtual RDMs
Ability to specify the number of backup rotations per VM
Output back up VMDKs in ZEROEDTHICK (default behavior), EAGERZEROEDTHICK, 2GB SPARSE or THIN format
Ouput backup VMDKs using either BUSLOGIC or LSILOGIC adapter type
Fully support VMDKs stored across multiple datastores
VM snapshot memory and quiesce options
Individual VM backup policy (supported on ESX(i) 3.5u2+ & ESX(i) 4.x+)

Email logs (Experimental Support)

NEW!

Ability to include/exclude specific VMDK(s) per VM (requires individual VM backup policy setup)

NEW!

Independent disk aware (will ignore VMDK)

NEW!

Additional debugging information including dry run execution

NEW!