There is new book about VMware vSphere from French blogger Eric Maille.
Eric Maille is a French blogger and IT engineer from Paris. He blogs at virt-now.com (FR) and he wrote a book about VMware vSphere. In fact I was not aware of that at all and I feel a bit ashamed since I could really talk about it earlier, but since I speak 3 languages I don't really pay attention if I'm reading French, English or Czech….
In fact the book was released already sometimes in February 2010 so this information is not new, it's just that I was not following Eric's blog and I wasn't aware of that. The book is in French as for now, but the Spanish version comes out the 9th of the December.
It is a  419 pages book so it must be a great read, but in French as for now…. I really hope that Eric does prepare the English version of the book too as I told him it would definitely interest more than only French speaking IT guys. Even if with the Spanish version is already on it's way.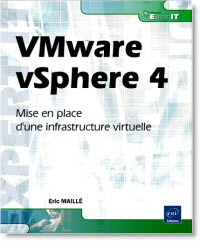 This book, published by ENI, is dedicated to VMware vSphere 4 and it's destined to people wishing to know more about virtualization. The audience for the book? System Admins, projects managers, consultants, sales people or technicians…….There is something for everybody.  It serves as a guideline for setting up virtual infrastructure running VMware vSphere 4 as a virtualization platform.
Few reactions of readers:
Jérémy Ladet, Architecte EDF
Excellent book that allowed me to progress quickly and understand specific concepts related to virtualization. The book is comprehensive and rich information and best practices. All phases of a virtualization project are detailed with the right questions to ask with answers and advice. An indispensable on the bookshelf.
Sylvain Siou – Technical Director VMware France
Eric has not only gathered the fundamentals of vSphere and solutions provided by the whole ecosystem around VMware in this book.  He also synthesized multiple threads for 5 years on various aspects and best practices necessary for building a virtual infrastructure.
Virt-now.com (Belgium)
The book by Eric Maille VMware vSphere 4: Establishment of a virtual infrastructure dedicated to virtualization and VMware vSphere 4 is aimed at anyone working in IT wanting to know the virtualization or deepen their knowledge in this area. The examples are numerous and real feedback from the author, which makes the book more interesting and alive. It becomes the reference on the subject and is published by Editions ENI.
Source: Virt-now.com