I really liked this demo video showing the peformance of vDGA inside of a VDI desktop using Horizon 6. This video was produced by Rory Clements, from the End User Computing BU at VMware. Very impressive and realistic.
He speaks quite fast, but he shows off nicely the integration and configuration of the Nvidia card, and then the vDGA in the Horizon desktop.
At first he walks through set up on the backend of Horizon and Nvidia, showing different components and commands, and then shows performance of several 3D models through different software solutions like Autodesk 3d Max, Maya or Cinema 4d.
Here is a screenshot from the demo showing human head. The details (when zoomed in) are quite impressive….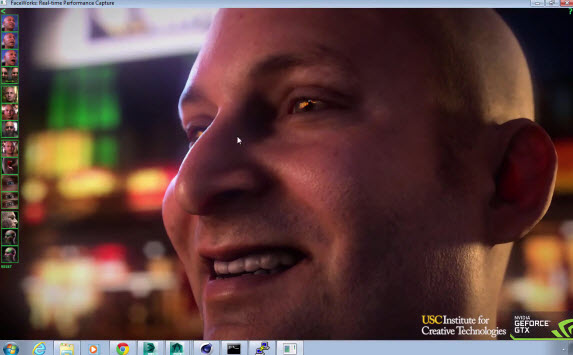 Horizon 6 has been announced but not released yet. One of the major highlights is certainly a scalability, but also the integration of Microsoft RDS where RDS hosted apps and desktops can be used with Horizon View 6. Windows 2008 or 2012 only as supported platforms.
Integration of RDS hosts with preinstalled applications
Access to Windows apps from mobile devices
Using standard Horizon Clients with PCoIP (Windows, MAC, IOS and Android).
I reported on the improvements done in Horizon 6 and also published some videos from the UI in those posts:
Here is the video. Especially the last part is quite amazin, where the human head gets manipulated. The level of details is excellent and I must say that I was very impressed.
*********************************************************************
Shop for vSphere licenses at VMware Store:
*********************************************************************
Source: YouTube