VMware Horizon 6 has been announced by VMware. This major update to VMware Horizon brings some major enhancements into the architecture, concerning Cloud Pod Architecture, which now supports global entitlements across View pods, RDS hosted apps, VMware VSAN (supported since View 5.3.1).
Also new Application catalog which provides unified access to desktops and applications (previously separated views). There is also VCOPS for View 6 which brings new enhancements to monitoring View desktops and architectures. Also this version now supports deployments on Windows Server 2012 R2.
Horizon 6 architecture got more polished in terms of tighter integration of Horizon applications and integration with RDS. If not the architecture stays the same with Horizon security servers, connection servers, View composer. The new support with Windows Server 2012 R2 for the installation implementation will facilitate the deployments on the latest Microsoft architecture.
VMware Horizon View 6 – Cloud Pod Architecture
10 000 desktops or more… It's possible to scale Horizon deployments to multiple datacenters with over 10,000 sessions. The horizon deployments will be able to use global LDAP replication between different datacenters. The metadata will replicate over to the other side where data are replicated like the user entitlements.
The global data layer is stored in a new ADLDS instance.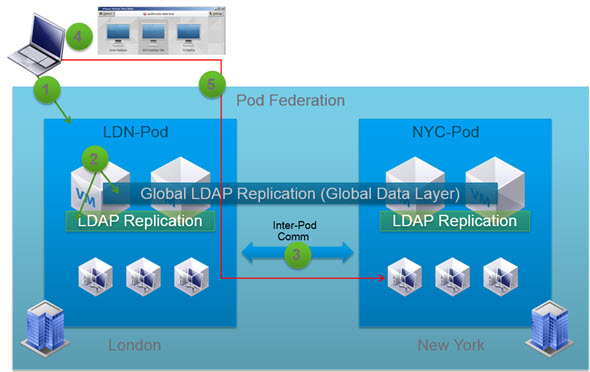 The current limits and maximums:
Number of sites: 2
Number of Pods: 4
Number of Users/Desktops: 20,000
The initial replication between pods will be initiated by PowerShell (later by PowerCLI and in the future integrated into the GUI).
RDS Hosted Apps
RDS hosted apps and desktops can be used with Horizon View 6. So Microsoft Windows Remote desktop services can provide applications and full desktops. (Windows 2008 or 2012 only).
Integration of RDS hosts with preinstalled applications
Access to Windows apps from mobile devices
Using standard Horizon Clients with PCoIP (Windows, MAC, IOS and Android).
So the client view will looks like this: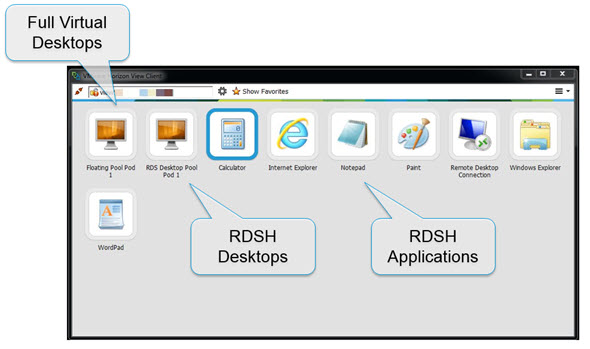 A very simple deployment for applications which can be used on mobile devices. For remote employees providing critical business applications which do have data and apps close together in remote datacenter. Simplification of application management with centralized management.
The integration on MAC shows the local experience for remote apps:
Dock or task-bar integration (MAC)
Start Menu shortcuts or application launchers (Windows)
Copy-paste works between apps (like unity feature in VMware Fusion).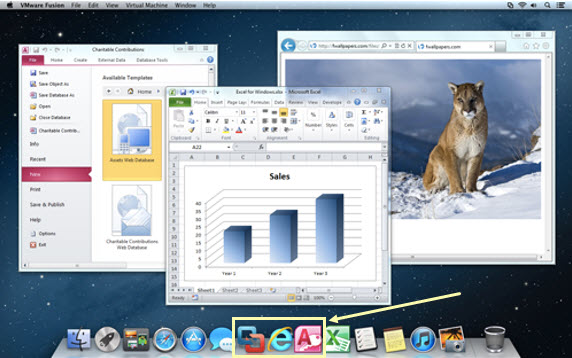 Flexible clients support for Windows and non Windows clients.
Virtual SAN – VSAN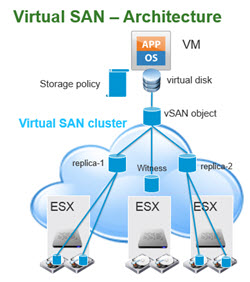 Virtual SAN has been released recently and the support for existing Horizon View 5.3.1 has been added. The usage of spinning disks together with SSDs where the SSDs are used for read/write caching.
Magnetic disks are participating for storage capacity where the SSD disks does not. SSDs are for Read/write caching.
First write to SSD cache and then to HDD
First read from SSD cache and then if the block isn't there, read from HDD.
Individual VMs or group of VMs can be configured with different storage policies:
Number of disk stripes per object – is number of HDDs across which each replica of a storage object is distributed.
Number of Failures to tolerate – how many number of hosts, network and/or disk failures a storage object can tolerate. Example for N number of failures to be tolerated in the cluster, "N+1″ copies of the storage object (VMs files) are created and at least "2N+1″ hosts are required to be in the cluster.
Object space reservation – is percentage of logical size of storage object (including snapshots, that should be reserved – thick). The rest of the object is thin provisioned.
Read more about VSAN in this detailed article.
Application Catalog (Horizon Workspace)
Unified workspace for applications. There is one place to go and launch an application. You can use different platforms and browsers.
There is different applications (SaaS, or Citrix, Remote apps, local apps as Thinapps).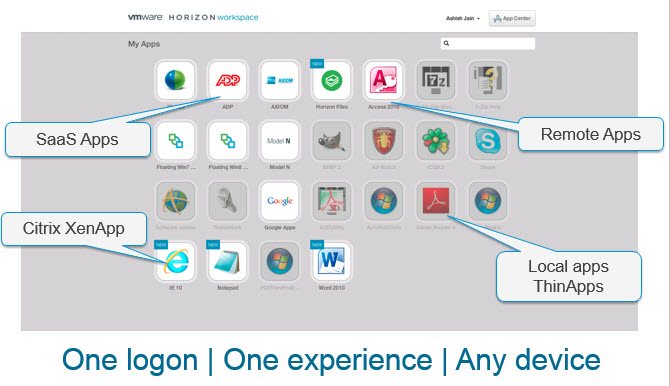 Xenapp Integration – Xenapp application can now be integrated in the Horizon catalog and through the Horizon UI you can entitle users and groups based on Xenapp farm. Support for Xenapp 5.0 and above. You'll need to install Citrix Receiver on the client.
ThinApp package delivery on any Windows desktop – It's possibly to deliver Thinapps to clients which lays outside of the Microsoft domain. Suppporting Windows DFS for app distribution. It's possible to use Thinapp 5.0 packages with x32 or x65 applications. Uses Kerberos to automatic logins for client.
Office 365 and non-SAML – SSO is used from Horizon Workspace to Office 365, Sharepoint and Outlook 365 Web applications.
Improved resource mgmt and categorizaton
Integration with Horizon View
Multi-forest AD support!
The integration is done through domain joined connector-VAs and users can chose which domain they want to login.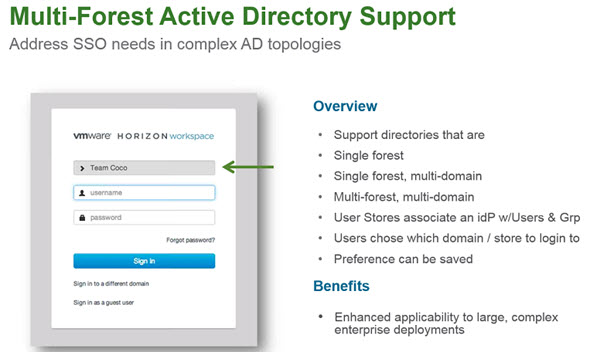 Custom Brandings – Logos, login prompt, Favicon, Background picture…
You are able to personalize the application to fit your client's needs (or yours). It's possible to customize the UI in many different ways:
Change of logo
Login prompts
Application launcher
Favicon
Change Background picture
Company and product name
Web clips for mobile device.
vCOPs 6 for View 6
VMware vCOPs 6 gets enhanced which is more scalable (25 000 concurrent users per instance). The new "what if" capability was added.  Newly added also:
Single console for all vCOPs (desktop, server..)
RDSH session support
Application and in guest process metrics with the possibility to do a drill down to each individual process. You can get visibility fast to troubleshoot where the bottleneck is. Faster and straight forward problem identification.
Desktop workloads optimization and modeling.
Here is a screenshot from the new UI.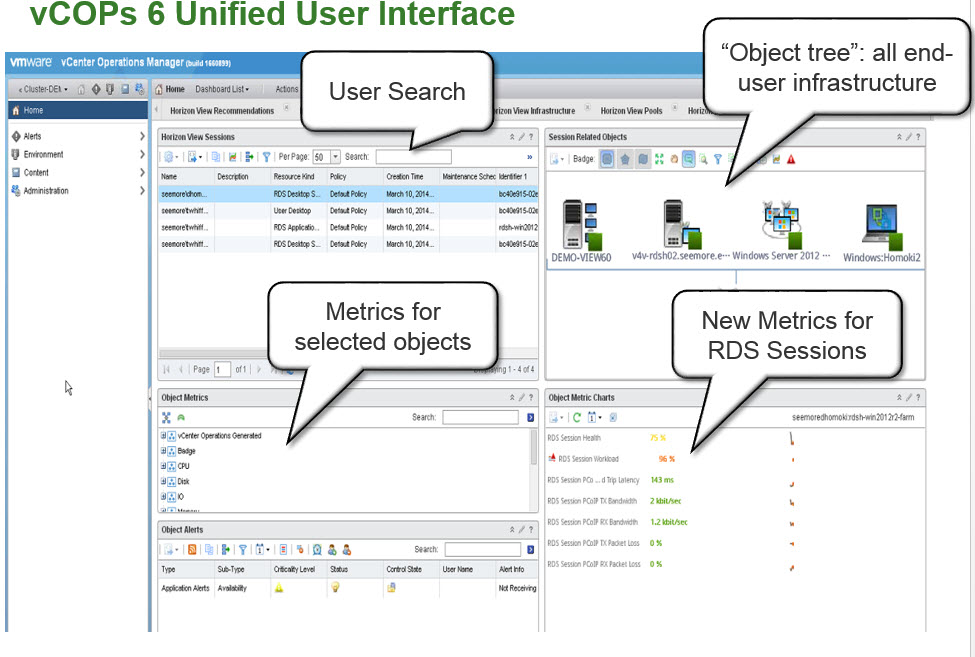 This covers in depth the VMware Horizon 6 product release. It seems that the Horizon View and Horizon Workspace are finally joining together as a product suite with very tight integration concerning the desktops and applications of different kinds – together to the single UI and the process of getting single console only for management of all Horizon parts will be done through single UI from now on.
The Horizon View 6 version has been anounced in this post, but the other suite products (Horizon Mirage, Thinapp or vCenter Operations for View) are at the moment at different version numbers). The GA of the Horizon View 6 shall be effective later in Q2.
Source: VMware