New free tool (fling) from VMware labs now allows to manage ESXi host via web client without the need of vCenter server. ESXi Free Web client interface (HTML 5 based) allows to manage a host without the need of the legacy C++ Windows client. The utility is bundled as a vib and can be installed on ESXi host via SSH (via Putty for example) without the need to reboot the host.
Update: The ESXi Host Client is part of ESXi 6.0 Update 2 now !!! No need to do any installation. It's embedded into the Installation ISO.
The tool is in It's early stage of development and not all the features and functions are present yet. But nice work VMware. Big congratz to all engineers who works on this! Etienne Le Sueur et George Estebe. They say – Don't hesitate to provide feedback.
What The Host client can do?
VM operations (Power on, off, reset, suspend, etc).
Creating a new VM, from scratch or from OVF/OVA (limited OVA support)
Configuring NTP on a host
Displaying summaries, events, tasks and notifications/alerts
Providing a console to VMs
Configuring host networking
Configuring host advanced settings
Configuring host services

 How to install the vib?
The web client for ESXi is a vib. A vib is  vSphere Installation Bundle.
1. Connect to your host via legacy vSphere C++ client and upload the vib to a local datastore.

2. Conect to your ESXi host via Putty and enter this command:
esxcli software vib install -v /vmfs/volumes/local_datastore/esxui-2976804.vib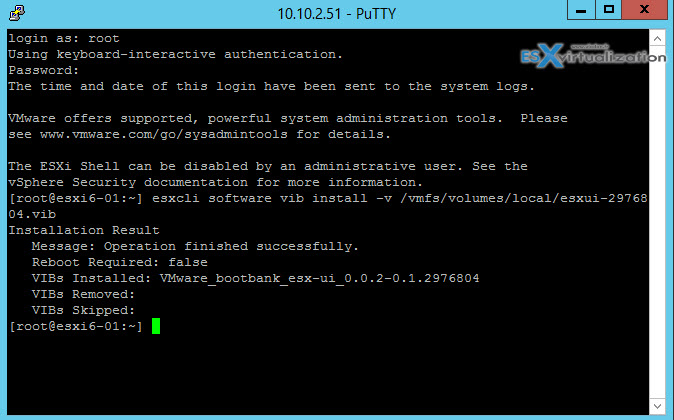 3. Wait for succesful install and then fire up your web browser to:
https://the_ip_of_your_host/ui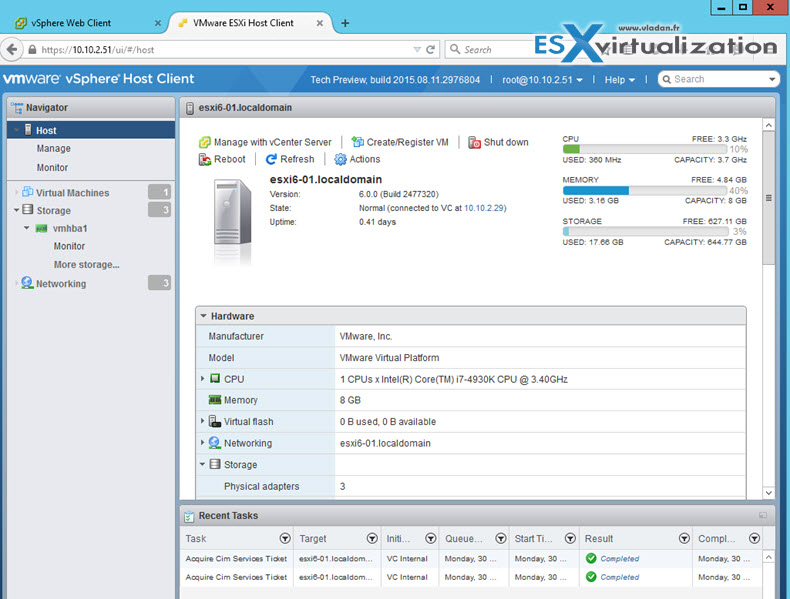 4. Done
Here is a view on the properties of a VM. I haven't found an option to change virtual hardware version. Probably not just implemented yet….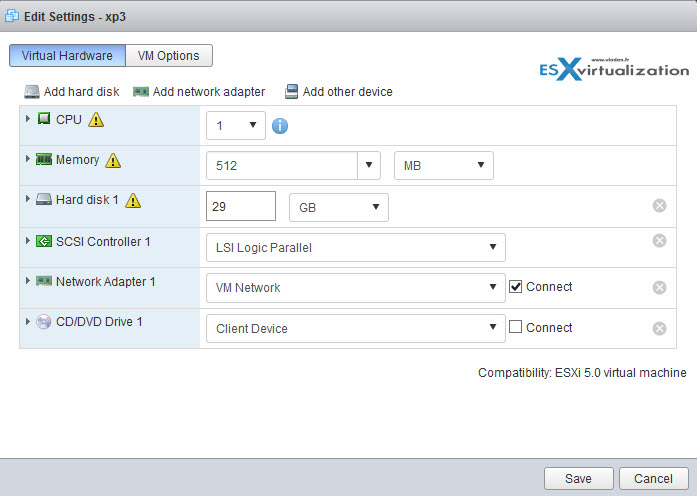 I recorded also a quick video detailing the steps:
Nice, Nice. I like it a lot, even if we can see that this product is pre-release. Good job VMware! The browser web client is fast and no dependencies. (no flash). HTML 5 and javascript. Note that you need to enable JavaScript and cookies!
Pretty much all modern browsers like Chrome, Firefox, Opera, Safari or IE (on Windows) works. Check the ESXi embedded host client's page for all details.
The product is easy to use, install and uninstall. To uninstall, simply use the same command, but with the remove switch.
If you want to check, which name the vib has, simply use:
esxcli software vib list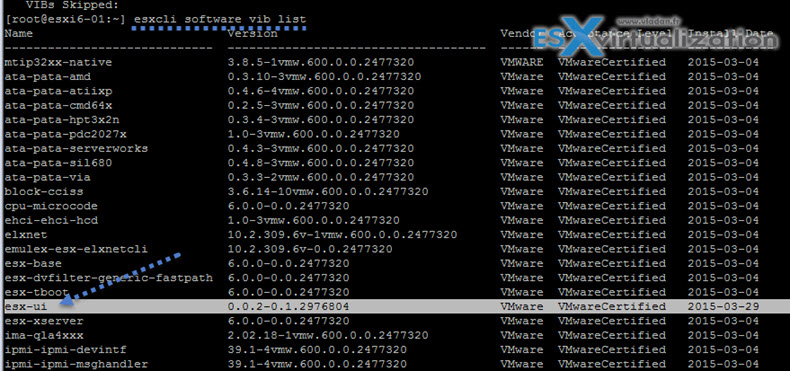 So you can see that the name of the vib is "esx-ui", so to remove this vib use this command:
esxcli software vib remove -n esx-ui
where the -n switch stands for name

You're done. Now you can Install or remove a ESXi FREE Web Client Interface to any host. The tool is intended to be used for standalone hosts as hosts managed via vCenter server do have their own vSphere web client (flash based for now).
Note that upgrading is possible. Simply use the install command which uninstalls the old version and installs the new one…

Update:
New in v8.0 !!
Known Issues
ESXi 6.0 Update 1 or lower hosts which are assigned a VMware vSphere Hypervisor license, all modification operations will fail silently. This issue has been resolved in ESXi 6.0 U2 and 5.5 Patch 8.
ESXi 6.0 host before Update 2 which have a sub-domain name with large, shared cookies a web console session may fail to initialize. A workaround is to clear cookies or run the host client in an incognito-type window, or use VMware Remote Console.
For ESXi 5.5 hosts, in-browser consoles are not supported. Please use VMRC to access guest VM consoles.
For ESXi 5.5 hosts before Update 2, you must ensure to append a trailing / (forward slash) to the URL after /ui. The URL must be https://<esxhost>/ui/
For some Windows guests, sending Ctrl-Alt-Del does not work.
New Updates in v5.0 !!
Host
Improvements to performance monitoring UI, resize dragger, tooltip behavior
VM
Export VM support (basic)
Experimental IT/ES keyboard support for in-browser console
Fixed some major issues with storage controller manipulation
(adding/removing controllers, assigning disks, etc.)
Storage
Fixed sorting in datastore browser
General
Improved table behavior, including comprehensive filtering, column selection
Improved Recent Tasks table performance
Improved VM table performance
Improved context menu behavior on iPad
Ability to drag/resize all windows/dialogs on iPad
Many many bug fixes

New Updates in 4.0
Host
Ability to change host acceptance level
Ability to edit lock down exception users
Ability to edit system swap settings
VM
VM list has been optimized for performance, reducing data download by a factor of 5.
Ability to edit VM advance options
Ability to edit VM video adapter settings
Add a PCI pass through device (unable to remove device though)
SRIOV support for Network card devices
Ability to change browser console keyboard layout (Japanese and German are the currently supported layouts)
Cmd+a or Ctrl+a to select all VMs in list
Soft-power off and reset if Tools is installed is now supported
General
New Tools and links menu under Help
Update mechanism can now take a URL or data store path to an metadata zipfile, allowing to update ESXi itself
Localization and internationalization (French, Spanish, Japanese, German, Chinese (traditional and simplified) and Korean
Ability to disable session timeout
A huge number of bugfixes and minor improvements
Known Issues:
On ESXi hosts which are assigned a VMware vSphere Hypervisor license (Free license) , all modification operations will fail silently. We are working on a solution to this issue.
On ESXi hosts which have a sub-domain name with large, shared cookies a web console session may fail to fail initialize. A workaround is to clear cookies or run the host client in an incognito-type window
Update: Note that the v3.0 of the client is already available at VMware Labs! Get your copy…
The v3 brings:
New in version 3.0
 VM

Answer question support
Upgrade virtual hardware to the latest supported by the host
Hot edit VM settings
VM table column configuration (show/hide columns), remembered across browser refresh
VM startup/shutdown priority (simple increase/decrease)

Host

Change host power management policy, advanced power configuration
Generate IP/FQDN certificate signing request and import new certificate
 Join a host to an active directory domain controller

Storage functionality

Disk device partition editor
Adapter rescan for new LUNs
Disk device rescan for new VMFS volumes
Clear a disk's partition table
Disk device partition diagram

Increase datastore size onto disk that already contains a partition table
In-app update tool: provide a URL to a new version of the VIB, refresh the browser, et voila!
Performance charts

Ability to change performance chart colors (two choices: default VMware colors and high contrast colors)
Added Network and Disk charts to Host performance UI
Improve VM performance UI, still missing some charts
Improved performance UI on tablets

Always hide the top legend in the chart
 Hide the focus widget to increase vertical space

General

For tabbed UIs, the selected tab is remembered as you navigate around the UI to avoid un-necessary clicks
Better scrolling performance on tablets (tested on iPad)
Hide-able navigator allowing more space on tablets
Shortcut buttons to Host, Host Manage, Host Monitor, VMs, Storage, Networking when navigator is collapsed
Improved Actions menu behavior on tablets:

Menu navigation no longer hides the actions menu
Added an explicit close button on actions menus
A second press on the Actions button will close the menu

Bugfixes

VM table sizing with small number of VMs
In-browser consoles:

Will now attempt to reconnect when losing a connection to a powered on VM
Reverting to a powered-on snapshot while a console is open to that VM will reconnect the console
How to Patch ESXi with ESXi Host client (with v4 and higher)
 1) Download the ESXi offline bundle from VMware > Unzip > Upload to a datastore  (Do an Upload folder via Datastore browser) > put your host into Maintenance Mode
In my case it's the latest vSphere 6.0 U1b offline bundle ESXi600-201601001

2) Go to the Help menu on the right > Update > Enter the URL of the patch folder
/vmfs/volumes/drobo/ESXi600-201601001/metadata.zip
Note that "drobo" is my datastore (visible by the host) and the ESXi600-201601001 is the uncompressed ESXi offline bundle folder.

You'll get a warning…

You should see the confirmation task with a green check mark…

3) Reboot your host to complete the upgrade…
You might want to check How To Erase ESXi Disks With ESXi Host Client v3. This is also a new capability of the ESXi host client!
Source: VMware Blog