The ESXi – COS less future of tomorrow? ESXi 4 is now The Hypervizor being the most promoted by VMware. The version of ESX Server without the Linux Red Hat service console. Sure, this is an obvious advantage of such a hypervizor. Reduced surface attack, reduced patching, cooling and reduced energy needed to run (in it's embedded version – ESXi 4 embedded).
So you completely eliminate the need for local disks in the physical server by running an embedded version of ESXi 4.  And with such a disk-less servers (or blades in the whole chassis) you can do a substantial economy of energy through the year.
The whole project of ESXi started with a French Guy Olivier CREMEL. When ESXi was first invented at first the Hypervizor was integrated together with the BIOS and not on the Flash memory card yet. But because the lack of place (only 3-4 megs) on the ROM, the project was  moved to a Flash memory.
The idea of using small Flash card included inside of the server was born…. Our target was completely moved away.  So instead of large deployment we started to present the solution as a simple key-in-hands solution for one server for Small businesses.  Beginning of 2007, with Dell found convinced, we started a common project. VMware delivered a what Dell will built. A specific server with ESXi included internally on a Flash card. That what's we presented at VMworld 2007.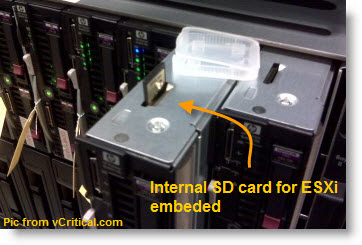 Today, the customers have still a choice between 3 hypervizors when they planning their consolidation or migration to a new data center, but already a migration plans are in place at VMware to migrate from ESX 4 to ESXi 4.
So the present choice for customers of today are:
1. ESX 4 – the full blown version with a COS (Red Hat console operating system).
2. ESXi 4 – installable version. This is a version without COS but this one is installed on on local hard drives.
3. ESXi 4 – embedded version.  This version runs on Flash Memory card.
Still today I speak to customers ignoring all those versions and people that are not aware the differences in between them. I think it's because they're not much into licensing, and they're not well informed. Of course there is an ESXi 4 free version, but no functionalities like vMotion, DRS, DPM or HA (high availability) are possible without having a licensed version of the ESXi 4 managed by vCenter. Also the free version is limited by read only access for scripting.
For testing, ESXi 4 can be installed inside of VMware Workstation 7 in less than 5 minutes….! And you have the advantages of having 10 NICs and possibilities to test different configurations.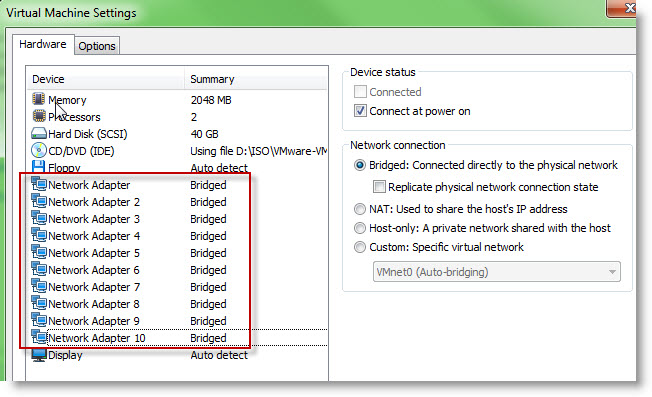 The future is COS – less.
It has been announced on VMworld 2009 (Session ID: TA4060) that the COS will disappear in future releases of VMware hypervizor and today VMware clearly invites customers to migrate to ESXi 4, so why don't install directly ESXi 4 when deploying new servers?
Also, there are some advantages for customers which are not mastering linux RedHat by using the ESXi 4 version of VMware Hypervizor, because they don't need to go and type some linux commands inside the console. You do all the management within vCenter which runs on Windows. And this also might be a reason for deployment of ESXi 4 instead version ESX 4 with the Red Had console. As a consultant you might want to consider this option too.
With the latest Update 1 is is now recommended to run vCenter on 64bit Windows OS which can take an advantage of having more RAM than 4Gigs.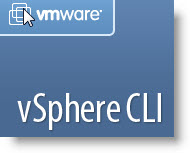 If you want and (or) need and do some automated management or scripting in ESXi 4, there are tools available at VMware Website for this purpose :
vSphere Command Line Interface – there is about 30 different tools in CLI provided for maintenance and management of ESXi 4.
Direct Console User Interface (DCUI) – It's a console of ESXi 4. You can log in and do some basic tasks, like configuring IP adress of your ESXi or restart management agents. There is also the "unsupported" mode which provides access to more features, but this is only used when you have to call for VMware Technical support.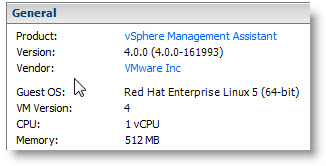 vSphere Management Assistant (vMA) – which is a virtual appliance supporting some more advanced scripting with Perl scripting. This VM runs inside of the Virtual environment together with other VMs, but it's function is to provid an environment from which you can run scripts, an agents etc….
So with less time spent on patching you can spend more time on tweaking something else.
Thanks to Eric for the picture of HP blade I borrowed from his blog… 😎