Now, at first. This it totally unsupported by VMware or Dell, even if the firmware I'm flashing the card with is from Dell's website. To tell you the whole story you should read My VSAN Journey and understand how the setup in my lab is built and why I'm doing this. I'm basically trying to run a VSAN cluster on totally unsupported hardware (like a lots of folks with homelabs). The only component I used to have my VSAN working was the famous Dell Perc H310. BUT this storage controller which at origin was on the HCL was recently pulled out by VMware because of its low queue depth. How-to Flash Dell Perc H310 with IT Firmware is today's post which will walks you through the firmware upgrade (or rather wipe first > upgrade second).
The thing is that the Dell Perc H310 in reality is an LSI card (after firmware flash the card reveals it's real name…) – LSI SAS 2008 (B2) which has a 6Gbs throughput. The firmware used is Dell's firmware. With the help of few posts on forums from folks that did the same thing I successfully changed my adapter's queue depth from 25 to 600 by applying this new firmware !!! The H310 cards can be found on eBay for cheap and it's no wonder that it's quite popular among homelab users using ZFS builds based on OpenSolaris or Linux.  After applying the IT Firmware My homebrewed VSAN cluster has not only 10GbE (via Infiniband) but also large queue depth which was a bottleneck during rebuilds and resync operations…
Before and after, checking the queue depth of the card…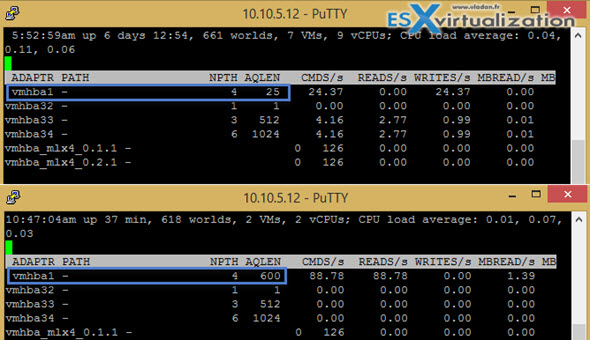 IT Firmware – What's that?
There are IR firmware and IT firmware. The difference is that IR firmware can do RAIDs and IT firmware can't, but has greater performance.  it's best for use for storage platforms OpenSolaris, Linux, or Windows Home Server to manage software RAID and redundancy.
VMware vSphere 5.5 did recognized the card as Dell's card (after the flash). Here is a shot before and after….

Do at your own risk
Here are the steps I used.
01. Prepare an USB drive you can boot into DOS (use Rufus, easy one)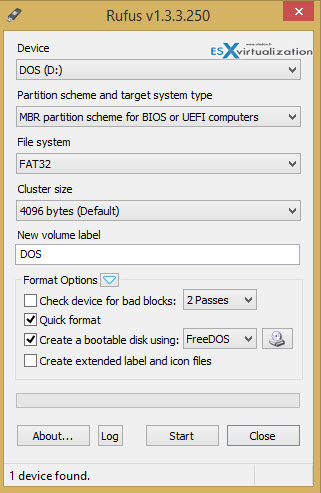 Create a folder. I called mine Dell. Then I went to Dell's website to get the firmware.  I took the one for SAS 6GbS….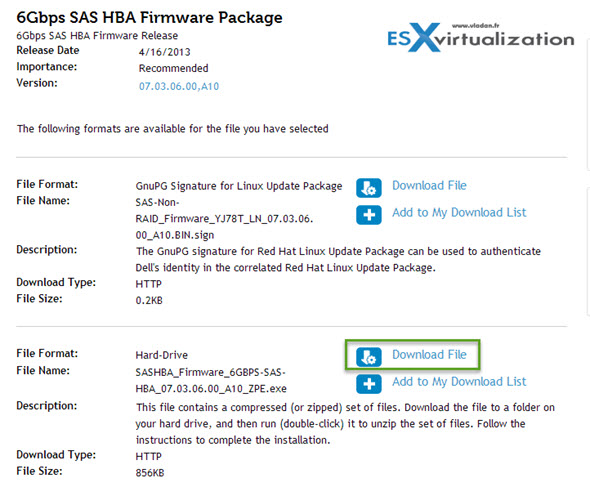 The firmware file is called 6gbpsas.fw
In reality, there is another zip package (with the exactly original firmware inside) and which has all the necessary tools in it (including the exact firmware file – the 6gbpsas.fw. The package can be downloaded from this link on mediafire: LSI-9211-8i.zip tools (link).
02. Wipe the card completely otherwise sas2flsh do not recognize it as an LSI card (so the sas2flsh commands don't work). One must use megarec command to do the work. This command wipes all except the hardware SAS address unique for each card (which is good as you don't have to save it first to add it back later)
Updated the above statement as one of our readers reported that wasn't correct.
So, I did:
megarec -writesbr 0 sbrempty.bin
megarec -cleanflash 0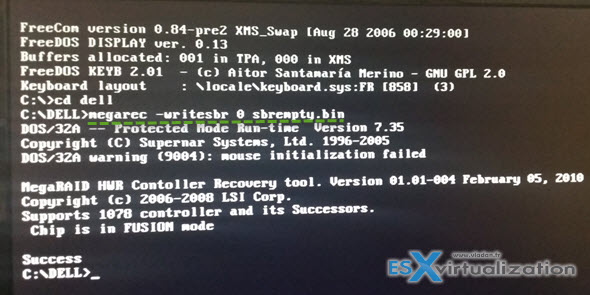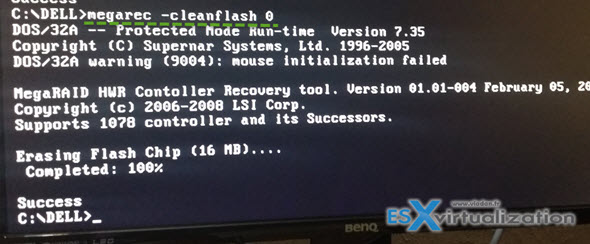 03. At this time – reboot the host and boot back via the USB into DOS.
04. After reboot, back to DOS. Enter this command:
sas2flsh -o -f 6gbpsas.fw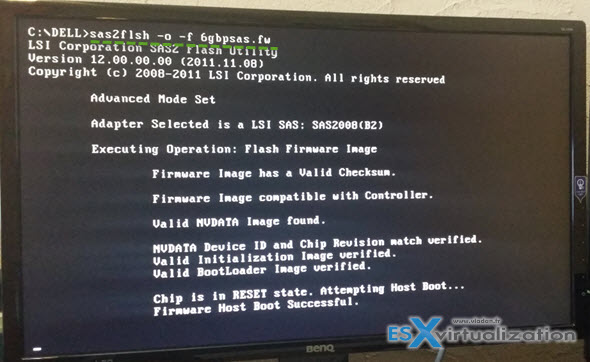 Takes few minutes…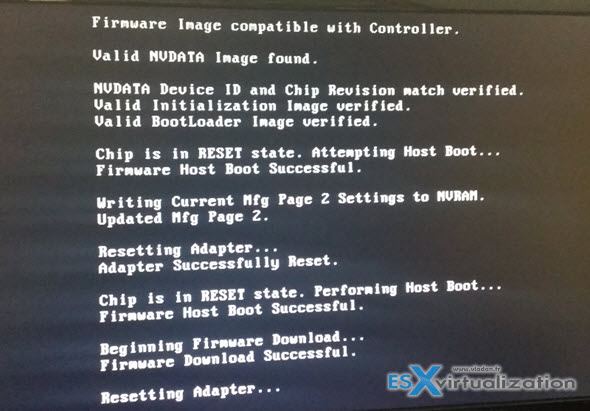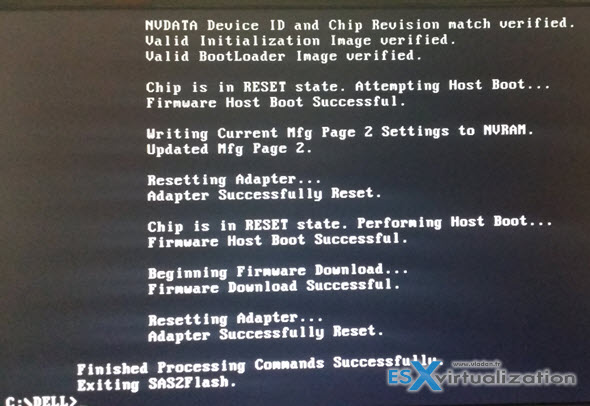 05. (Optional) If you want to put the BIOS back in place you can, but you don't have to if you're using the card just for the passthrough. During the boot you won't be able to hit CTRL + C and dig into details, but that's all.
So If you want to put the bios back in place, so at boot so you could hit Ctrl-C and check out the HBA bios then you would go with this command from DOS window to add the BIOS back:
sas2flsh -o -b mptsas2.rom
for EFI based boards you'd use this:
sas2flash.efi -o -b x64sas2.rom
But in my case I did not. In reality, two of my ESXi builds do have BIOS and only one is UEFI based board. After few attempts with the UEFI based board, which is my ESXi Haswell box,  I did not want to lose time so I simply unplugged the card from the newer mobo and plugged it into the older board just for the 2-3 min of the flashing process…
You might do the same if you have an older board available. In case you have only a newer board you'll have to seek the solution to boot into a UEFI to flash from within there as the DOS based environment just throws an error when executing the command megarec -writesbr 0 sbrempty.bin
Wrap Up:
Pretty glad it worked for me and I managed to upgrade my cards which should get more performance and throughput for my homebrewed VSAN installation… -:)
As being said at the beginning, do at your own risk. There is no official support for it from VMware or Dell. But with few precautions and with few hours of documentation through blogs and forums, it's quite easy at the end. The H310 are quite cheap on eBay and some of those guides are also flashing H200 cards as well which is a card with the same LSI 2008 hardware chip apparently.
Sources:
https://forums.overclockers.com.au/showthread.php?t=1045376
https://techmattr.wordpress.com/2013/08/30/sas-hba-crossflashing-or-flashing-to-it-mode/
Update: I have had one host which was taking a good 5 min to pass the boot sequence for the sas2flash when booting ESXi 6.0. So I followed this guide here from Dan Richardson to flash the card to the latest release 20 … but there were problems…
There is nothing wrong with this guide, but it basically flashes the IR firmware, not the IT firmware. When I wanted to use the IT firmware, I have had a message saying that I cannot flash IT firmware over IR firmware. But what the hell I thougt. The firmware I had was an IT firmware! I double checked during the boot… strange situation…
Oh well, what I done is that I erased the card again. The problem was that after full wipe with the commands at the beginning of the post:
megarec -writesbr 0 sbrempty.bin
megarec -cleanflash 0
I got an error message saying that "Firmware Host Boot Unsuccessful" and then the program has exited when I attempted to upgrade the firmware….
I thought, what next?
Then after erasing and trying different things again I have done this via UEFI and brought here another error:
fs0:> sas2flash.efi -o -f 2118it.BIN
LSI Corporation SAS2 Flash Utility
Version 19.00.00.00 (2014.03.17)
<copyright>
Advanced Mode SetAdapter Selected is a LSI SAS: SAS2008(B2)Executing Operation: Flash Firmware Image:

Firmware Image has a Valid Checksum.
Firmware Version 19.00.00.00
Firmware Image compatible with Controller.Valid NVDATA Image found.
NVDATA Version 11.00.00.00
Checking for compatible NVData image…NVData Device ID and Chip Revision match verified.
Valid Initialisation Image verified.
Valid Bootloader Image verified.Chip is in RESET state. Attempting Host Boot…
Firmware Host Boot Successful.Mfg Page 2 Mismatch Detected.
Writing Current Mfg Page 2 Settings to NVRAM.
Failed to Validate Mfg Page 2!​

Due to error remaining commands will not be executed.
Unable to Process Commands.
Existing SAS2Flash.​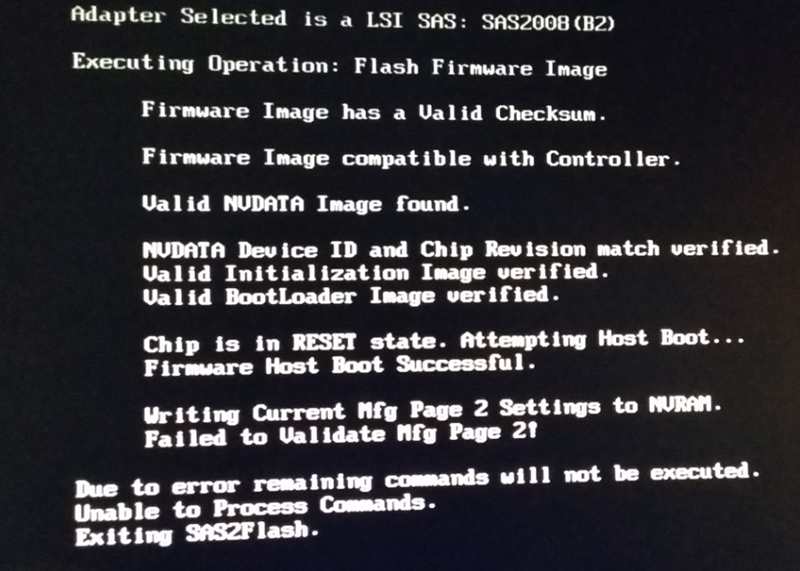 Helpfull resource:
https://www.supermicro.com/support/faqs/faq.cfm?faq=13612
and also helpful LDI page:
https://mycusthelp.info/LSI/_cs/AnswerDetail.aspx?inc=8352
guided me to do the re-flash with the megarec command instead and flash the older Dell firmware (the 6gbpsas.FW) . That's what I have done to be able to recover the card in state where it could be flashed to the newest IR firmware. (not IT firmware)
The error in DOS was this one:
ERROR: failed to initialize PAL  Exiting.
through the EFI at the end I end up with this:
sas2flsh -o -f 2118ir.bin
and I'm done.
To recap:
1. erase the card with
megarec -writesbr 0 sbrempty.bin
megarec -cleanflash 0
2. reboot
3. boot to efi and change to your USB via
fs0:
4. execute this command to flash the firmware and bios (this is the IT firmware I originally used in this post)
sas2flash.efi -o -f 6gbpsas.fw -b mptsas2.rom
5. reboot
6. repeat step 3 and flash the latest (version 20) IR firmware and bios
sas2flash.efi -o -f 2118ir.bin -b mptsas2.rom
You're done. The IR firmware has also queue depth 600 so in case you want to use it with VSAN it's good candidate. It's IR firmware however…
The boot time is back to normal and I have disabled the card via ctrl+c at bios prompt as I'm not booting on any of those disks.

Enjoy…