Question 4: Can you explain how FVP supports vMotion, DRS and other VM operations?
PernixData: A huge focus as we designed FVP was to make sure that the user has zero disruption when FVP is deployed. We didn't want users to have to manually intervene or use proprietary interfaces in order to perform basic virtual machine operations such as vMotion and DRS. Think about it, the entire point behind virtualization is to abstract away the application from the hardware. You shouldn't have to now break that basic tenet of virtualization just because you brought in server side flash!
FVP is clustered, and as VMs migrate, FVP locates any host in the cluster that may contain the VMs flash footprint, and fetches it transparently over the network on an on-demand basis as the VM needs it. Additionally, it also uses the remote data access function to warm up the flash devices on the VM's new host, so that over time, the VM doesn't incur network latencies when accessing its data in the flash cluster.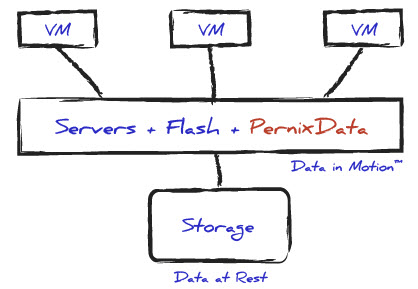 Question 5: I saw the terms 'Data in motion' and 'Data at rest' on your website. What do you mean by this?
PernixData: Existing storage systems in today's virtualized data center satisfy two requirements:
1)       The need for capacity and data services. We call this the 'Data at rest' requirement.
2)      The need for performance and scale. We call this the 'Data in motion' requirement.
Unfortunately existing SAN and NAS solutions, while very good for 'Data at rest' have failed to satisfy 'Data in motion' needs for virtualized data centers. As a result enterprises have had to buy more capacity in order to get performance and this is unfortunate. We believe that enterprises must be able to think of these two requirements independently.  Invest in performance when you want performance and invest in capacity when you want capacity. At PernixData, we want to be the 'Data in motion' tier for virtualized data centers.
To join the beta program, send an email request to [email protected]
Wrap Up
The FVP by PernixData is certainly exciting piece of software solution, which allows leveraging local flash based storage to create a distributed flash based storage pool across the entire vSphere Infrastructure. The possibilities of using local SSDs as a shared storage together with redundancy is revolutionary step in today's storage industry, which boils with new ideas and new products based around flash technology.