Dell has just released updated free tool for virtual infrastructure called Foglight for Virtualization. It's a known tool to my readers previously called vOps Server Explorer and which contains already 5 different Free utilities to give you an overview of overall activity of your virtual environment, eventual bottlenecks etc. In addition to vSphere 5.1 and Hyper-V 3.0, the RHEV 3.1 is now supported.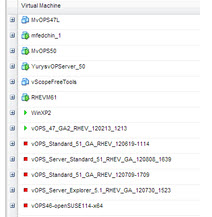 The newly updated tool brings an additional free utility built in called Snapshot Explorer. This tool allows you to hunt not only regular snapshots that you left out intentionally when doing testing of patches, applications etc, but also orphaned snapshots which aren't detected through vCenter. Those orphaned snapshots can be left behind by backups software (I remember VDR in some environments had a tendency for that).
What Snapshot Explorer does?
Tracking Snapshots – Snapshot Explorer allowing to track regular snapshots together with orphanned snapshots
Advanced Filtering – by Size, by Date or by number of snapshots
Different types of Files (VMDK, VMSN) – possibility to track VMDK files , VMSNs or both types of snapshots (Note that VMSN is the snapshot state file, which stores the running state of a virtual machine at the time you take that snapshot)
Screenshot from the dashboard.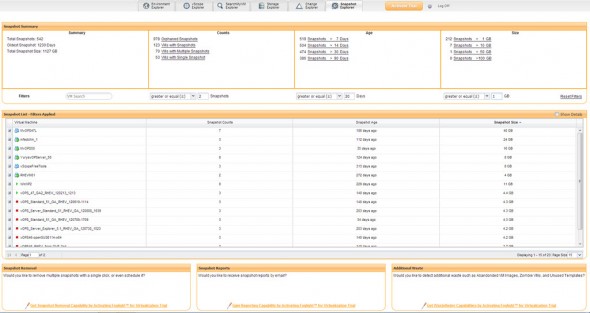 Foglight for Virtualization now offers 6 free tools in total:
Environment Explorer – quick look at your environment, number of VMs, snapshots, capacity…
vScope Explorer – "heat map" of performance within your environment, instant visibility to your environment..
Search My VM Explorer – a Google like searches with export feature (pdf, xls, XML), filters
Storage Explorer – performance and capacity view of your datastores and VMs. Can help you to find out if you overcomiting your datastores, if you running low on storage or experiencing a high latency. Also the tool shows VMFS version across your infrastructure. At the VM level, the tool is capable to detect some VM issues, like space issues on the guest level, high latency and throughput. Read my post about Storage Explorer.
Change Explorer – Changes to the datacenters, clusters, resource pools, hosts, datastores and VMs are monitored. The monitoring is done for the last 7 days only. You can obviously get monitored longer periods in the full product. Read my post about Change Explorer.
Another screenshot from the UI: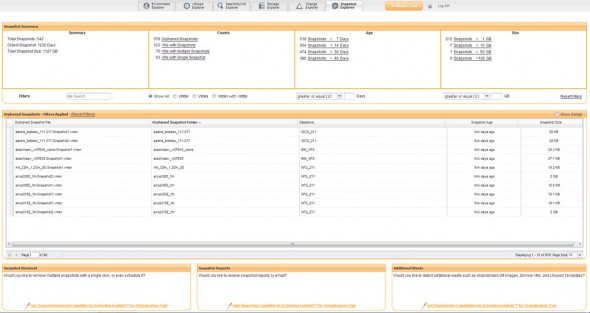 Three editions available, based on physical socket licensing:
Free – with limited functionalities
Standard – unlocked functions
Enterprise – span physical and virtual environments
Quote from the press release:
Mattias Sundling, Product Manager, Dell Software "Virtual machine snapshots are a great feature if they're used properly, but they can create severe performance and capacity problems in virtual environments if they're kept active for too long. Snapshot Explorer provides a single pane of glass with a summary and detailed view of all snapshots across multiple hypervisors. This free utility rounds out Dell's Foglight for Virtualization, Free Edition, and helps increase virtual datacenter ROI by optimizing existing workloads, and finding inefficiency and waste."
Wrap Up
In some circumstances a multi hypervisor environments are deployed and new hypervisors are tested and then used for production environments. Tools like Foglight for Virtualization allows to get the whole picture across the whole environment from a single web based console. Easy deployment is assured through a virtual appliance. There is version for VMware vSphere, Microsoft Hyper-V or the newly updated RHEL 3.1. The deployment of the tool takes minutes, the full version can be activated without reinstalling as the free version uses the "same engine".
Links:
https://www.quest.com/foglight-for-virtualization-free-edition/
https://communities.quest.com/community/vops