This product is a free download from VMware Website and can check your existing installation of VMware vSphere against the VMware vSphere Hardening Guidelines. Can check vSphere environment since 4.0 up to 5.5, where up to 5 ESXi hosts is checked with single pass. The results shows from within the tool but can get printed, so you basically can install a PDF printer and generate a PDF.
With this free tool which should be used in small and mid-size environments. Which means it's not a replacement for the security auditing tools with more features. If you really need security and want to go further, you can try VMware vCenter Configuration Manager.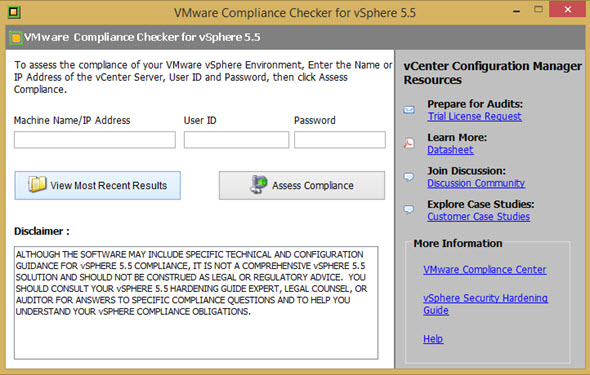 VMware Compliance Checker for vSphere helps you to:
Verify ESXi servers at the same time (up to 5 ESXi servers at a time)
Supports VMware vSphere hardening guidelines
Perform checks on ESXi servers to conform with the latest VMware vSphere hardening guidelines.
Analyze compliance assessment results
After a compliance run, you can view the assessments by ESX/ESXi hosts, plus guests.
Save and Print assessment results
You can save and print the compliance assessment reports to your team for review and they can be saved for archival needs.
The installation package is different for each version of vSphere and also depends on the regulation. It's 13Mb download for vSphere 5.5, but then for different version of vSphere (4.0, 4.1, 5.0, 5.1 and 5.5) or the other versions ( DISA, HIPAA, PCI) are similar in size.
You can have a look at the VMCC community here, where you can see the user's experiences.  The VMCC checks for the security settings of your ESX(i) hosts by providing detailed compliance checks against the VMware vSphere Hardening Guidelines.
A quick quote from the product's page:

This product is a robust utility providing detailed compliance checks against the VMware vSphere Hardening Guidelines. Unlike other free tools in the market, Compliance Checker for vSphere is a fully functional product. For example, you can print the reports that Compliance Checker produces, and can run compliance checks across multiple ESX and ESXi servers at once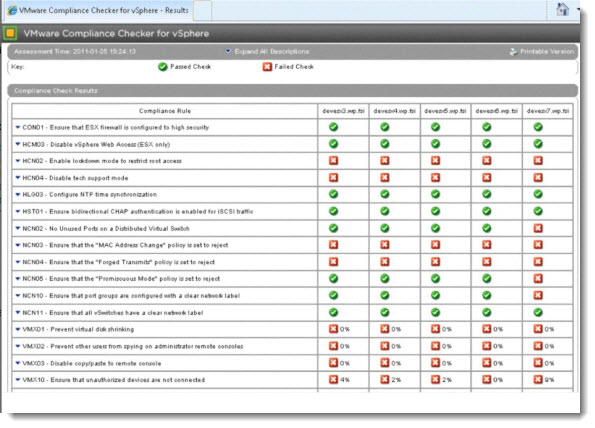 Links:
Compliance Checker Community page